[ad_1]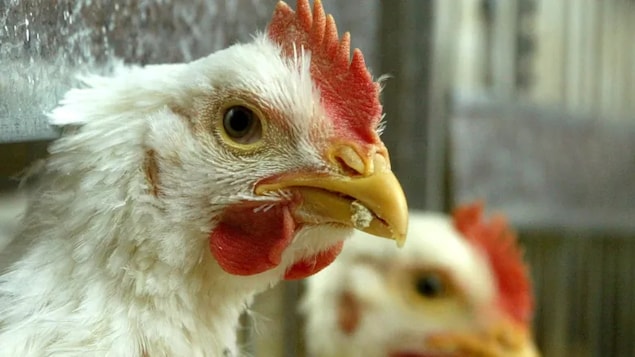 It's extremely contagiousargues Dr. Carl Gagnon, who is director of the Swine and Poultry Infectiology Research Center.
Especially since it is not impossible that one day, the virus could be contracted by humans.
Its genetic code will change, but it could also facilitate the transfer to other animal species more easily, including humans. Unfortunately, it remains a possibility, but we cannot predict the future.says Dr. Gagnon.
While migratory birds are singled out as important agents of contamination, should poultry be prevented from going outside? Without taking a position, the president of the Union of Agricultural Producers (UPA) in Estrie Michel Brien believes that it is legitimate to ask the question.
" Given that diseases often come from migratory birds, it is a risk, all the same, the whole side [de l'élevage] outside. »
On-farm slaughter pilot project called into question
Due to the virus, an on-farm slaughter pilot project for small producers is also called into question by the Order of Veterinary Physicians of Quebec. He considers that the State does not have the resources to ensure adequate surveillance of the premises.
The concern stems from the fact that in fact, how will we be able to ensure food safety when we are understaffed?notes Dr. Gagnon.
However, the project was eagerly awaited by several artisan farmers, who want to distance themselves from industrial-type agriculture.
We are not infectious reservoirs, far from it. We have no less healthy practices than industry, on the contrary. The small volume we have allows us to see at all stages, quite easily, the state of health of our herdexclaims artisan farmer and author Dominic Lamontagne.
Dr. Carl Gagnon also points out that large farms can be considered more vulnerable to disease.
Population density is a risk factor for pathogen transmissionhe remarks.
Michel Brien believes that avian flu or not, we must not delay in finding a solution to the lack of slaughterhouses in the region.
We really need a slaughterhouse to accommodate small producershe points out.
All agree, however, on the fact that a reflection is necessary to further limit the risks of spread in the future.
Citizens ask for a reflection on the case of the Canards du Lac Brome
The federal government indicates that it is in the process of analyzing the situation of Canards du Lac Brome in order to determine the assistance that will be granted to the company hard hit by the avian flu.
A group of citizens, however, says it takes a dim view of the provincial government's quick announcement that it intends to lend a hand to the company.
State support for the protection of workers, yes, I think we have to pay attention to them. On the other hand, if we want to draw a parallel with the Bombardier company, which has received many public subsidies, and when they apply for subsidies, everyone has a critical perspectivenotes Pierre Avignon, member of the citizens' committee Vers un Val Vert, which aims to bring together citizens of Val-Saint-François and elsewhere concerned about environmental issues while being sensitive to the agricultural reality of the regionaccording to its website.
The company in question [Canards du Lac-Brome] is also a private company that does big business, it is not something that is in the mode of rurality. I think we have to ask ourselves the same kind of questions. It's not to say yes or no, but it's to ask questions and not just sign a blank checkadds Mr. Avignon.
Contacted by Radio-Canada, Canards du Lac Brome did not wish to grant an interview on Wednesday.
With information from Thomas Deshaies
[ad_2]

Reference-ici.radio-canada.ca