Former president of Mexico assures that AMLO will 'save' Emma Coronel
Mocks? After the arrest of El Chapo's wife, former President Vicente Fox sends an ironic message
Emma Coronel will remain in prison 'temporarily'
Mocks? After the arrest of El Chapo's wife, Emma Coronel, former President Vicente Fox sends an ironic message assuring that AMLO would come 'to the rescue' of the former beauty queen.
Emma Coronel's arrest 'caught all the spotlight', and the 31-year-old woman is accused of collaborating in one of the escapes that turned Joaquín "El Chapo" Guzmán into a 'legend'.
The United States arrested Emma Coronel Aispuro, the wife of "El Chapo" Guzmán, who has dual Mexican and American nationality, and was detained at Dulles International Airport, in the state of Virginia, near Washington.
Vicente Fox Quesada Is he making fun of Emma Coronel?
After being accused of various charges in international drug trafficking, according to the Department of Justice, the former president of Mexico, Vicente Fox Quesada sent an 'unusual' message through Twitter,
The tweet about the arrest of Emma Coronel's wife also included an 'ironic criticism' of the current president of Mexico, Andrés Manuel López Obrador. "The president will come to the rescue," said Fox Quesada. The ex-president's comment could be related to the recent release of former senior official Salvador Cienfuegos.
This morning the president of Mexico broke the silence 'after the arrest of Emma Coronel, and even speculated whether her arrest is related to the arrest of another former high-level official in the Mexican government.
An American judge ordered Emma Coronel to remain in custody pending trial Tuesday after being accused of helping her husband escape from jail in 2015, the AP says.
Behind bars 'temporarily'
His arrest is the latest episode in a bloody saga involving Guzmán, a former leader of the Sinaloa Cartel. Guzmán became a legend due to two escapes from Mexican prisons that surprised the world and gave him an image of invincible before the authorities. In 2017, however, he was extradited to the United States.
Judge Robin Meriweather has ordered that Coronel remain in temporary detention while his attorney Jeffrey Lichtman explores a possible request for bail. Lichtman said he was agreeing to temporary detention.
The prosecutor, Anthony Nardozzi, said that it was necessary for Coronel to remain in jail because he worked closely with the leaders of the Sinaloa Cartel and because "he has the financial means to be a serious flight risk," indicates The Associated Press.
Was he planning another escape?
Coronel is accused of having joined others in helping Guzmán escape from the Altiplano prison in Almoloya de Juárez, Mexico, in July 2015, US prosecutors say.
After Guzmán was re-arrested in Mexico in January 2016, Coronel allegedly again planned, along with others, another escape attempt for her husband. Guzmán, however, was extradited a year later.
Filed Under: Vicente Fox Emma Coronel
'Empire of Chapo Guzmán'
Guzmán was accused of trafficking hundreds of tons of cocaine and other drugs to the United States for at least 25 years, the AP indicates.
He also led an army of hitmen who tortured and murdered rivals and anyone who represented risks to his drug trafficking network, say the US authorities.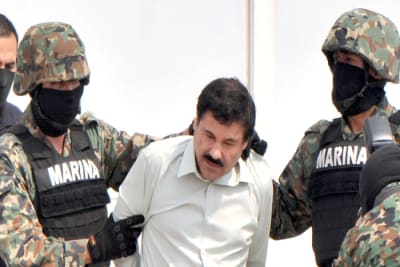 Coronel appeared every day at her husband's trial, in late 2018 and the first two months of 2019, and was caught on television cameras every time she entered or left the court building in Brooklyn. Guzmán was sentenced to life in prison.
Chapo's messenger?
According to an affidavit issued by Eric McGuire, an FBI agent, and released by the Justice Department, from 2012 to 2014 Coronel passed messages from Guzmán to other cartel members to continue drug trafficking activities.
"I also understand that Guzmán continued to direct the drug trafficking activities of the Sinaloa Cartel from the Altiplano prison through various individuals, including Coronel," said the FBI agent.
Guzmán, one of the best-known drug traffickers in the world, and Coronel are the parents of twins born in 2011 and whom their mother took to the Brooklyn court a couple of times for their father to see.
Subscribe to our weekly newsletter and participate for a $ 100 gift card each month. Receive your favorite news in your inbox from today.
Filed Under: AMLO Vicente Fox Emma Coronel


mundohispanico.com
The Canadian News
Canada's largets news curation site with over 20+ agency partners