Experts say a good, well-fitting mask is essential to protect people from the latest surge driven by the Omicron B.5 subvariant.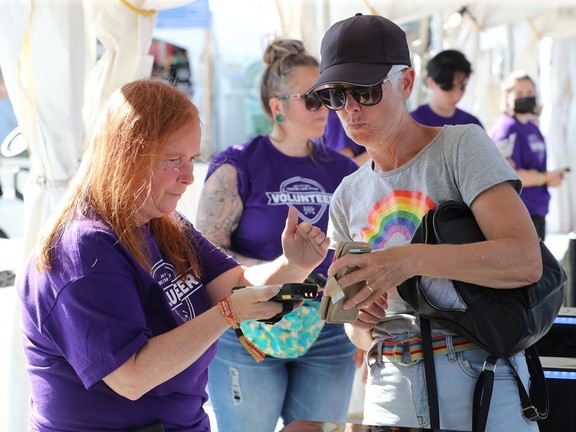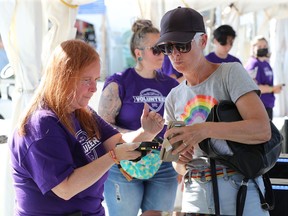 article content
People heading to Bluesfest and other large, crowded outdoor festivals should bring a mask, Ottawa Public Health says.
article content
OPH released the latest advice on how to protect yourself from COVID-19 along with a snapshot of statistics confirming that the city is experiencing another wave of infections.
OPH now "strongly recommends" wearing a mask in both indoor public places and outdoor crowds.
"If you are attending summer events or festivals this weekend, please wear a mask if you are unable to maintain physical distancing and wear your layers of protection," OPH said in the snapshot posted on Twitter.
article content
"Remember, what we do now will make a difference in the weeks to come."
At crowded open-air festivals, staying six feet from others isn't easy.
Bluesfest, the city's largest music festival, opened Thursday night at LeBreton Flats. Some people scattered in the crowd wore masks.
OPH offers advice but it is not the law. The province removed most mask mandates last spring on the advice of Ontario Chief Medical Officer of Health Dr. Kieran Moore. He said Ontarians had to learn to live with and manage the virus and make individual decisions.
This wave of COVID-19 caught some experts by surprise because they didn't expect a surge until the fall.
It's powered by a variation of Omicron called BA.5, which "could be the most contagious respiratory virus known to mankind," says Raywat Deonandan, a professor of epidemiology at uOttawa.
article content
"It's on par with measles, possibly," he said. "No one knows for sure."
The basic reproduction number of the original COVID-19 virus, the average number of infections a case could cause, was about 3.3, he said. For the Delta variant, it was five. For the original Omicron variant that arrived in Ontario last winter, it was 9.5. For Omicron BA.5, modeling suggests the reproduction number is 15 to 18, Deonandan said.
Transmission of the virus is most common indoors. However, it can also be broadcast outdoors, and given the current scenario, it makes sense to be cautious, he said.
"It makes sense to create a little more concern and vigilance in outdoor settings than last summer."
That doesn't mean they don't meet outdoors: Deonandan said he meets people on patios himself.
article content
"But if you're going to be spending a lot of time around a lot of people whose infectious status is unknown, it's worth it" to wear a mask outdoors, he said.
"An N-95 mask works wonders. It is not perfect protection. Personally, I think if you want to go to Bluesfest, go to Bluesfest. Just wear your mask. And wear a good mask, not a shitty homemade mask or a surgical mask. Wear an N95 or a KN95, wear it diligently and enjoy."
The BA.5 variant also differs enough from other Omicron variants that even people who already had COVID-19 earlier this year could be susceptible to reinfection, said Dr. Brent Moloughney, deputy medical director for health at OPH, in an emailed statement.
He said he was particularly worried about people who hadn't received a booster.
article content
In Ottawa, more than a third of residents over the age of 12 who are eligible for a third dose have not received one. And half of people 60 and older who are eligible for a fourth dose have not received it, she said. That group is at the highest risk of becoming seriously ill if they contract COVID-19.
Ontario's COVID-19 scientific advisory board said earlier this week that the province has likely entered a new pandemic wave fueled by BA.5.
The number of people hospitalized may be lower than in previous waves, but hospitals are already overwhelmed, he said.
article content
In Ottawa, the viral level in sewage is "high and rising," says OPH. The number of people testing positive among those eligible for testing is also "high and growing."
Hospital admissions, lagging behind a rising tide of infections, are "moderate and rising."
Outbreaks in health care institutions and other congregate settings, such as long-term care homes, are "low and stable."
Moloughney also said there seems to be a misconception that Omicron is milder and not a real concern.
"While milder on average, it is not mild for everyone, particularly among those who are older, have multiple chronic conditions, or are unvaccinated," their statement said.
The pandemic is not over, he said.
In the first half of 2022, the number of people who have died from COVID-19 has already risen to the total deaths in 2021, he said.