"We will not accept having people in our health system who are not vaccinated," said Health Minister Christian Dubé. "So if you want to minimize the amount of time that you won't get paid, go get vaccinated soon."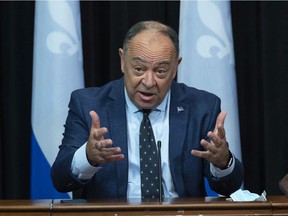 Article content
QUEBEC – With roughly 15,000 unvaccinated health workers set to be suspended without pay in two weeks, Quebec's health minister said Tuesday that the government is studying "reorganization" plans to address labor shortages in your already overloaded healthcare system.
Commercial
This ad has not been uploaded yet, but your article continues below.
Article content
Above all, Christian Dubé implored the undecided to get vaccinated as soon as possible, saying "it is never too late." Those who receive a first dose on Wednesday could return to work in late October, he said.
Health unions and opposition members called on the government to relax its decree requiring mandatory vaccinations and extend the deadline, saying they will cause serious disruption in the health sector and put more pressure on workers in the system.
Parti Québécois health critic Joël Arseneau said the government should consider extending the deadline or imposing other measures, such as increased testing for the unvaccinated to allow them to work, in order to avoid further difficulties.
"We must act not to lose more services," he said. "If we already have breakdowns in the service when we are short of 4,000 nurses, what will be the effect when we double that deficit?"
Commercial
This ad has not been uploaded yet, but your article continues below.
Article content
Of the 30,000 health workers who were not vaccinated as of September 7, when the government announced that it was making COVID-19 vaccines mandatory for employees of health and social services centers, only half went to get vaccinated. Of these, 7,500 are workers who deal directly with patients. The deadline set was October 15.
Dubé did not specify what kind of reorganizations would be necessary. Government officials are in discussions with health care managers to determine how to change tasks and services to compensate for the loss of staff. But restructuring is always difficult, he warned.
"Can we do some reorganization of services to make sure people are only served by vaccinated people? The answer is yes, "said Dubé. "But we have seen what happens with a reorganization of services. I do not like it
Commercial
This ad has not been uploaded yet, but your article continues below.
Article content
"What I find deplorable is that these people know … they see what it costs patients to do this kind of reorganization of services. So what I ask you today is: do you want to be the cause of all this because you are not vaccinated? ".
Dubé stressed that the government will not back down on its deadline. He referred to news reports from the United States showing that many healthcare workers waited until the last minute to get vaccinated in order to be sure they had to.
"I tell you, we are very determined. We will not accept having people in our health system who are not vaccinated. So if you want to minimize the amount of time you won't get paid, go get vaccinated soon. "
Liberal leader Dominique Anglade supported the government's decision and said it must send a clear message.
Commercial
This ad has not been uploaded yet, but your article continues below.
Article content
"Because we have people who are not vaccinated in the health sector, there are beds that people need, people who are waiting for surgery," he said.
"I understand that one way or another there will be impacts, but I think the safest thing is to vaccinate everyone."
When asked why other healthcare professionals, such as dentists and physical therapists, are not forced to get vaccinated, Dubé said studies have shown that dentists, for example, have adequate protection and have not been a source of outbreaks . But, he added, the government will change tactics if things change.
In its initial plan, the government said the vaccine mandate would only apply to workers who come into prolonged contact with patients. Following hearings by a National Assembly committee and public health recommendations, the government decided to apply the measure to anyone who works or visits a health or social services center, including employees such as secretaries.
Commercial
This ad has not been uploaded yet, but your article continues below.
Article content
In an open letter published Monday, Dr. Lawrence Rosenberg, head of Montreal's central-west regional health authority, urged healthcare workers to get vaccinated before the government-imposed Oct. 15 deadline.
"Patients and clients will still be able to receive treatment or care regardless of their vaccination status," writes Rosenberg. "But everyone else must be fully vaccinated.
"This is not just a regulation, it is a necessity of common sense. The number of COVID-19 infections is increasing, mainly among those who have not been vaccinated.
Andy Riga of the Montreal Gazette contributed to this report.
Dubé stands firm on mandatory vaccination for healthcare workers

COVID-19 Live Updates: Quebec to Administer Third Dose at CHSLD, Private Senior Housing
All of our coronavirus related news can always be found at montrealgazette.com/tag/coronavirus.
For information on the vaccine passport, Click here.
Sign up for our email newsletter dedicated to local coverage of COVID-19 at montrealgazette.com/coronavirusnews.
Help support our local journalism by subscribing to the Montreal Gazette here.
Reference-montrealgazette.com