The municipal court judge ordered the arrest of former mathematics professor François Amalega Bitondo until his case is known.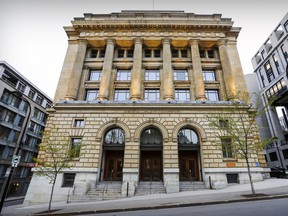 Article content
A former math teacher who recently protested COVID-19 vaccines outside Montreal schools was ordered to remain in detention to ensure he stands trial in municipal court.
Article content
François Amalega Bitondo, 43, a former professor at the Collège Jean-de-Brébeuf, was arrested Tuesday after refusing to wear a mask in the Montreal municipal court for a trial. He is accused of obstructing the police in his work during an incident at a grocery store in March.
When Amalega Bitondo refused to wear a mask on Tuesday, he was not allowed into the courtroom where his trial was supposed to take place. The trial judge issued an arrest warrant and Amalega Bitondo waited outside the courthouse for the Montreal police to arrest him.
The next day, another municipal court judge, Annie-Claude Chassé, heard arguments about whether the defendant should be released while his case is pending. And on Thursday, she ruled that he should remain in detention because of his "categorical" refusal to wear a mask as required in all Quebec courts. He also pointed out that Amalega Bitondo could not provide a medical reason to support his refusal to comply with the public security measure. He told the judge that he is afraid of masks and feels that having to wear one is "torture."
Article content
Chassé said he would try to have his trial heard on Friday.
Amalega Bitondo has reportedly been fined a total of more than $ 40,000 since the COVID-19 pandemic began. Earlier this week, he announced that he had been suspended from Facebook until October 26 due to the information he posted about the pandemic.
Amalega Bitondo was also present at several anti-vaccination protests that took place outside Montreal schools this September.
He acts as his own attorney and, while advocating for his release on Wednesday, noted that he is currently charged in four different cases in the Joliette courthouse, where he is charged with causing disturbances and failing to respect at least two court orders. He told Chassé that he managed to convince a Quebec court judge in the Joliette court that he can proceed in his cases without wearing a mask, as long as he respects social distancing measures.
His criminal cases in the Joliette court return to court in March.
'There are limits' to protest rights, Legault says before introducing special law

Protesters denounce mandatory vaccination for Quebec health workers
Reference-montrealgazette.com