The legendary former quarterback says he's better prepared in the second period by calling plays for the team's quarterbacks.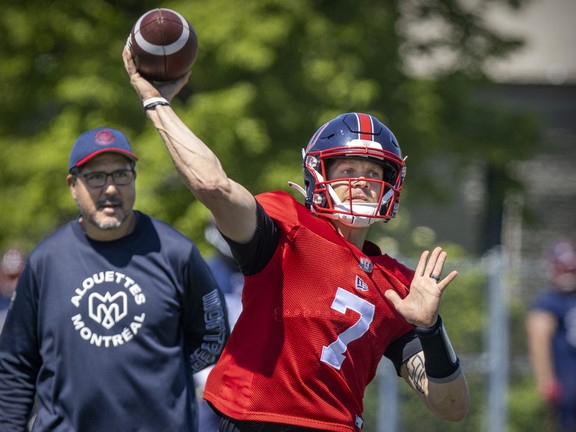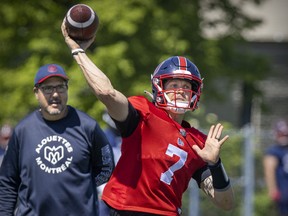 .
Anthony Calvillo has received the car keys this week. And when it's returned Thursday night, Danny Maciocia insists he won't check for dents or how much gas is left in the tank.
.
Calvillo, the Alouettes' quarterbacks coach, will call offensive plays Thursday against Edmonton at Molson Stadium following the firing last week of head coach Khari Jones, who served as Montreal's offensive coordinator.
Als general manager Maciocia replaced Jones as interim coach for the remainder of this season. After meeting with his offensive assistants, Maciocia decided that Calvillo, the team's legendary former quarterback, would call the plays against the Elks, though Maciocia's initial thought was that the role would be filled by Mike Lionello, who coaches wide receivers. Lionello has CFL experience with BC and Toronto.
Although Maciocia will wear a headset during the game and could override any decision on offense, defense or special teams, he insisted he will not be a backseat offensive assistant.
.
"He (Calvillo) has this and I'm pretty confident," Maciocia said after Tuesday's practice. "Collectively, we sat down and talked about it. I also spoke with Mike individually. There's something about coaching quarterbacks, understanding the progressions, the reads and the concepts. After further discussion and consultation, we came to the conclusion that AC was the best candidate."
While Calvillo will be the voice that starting quarterback Trevor Harris hears over his helmet speaker, the offensive game plan will be a collaborative effort, with Lionello, André Bolduc (assistant head coach and running backs) and Luc Brodeur- Jourdain (offensive line) contributing. .
"I've been preparing since Day 1 like I've been calling the plays," said Calvillo, who returned to the organization this season after being hired by Jones. "I wanted to make sure my mind was on the game. The transition for me will not change too much. Now that I call the plays, it's like I'm playing it all over again. There's that extra anxiety.
.
"We have built the game plan together," he added. "I'm going to call what I'm comfortable with based on what we put together. I am the caller of the game, but it is the collective group of us. And it's the Montreal Alouettes offense, one that's been here for over three years with concepts that are excellent."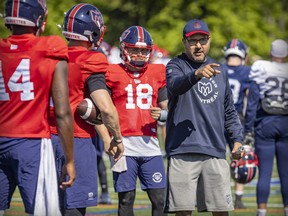 While Calvillo spent the last 17 seasons of his career with the Als, starting in 1998, it was only after Don Matthews became the head coach in 2002 that he began directing his own plays. While Calvillo said he agreed with the decision, and the team's success couldn't be disputed, he also didn't resist relinquishing the responsibility in 2007, when Marcel Bellefeuille became the offensive coordinator on Jim Popp's staff.
.
"There were times when I wish I had gone to the best play possible, especially at the end of a game," Calvillo said of his play days.
Forced to retire after a concussion in 2013, Calvillo wasted no time launching his coaching career with Montreal in 2015. Hired as a receiving coach, he became a QB coach in August after head coach Tom Higgins was fired. Then, after Turk Schonert was fired, Calvillo was named offensive co-coordinator with Ryan Dinwiddie.
Calvillo began the following season as the OC, but with Jacques Chapdelaine as his special adviser. After Popp resigned as head coach and Chapdelaine was promoted, he took over the play-calling duties. However, the inexperienced Calvillo was not ready at the time. It also didn't help that the Als struggled and went through a series of quarterbacks.
.
Calvillo went to Toronto as a quarterbacks coach in 2018 under Marc Trestman and then spent three seasons at the Université de Montréal under Maciocia, where he was an assistant head coach and offensive coordinator.
"I know how things were once here," Maciocia said. "Maybe a few years ago, it was a little too fast. Coming from playing, retiring, jumping into the coaching staff and, before long, asking him to be the OC. I know that when he brought him to college, he did a great job.
"I think he's much better prepared, further along in his development as a coach and a play-caller. I'm pretty sure he's going to do a great job."
While the Als are averaging nearly 26 points per game, they have produced just six offensive touchdowns going 1-3. Calvillo wants to see the team improve on their second-chance conversions along with their dominance of the red zone.
twitter.com/HerbZurkowsky1
Zurkowsky: Alouettes GM Maciocia not mean for firing head coach

As Alouettes struggles, GM fires head coach Khari Jones

Indiscipline, offensive problems among the problems that concern the coach of the Als, Jones