WASHINGTON — The reaction was fast and furious Friday after the Supreme Court overturned the landmark Roe v. Wade that guaranteed the constitutional right to abortion.
Anger and dismay first erupted outside the Supreme Court moments after the decision was announced.
It quickly spread west as devastated abortion rights protesters across the country lambasted conservative justices who erased half a century of precedent and made abortion access nearly impossible in many states.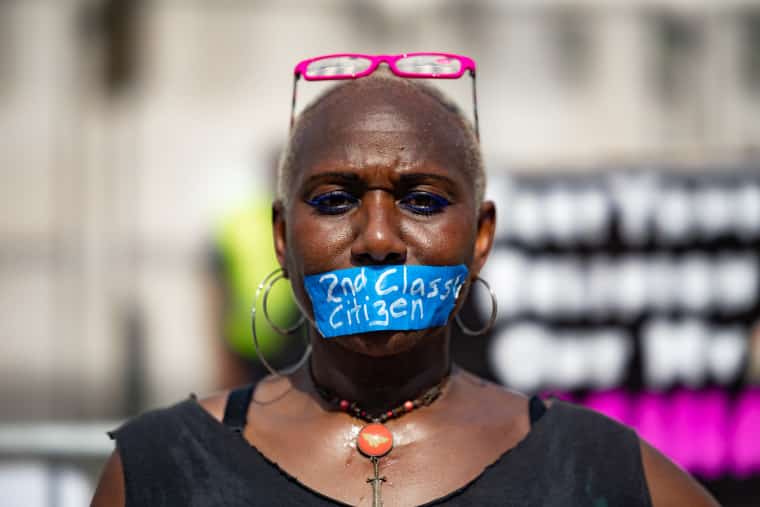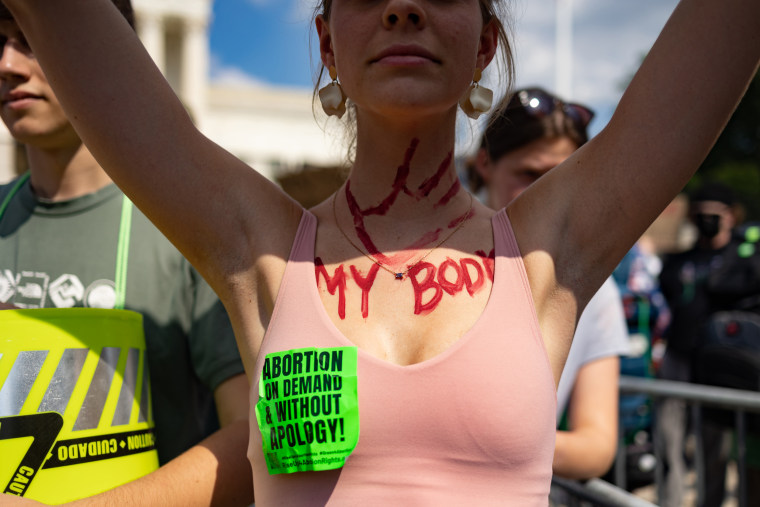 Huge crowds gathered outside the federal building in downtown Chicago and then marched down The Loop to Grant Park chanting, "My body! My choice!" Protesters also staged noisy rallies outside the Georgia Capitol in Atlanta and outside the Wisconsin Capitol in Madison. And in Flint, Michigan, hundreds blocked the sidewalks in front of the Genesee County prosecutor's office.
"I'm expecting at least tens of thousands of people at rallies across the country tonight," said Texas organizer Coco Das, who is a member of the group Rise Up 4 Abortion Rights.
Speaking from Austin, Das described the anger as "visceral."
As Das spoke, police equipped with riot shields and helmets fanned out at courthouses and other gathering places across the country where protesters were gathering.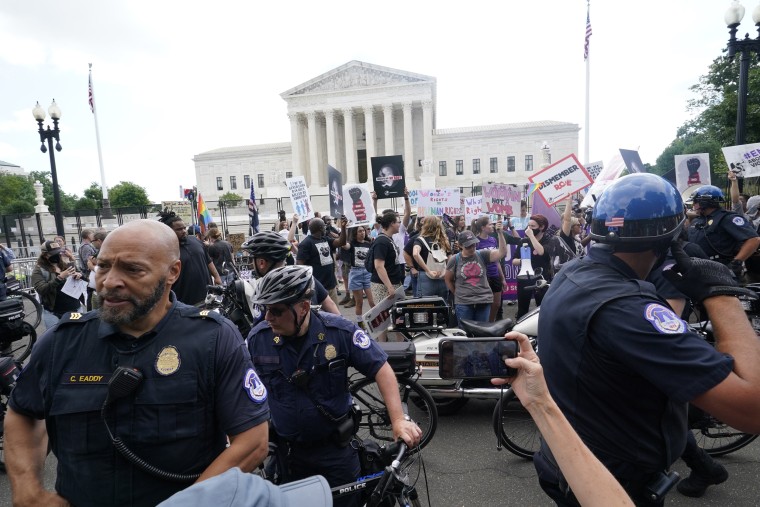 Large demonstrations were reported in Richmond, Virginia; Jacksonville, Fla.; Columbia, South Carolina; Raleigh, North Carolina and Topeka, Kansas.
There were also demonstrations outside the US embassies in London and Ottawa, Canada.
In New York City, thousands of protesters gathered in Manhattan's Union Square and began marching toward the center of Washington Square Park.
"Abortion is health care, health care is a right," many in the crowd shouted.
One of the protesters was 16-year-old Anura Bracey, who was holding a sign that read "Override Roe? Hell no."
"I am enraged," Bracey said. "I am terrified of what this means for people giving birth in the country."
Bracey said she feels lucky to live in a state where abortion rights are still protected, but said she fears the Supreme Court will violate other rights, including same-sex marriage.
"So I'm just here to blow off some steam," Bracey said. "I want someone to listen to us. I don't know how much this is really going to do, but I feel very desperate."
Claire Alcus, 25, said she felt sick to her stomach when she found out about the ruling.
"I'm not so worried about myself because I have access to proper contraception," she said. "But I feel so bad for the women who probably share the feelings I have, that I'm not ready for a child who won't have access to the kind of care they need to live their lives the way I can."
Later Friday night, hundreds of protesters were in Union Square when Democratic US Rep. Alexandria Ocasio-Cortez arrived. The crowd yelled "AOC!"
The lawmaker, whose district covers the Bronx and Queens, earlier called on people to take to the streets in protest, and urged voters cast votes in the primaries to help change the Democratic Party.
in Washington on Friday a crying woman who asked to be identified only as Skye openly wept after the decision was announced.
"It feels like a betrayal," Skye said. "I feel that my country does not love me or appreciate my body as a woman. I can't even sing because I can't say anything. Hurts."
Amanda Herring, who is 32 and nine months pregnant, appeared with her 1-year-old son Abraham, the words "Not yet human" written in ink on her swollen belly.
Herring, a Jewish educator who said her due date is Saturday, sees the Supreme Court ruling as an infringement on her religion.



Reference-www.nbcnews.com