In 31 career games at Syracuse, Richards had 54 tackles and six quarterback sacks.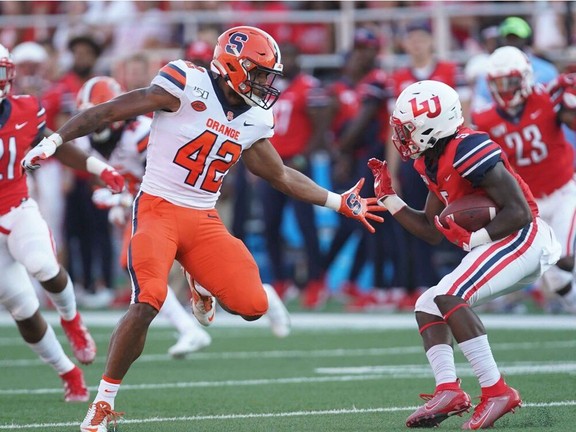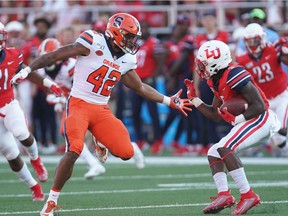 Article content
Everyone expected Tyrell Richards to be selected first overall in Tuesday night's CFL Draft. What proved surprising, however, was his final destination.
Article content
Hours earlier, the Syracuse University linebacker probably thought he was headed to Edmonton. Instead, he'll be playing for the Alouettes this season after Montreal general manager Danny Maciocia moved up in the draft to secure Richards's rights.
The Als traded their first-round (fourth overall) pick, along with the rights to Canadian offensive-lineman Carter O'Donnell, to the Elks to ensure they secured Richards. O'Donnell has spent two seasons on the Indianapolis Colts' practice roster.
"He was the best player in the draft," Maciocia told the Montreal Gazette. "He's a player who checks off many boxes. He's active, physical and can play on all the special teams."
And the fact the Als thought so highly of Richards, 6-foot-3 and 232 pounds, wasn't lost on him.
Article content
"It just made the pick mean a lot more to me," Richards, 23, said on a video conference from his home in Brampton, Ont. "The team went out of the way to trade up to get me. Now I've got to repay the favour. Come in, get to work and hopefully win them a lot of games.
"It means everything," Richards said about being selected first overall. "I've dreamed about this since I was a little kid. Not even about getting drafted but playing at the next level. To know that I'm going to be playing and went first overall is the best feeling I think I've ever felt. I'm excited."
In 31 career games at Syracuse, Richards had 54 tackles, of which 9.5 were for losses, along with six quarterback sacks. He didn't play last season, after entering the NCAA's transfer portal, only to be short of the required credits. He spent the year training and coaching at his former high school in Mississauga, Ont.
Article content
The layoff didn't seem to affect him at March's CFL combine, where he dazzled the league's front-office personnel with his speed, agility and strength. Richards is a versatile player who once played defensive back and was occasionally used off the edge as a rush-end by the Orange.
"There was a lot of stuff going on in my personal life and what was happening at Syracuse," Richards said, without elaborating. "I decided it was in my best interest to leave. I don't think it's going to affect anything. I think I showed at the combine there's no rust on me. I'm ready to get started and learn from the guys that are there."
The Als, who haven't had a first-round pick since 2018, acquired the ninth overall selection as well in a trade with Winnipeg — and used it to take Calgary wide-receiver Tyson Philpot.
Article content
The 5-foot-11, 189-pounder from Delta, BC, had 77 catches for 1,574 yards while scoring 14 touchdowns — nine last season, the highest in the country — in 16 career games for the Dinos. He was a first-team all-Canadian in 2021.
Montreal sent Canadian defensive-tackle Cameron Lawson, along with the 13th overall pick to the Blue Bombers, who also relinquished the 18th overall pick to Montreal.
The Als hadn't selected the first overall since 1972, when they took running-back Larry Smith, a future team president and CFL commissioner.
Earlier on Tuesday, the Als selected Nigerian defensive-end Kingsley Jonathan first overall in the global draft. Jonathan, 6-foot-4 and 260 pounds, also played collegiately at Syracuse, where he recorded 101 tackles and 15 sacks in 56 games. He signed last weekend as a free agent with the Buffalo Bills.
Alouettes likely to draft linebacker Richards after trade for No. 1 pick

Armed with a first-round pick, Als GM Maciocia primed for CFL draft

Alouettes could target Lachine's Enock Makonzo in Tuesday's CFL draft