While the league's outstanding player award almost always goes to a quarterback, Lewis is attempting to become only the third receiver since 2010 to capture the honor.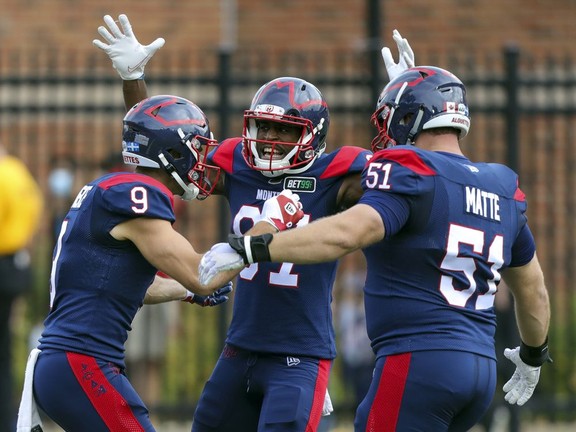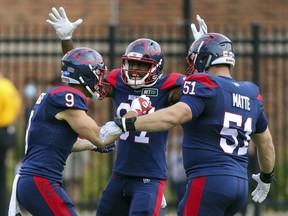 article content
While it's still early in the season, it shouldn't be a surprise to find the Alouettes' Eugene Lewis as the CFL's top receivers.
article content
Like taxes and death, it has become inevitable that Lewis will be at or near the top. And he has become a focal point for the 29-year-old, now in his fifth season with Montreal.
"I want to separate myself from the pack," Lewis said after Thursday's practice. "That's what we're trying to do here. It's about unleashing my full potential. I can be the leading receiver in this league, and the best receiver. I believe in myself and I think I'm the best.
"I want to do it for my team," the 6-foot-1, 208-pound player added. "Do it for me and for my family. I just want to win. I know that having good games helps my team to win. That is my main focus and goal. As long as I do what I'm supposed to do, everything else will work out."
article content
Heading into Saturday night's rematch against the Saskatchewan Roughriders at Mosaic Stadium, Lewis has 15 catches for 307 yards in three games. That's a mind-boggling 20.5-yard average, though, coincidentally, he hasn't scored a touchdown yet.
Lewis is 65 yards ahead of Edmonton's Kenny Lawler, who has 20 receptions for 242 yards. Malik Henry of Calgary is third. He has caught 12 passes for 238 yards.
While the league's outstanding player award almost always goes to a quarterback, Lewis is attempting to become only the third receiver since 2010 to capture the honor, following Chad Owens (2012) and Brandon Banks (2019). Even if that doesn't come to fruition, Lewis just wants to evolve and get better every year.
article content
"The banks did it, and when I saw that, I knew it was possible," Lewis said. "Just go out there and keep exceeding your expectations and keep constantly doing the same things over and over and getting better. Do that and the sky is the limit."
Lewis caught four passes for 68 yards in Thursday's 37-13 win over the Riders at Molson Stadium. He marked the first start of the season for veteran quarterback Trevor Harris, who was filling in for Vernon Adams Jr. The Als are already on their second quarterback this season, but Lewis continues to produce.
He does so, too, despite the absence of injured running back William Stanback, the 2021 Eastern Division's standout player nominee. Additionally, wide receiver Jake Wieneke, who had 11 touchdowns last season, has been plagued by a hamstring injury. hamstring and didn't get dressed last week. . That means even more emphasis has been placed on Lewis.
article content
"Some receivers have trouble adjusting to certain quarterbacks, but I've played a lot of them in my career," Lewis said. "We have had situations like this since I have been here. I want the challenge and I accept the challenge. I want to show people that it doesn't really matter. Whoever's back there, I'm going to make sure I'm doing what's best for that quarterback, what's best for my team and making plays."
Unsurprisingly, none of this surprises head coach Khari Jones, who joined the Als as offensive coordinator in 2018, Lewis's first full season, before replacing Mike Sherman the following year.
"When the ball goes up in the air towards him, one on one, for whatever reason, I always hope he comes up with it," Jones said. And he does it often. He has great body control and can do things after the catch. Even some of the little moves he made in the last game to avoid tackles were pretty impressive.
article content
"He has become the leader, on and off the field, that we needed in that receiving corps. He is still growing as a player. I try to challenge him, make sure he is excellent in all aspects of the game. I can see him willing to participate in the discussion about featured players. I've played a couple of those guys who can really dominate the game."
Lewis didn't arrive with the Als until late in training camp in 2017. He spent most of the season on the practice roster, something he contemplates frequently, being patient as he dressed for just two games. He became a regular the following year and hasn't looked back. He had a 1,000-yard season in 2019 and likely would have produced a second in 2021 if he hadn't missed a game.
Meanwhile, defensive tackle Almondo Sewell, who had two quarterback sacks last week, returned home for the birth of his son and remains questionable for the game. That could lead to a bigger role for Michael Wakefield, who also produced two sacks against the Riders. It also appears that Canadian defensive lineman Vincent Desjardins will make his Als debut, replacing the injured Brock Gowanlock.
Alouettes hopes David Brown will keep the fort downtown

Alouettes' dominant performance shows what they're made of

Inside the CFL: Chip Cox toured the field at linebacker, special teams on his way to the Hall of Fame
twitter.com/HerbZurkowsky1