Strides have been made on the attendance side and the team is working hard to improve the in-stadium experience for fans.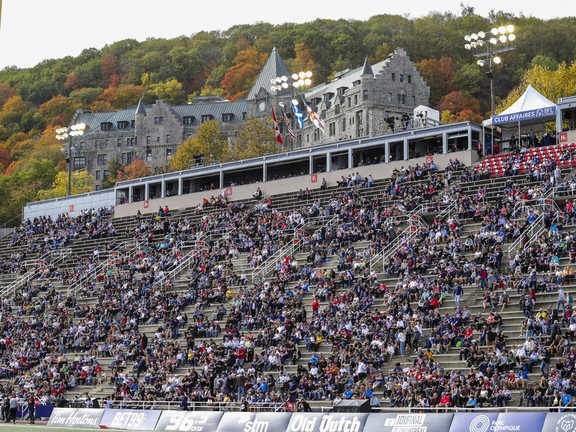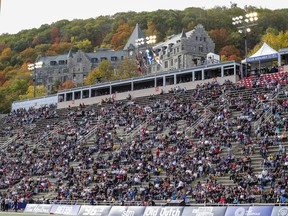 Article content
On the surface, the numbers might not look great. The Alouettes have between 5,000-6,000 season-ticket holders, while their corporate sponsorship intake is believed to be above $2 million.
Article content
But considering what the totals were in January 2020, when the sale of the team was announced to Gary Stern and the late Sid Spiegel — sponsorship was at $800,000, while season-ticket sales hovered at 3,000 — strides have been made. Remember, CFL commissioner Randy Ambrosie talked about the team's survival when it assumed control from Robert and Andrew Wetenhall in 2019.
"It's a process and we're all impatient," president Mario Cecchini told the Montreal Gazette on Wednesday. "We're glad with the progress… and are going in the right direction. We all want it in one year, but it takes time to build.
"From where we took the team we're growing. We're doing something right when other teams are seeing their season-ticket base going down."
Article content
Following two narrow road defeats, the Als launch their home schedule Thursday night (7:30 p.m., TSN1, TSN3, RDS, TSN Radio-690) against the Saskatchewan Roughriders (2-0) at Molson Stadium. Cecchini, one of Stern's first hires, anticipates attendance of close to 15,000 — the majority of whom will have actually paid. That wasn't always the case under previous regimes, it's believed.
Neither Cecchini or Stern — both of whom have tested positive for COVID-19 — will be in attendance, although the president has taped a video welcome message. Considering the game falls on the start of St-Jean Baptiste weekend, when there are conflicting downtown activities, Cecchini won't complain. There's also rain in the forecast.
Article content
"Consumer behavior's changing," Cecchini said. "There are commitment issues, which could lead to fewer season tickets, more individual (game) tickets and last-minute decisions, especially with the younger generation.
"Our challenges are the same you've been hearing from other businesses. People are working from home. When you walk downtown, you don't feel the same atmosphere as before. Obviously in the case of Montreal, it's not always easy getting to our stadium with all the construction."
Stern and Cecchini haven't had much luck over the last few years. The 2020 season was canceled — although most other pro leagues found a way to play — because of the pandemic, while the '21 campaign was shortened to 14 regular-season games instead of 18.
Article content
The Als averaged 13,063 spectators last season, but also played four of their final six at home, including some at night in October and November when it was either cold or rained or both. Attendance dropped as the season progressed. Stern has stated, given Montreal's population, he wants attendance at 22,000 with a season-ticket base of 12,000.
The stadium can hold slightly more than 25,000, according to the CFL, although it must be remembered McGill University owns the facility. While the sightlines are considered spectacular, the venue is outdated, with limited nearby available parking options. Cecchini and his administrative team faced numerous obstacles.
Other than fielding a winning and entertaining club, the organization is attempting to improve the in-stadium experience. While still held up in the production process, there will be poutine meals served in a football helmet and a designated section where back support will be provided to the bench seats.
Article content
The Als also have attempted to get back into the community. The players were introduced Wednesday at Complexe Desjardins. And every Monday night during weeks when the team plays, between 40-60 season-ticket holders will be invited to meet with Cecchini, general manager Danny Maciocia, head coach Khari Jones as well as one or two players. The organization also has vastly improved its social media content recently with the hiring of Joey Alfieri.
"We're trying to do these things, showing the fans we care and are trying to improve," Cecchini said. "It proves we want to be close to our fans."
The Als again don't have an ideal schedule. After playing six of their first nine on the road, Montreal plays four consecutive at home over a six-week period. While every team wants to play at home during the hot summer months, the players know that after an Aug. 11 game at Winnipeg, they won't board a flight again until before their game on Oct. 1 in Edmonton.
Article content
"From a commitment point of view, some fans will say it's tough coming to the stadium four times in six weeks," Cecchini said. "There's pros and cons to everything… but at least the players can focus.
"(The CFL) will tell you they're happy when every team's unhappy. Overall, we're OK with the schedule. Happy would be too strong a word. Every team bets on having a good team in the fall."
Struggling Alouettes turn to veteran QB Trevor Harris for home debut

Herb Zurkowsky: Alouettes embark on pivotal CFL season

Wins, losses and empty seats: Alouettes owner Stern hopeful, frustrated