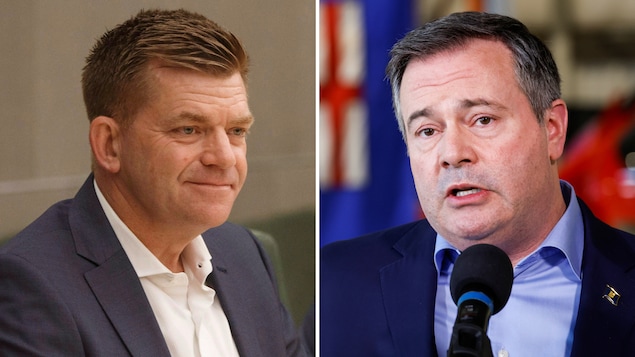 In the letter, the investigators write thatdepending on how the purchase [des cartes de membre faisant l'objet des allégations] has been funded, it is possible that the Election Finances and Contributions Disclosure Act [de l'Alberta] and Elections Alberta standards have been violated.
By email, a spokesperson for the United Conservative Party told CBC on Saturday that the party has not been contacted by Elections Alberta and is not aware of any investigation.
The spokesperson adds that a person can purchase a membership card for themselves or a family member using a personal credit card. The membership card can also be paid for by check or cash if the person making the request can confirm their identity.
The result of the confidence vote on Jason Kenney's leadership held by mail is due to be released on May 18.
Brian Jean's Doubts
The camp of Brian Jean, a member of the United Conservative Party opposed to Jason Kenney who was recently elected MP for the riding of Fort McMurray-Lac La Biche, confirms having filed a complaint with Elections Alberta about the mass purchase of party membership cards.
According to Vitor Marciano, an employee of Brian Jean, the complaint explains that membership cards were purchased en masse for third parties before the Elections Amendment Act of 2021 came into effect. (New window)also known as Bill 81. Marciano adds that Jason Kenney's campaign was named in the complaint.
He further believes that other complaints have been made to Elections Alberta. I think we're not the only ones, but I'm not surehe explains.
Brian Jean has previously alleged that a number of the approximately 59,000 members called to vote in Jason Kenney's vote of confidence potentially obtained membership cards without their knowledge and that the $10 fee for those cards was paid for by someone else.
It is impossible to determine whether Camp Jean's complaint prompted Elections Alberta's investigation.
Elections Alberta did not respond to CBC's requests for comment.
4,000 membership cards paid for by 6 credit cards, says Clan Jean
The heart of the Brian Jean clan's complaint rests on the payment of certain membership cards before the entry into force of the Elections Amendment Act of 2021.
Under the new provisions of the electoral law which entered into force on March 31, it is possible to buy a membership card of a political party in the name of a third person without the latter being notified.
However, according to Vitor Marciano, some 4,000 United Conservative Party membership cards were paid for using 6 credit cards by March 19, the date until which membership was available to take part in the vote of confidence on the leadership. by Jason Kenney.
I don't know who owns these credit cards. I only know that someone bought membership cards for otherssupports Vitor Marciano.
In a statement released in early April, Brian Jean said he believed in the legitimacy of 92% of members able to speak in the vote of confidence after seeing evidence provided by the party leadership.
When there is doubt
This new episode of the internal war between members of the United Conservative Party and their leader only undermines confidence in the result of the vote which will be announced on May 18, according to political scientist Duane Bratt of Mount Royal University.
If Jason Kenney gets more than 50%, regardless of the result, he will again be suspected of cheating.he believes.
Basically it's a lack of trust […] in the process [et] between the party executive and the members. It could go as far as a lack of confidence in the result [du vote de confiance].
This lack of trust is also linked to an RCMP investigation into potential irregularities during the United Conservative Party leadership race that led to the appointment of Jason Kenney in 2017, notes Duane Bratt.
There's a reason why people distrust [des résultats] of the vote of confidence. They are suspicious because of [ce qui s'est passé en] 2017. They are suspicious because of law 81he adds.
It is not just an internal party squabble that has no effect on those who are not party members or those who are not Albertans. We are talking here about the Government of Albertahe points out.
With information from Dominika Lirette and Carolyn Dunn


Reference-ici.radio-canada.ca