Stephane Prevost managed to weather a shortage of staff at his restaurants in Banff, Alta., For most of the summer. But in early August, he had to close one day a week to give his workers a day off.

Later in August, Prevost said it closed its two restaurants up to two days a week, with lunch service sometimes canceled for most of the week, because there were simply not enough workers.
Read more:
Visitors will see big changes on Banff's Bear Street after major construction work during the pandemic
As a hectic summer season draws to a close, Prevost is one of many commercial operators in destinations like Banff and Whistler, BC, preparing for a busier winter season as international visitors return to Canada. amid a constant shortage of staff.
"Even before the pandemic, the hospitality industry was always difficult to staff. Every year, the pool of available hospitality staff has decreased, "said Prevost, chef and co-owner of Block Kitchen and Bar and Shoku Izakaya in Banff.
"The pandemic has made it even worse, and a lot of people went out of business altogether."
He says his business has raised wages as much as possible without compromising cash flow, and other restaurants in the city are doing the same. He has also tried to organize staff meetings to improve morale.
"It's about trying to strike the right balance as employers to foster a good culture for our staff," said Provost, who said his restaurants are preparing for a difficult winter season.
"We have to care about their health and well-being and support them as much as we can."
Business owners say the lack of international workers has been a particularly heavy burden. Canadian mountain cities have long relied on foreign workers using holiday and work visas, a reciprocal scheme that Canada has with other countries such as the UK and Japan that allows young adults to easily obtain an extended visa to work and to travel.
"The fact is, we don't get any inquiries or interest from staff who would normally be applying for jobs with work and vacation visas," Prevost said.
Read more:
Banff Mayor Sees Greater Need for COVID-19 Vaccines in Younger Demographics
Michel Dufresne, director of the Center for Labor Resources in Banff and Canmore, said these visas have become harder to come by during the pandemic, and the uncertainty surrounding COVID-19 has prevented some people from moving to Canada while their own countries grapple with the waves. of the coronavirus.
At the heart of the problem is the lack of Australian workers, who face restrictions from their government to leave their country, Dufresne said.
He said Australians are one of the largest groups of foreign workers in Banff, estimating that they generally make up 30 percent of the staff at Banff's three ski resorts.
Ski villages like Sun Peaks, BC will face unique challenges this winter as they seek enough staff to keep the resort and all of its facilities running.
Colin Brost, senior director of market development for Tourism Sun Peaks, said the ski resort limited ticket sales last year due to the pandemic. It was primarily to protect against COVID-19, but also to ensure that guests could have a good experience despite the lower staffing levels at the resort.
Read more:
Many Alberta pools are understaffed, need lifeguards, swim instructors
He noted that resort facilities, such as ski schools, often rely on foreign workers traveling between the northern and southern hemispheres as they chase the winter.
"It's a struggle to attract staff across the board," Brost said.
"Accommodation is a critical issue well. Sometimes someone can and wants to work in a place like Sun Peaks, but can they afford to live there? Is there affordable housing for them? ".
Even when some workers may be reluctant to travel for work, tourist destinations expect many more to travel for pleasure.
"It's going to be like when the restaurants first reopened here, it filled up very quickly, but they didn't have the workers to call back," said Dufresne, in Banff.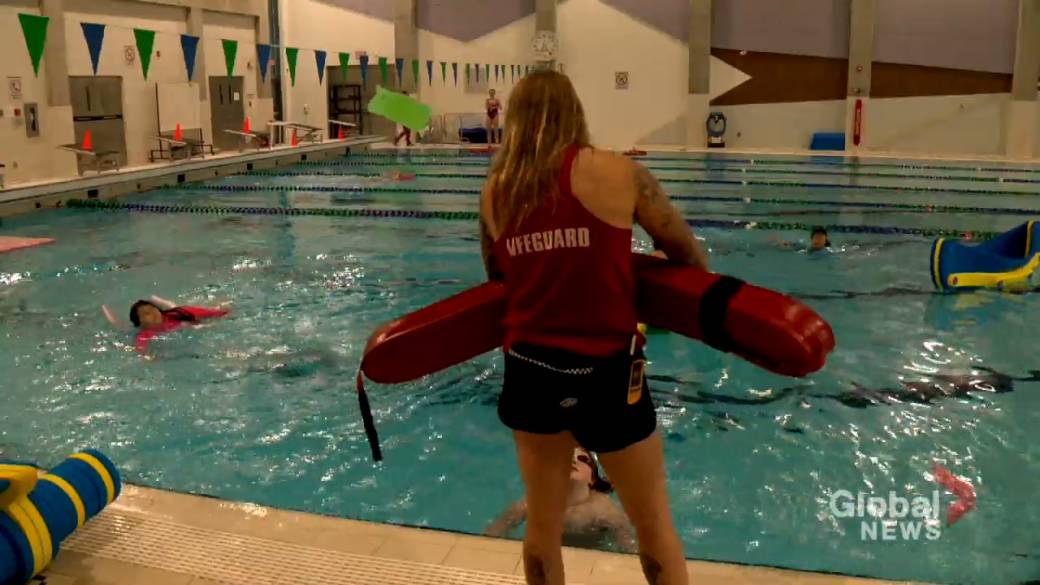 Alberta pools scramble for lifeguard and swim instructor positions
In British Columbia, Tourism Whistler said US and international visitors make up about 60 percent of travelers to the resort in a typical year.
As some restrictions in the province return due to the fourth wave of COVID-19, the tourism board said it expects people to take a wait-and-see approach when booking for the winter season.
"In the same way that we anticipate more visitors coming over the next year, we also hope to attract back many of our international employees who come to Whistler on a work and vacation visa to work and play." said Barrett Fisher, CEO and President of Tourism Whistler.
"It certainly helps keep our local workforce afloat."
Read more:
Alberta Tourism Sector Optimistic For Summer Commuters As COVID-19 Border Restrictions To Ease
Back in Banff, Prevost called on the government to lower barriers for international workers trying to extend their stays in the country.
You are already facing the loss of a reliable cook, who may be forced to leave once your visa expires.
"He's having a hard time with that, and he's clearly an ideal candidate with a good track record, and it's frustrating that he can't get a work visa," Prevost said.
"The government should promote and make things easier for foreign workers."
© 2021 The Canadian Press


Reference-globalnews.ca