Federal leaders pointed finger at each other and skyrocketed Thursday at the spiraling COVID-19 crisis in Alberta, each seeking to forge a link in the minds of voters between the province's dire health emergency. and the policies of others.
A day earlier, Alberta Prime Minister Jason Kenney reintroduced meeting limits along with elements of a vaccine passport system, after months of resistance, when he declared a public health emergency that threatens to overload care units. intensive.
Liberal leader Justin Trudeau said conservative politicians across the country have been less effective in fighting the pandemic and questioned whether Conservative leader Erin O'Toole should sit across from them at the prime minister's table.
"Just a few days ago, Mr. O'Toole was still applauding Mr. Kenney for his handling of the pandemic," Trudeau said in Montreal, stating that "anti-vaccines within his own party run the show."
O'Toole had praised Alberta's testing and contact tracing regimes on Sunday as efforts to get the federal government to emulate them.
"It will not require all of its candidates to be vaccinated. It does not criticize its candidate who was not fully vaccinated and who enters nursing homes," Trudeau said, referring to Michelle Ferreri, the conservative Peterborough-Kawartha candidate who posted photos of herself. herself on social media in a retirement home despite having received only one photo.
What people are reading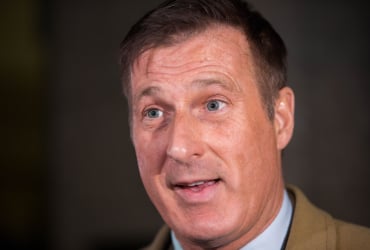 Trudeau said the ventilators are on their way to Alberta and he has asked Canada's top official to "offer all the support we can," including dispatching medical professionals to infection hotspots.
Minutes later, at an event in Saint John, NB, O'Toole primarily blamed Trudeau for the deterioration of the situation in the province and avoided any mention of Kenney's name, despite being repeatedly asked about him by reporters. He said the Liberal leader allowed the Delta variant to gain "more control" than necessary and proceeded to trigger an election amid a rising fourth wave.
"Instead of doubling our resources to fight this expansion of the Delta, he called for elections. The 600 million dollars that this election costs could be helping all the provinces in their fight," said the former military helicopter pilot, pledging to be your "companion".
"I would never call an election in the middle of a health crisis."
In Toronto, new Democratic leader Jagmeet Singh said Kenney is to blame, but insisted that Trudeau must share the responsibility, as he launched an election campaign that attracted attention and resources and sent candidates to the gates across the country before Election day on Monday.
Federal leaders are singling out each other for # Alberta's COVID-19 health emergency. # Covid19 #ItsOurVote #CdnPoli # Elxn44
"There is no question that Mr. Kenney is to blame here and that his leadership has been horrible. But he also does not rule out the fact that Mr. Trudeau called an election while the fourth wave was hitting hard, while everyone knew it was. it's going to hit, "Singh said.
He also criticized the Liberal leader for not expanding paid sick leave, although the party has now promised to do so on its platform.
The NDP plans to change its tactics on the ground to accommodate the unfolding crisis in Alberta, Singh added, but did not provide details and said an "assessment" is underway.
With its healthcare system under threat of collapse, the province is asking its neighbors for help using their beds and intensive care staff as it prepares its triage protocols, which would force doctors to choose who gets life-saving treatment and who. no.
"We may be left without staff and intensive care beds in the next 10 days," Kenney said Wednesday.
"Unless we reduce transmission, particularly among unvaccinated Albertans, we simply cannot provide adequate care for everyone who becomes ill."
Alberta has 269 intensive care patients in a system set to 173. Of the ICU patients, 218 have COVID-19, the vast majority unvaccinated or partially vaccinated.
Kenney apologized for misinterpreting COVID's envisioned path in June, saying "it is now clear that we were wrong," but added that he did not regret having lifted all restrictions.
In neighboring Saskatchewan, Prime Minister Scott Moe announced Thursday that the province will bring a mask mandate on Friday and a vaccination test schedule on October 1 in a bid to boost immunizations.
Public Health Director Dr. Theresa Tam also painted a grim picture of what could happen if more people don't adopt vaccines.
"Unless we can rapidly reduce overall transmission rates through accelerated vaccination and other measures where the virus is increasing, the continued expansion of the epidemic could lead to a higher case count than we have experienced so far." Tam said at a news conference Thursday.
Nearly seven million eligible Canadians have yet to receive two injections, he said, emphasizing the importance of vaccines against the Delta variant. The mutated virus is "highly contagious and more severe," and threatens to push hospitalizations beyond the capacity of health systems in some areas, Tam said.
By reserving his toughest salvos for O'Toole, Trudeau kept much of his fire on Kenney, saying that the prime minister's pandemic role with the provinces is to "encourage" and "support" with billions of dollars and millions of evidence. fast.
"It is not my job to judge or criticize or certainly not tell people what to do in the provinces. They are duly elected, "he said.
Singh reacted hours later: "You know what? If you don't think it's your job, maybe someone should replace you."
Former US President Barack Obama felt different and offered an endorsement on Twitter that liberal organizers seized with text blasts within hours.
"I wish my friend @JustinTrudeau the best in the upcoming Canadian election. Justin has been an effective leader and strong voice for democratic values, and I am proud of the work we did together," Obama wrote in a tweet. Thursday noon.
This Canadian Press report was first published on September 16, 2021.
– With files from Allison Jones in Toronto, Kelly Geraldine Malone in Oshawa and Laura Osman in Ottawa
Reference-www.nationalobserver.com