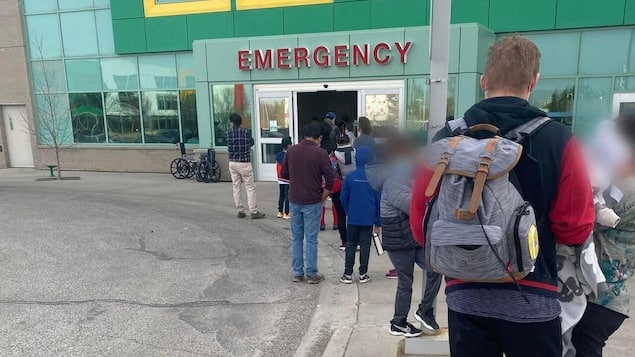 It's not uncommon these days for parents to wait nearly 10 hours for their children to receive care at the Alberta Children's Hospital in Calgary. The association that represents nurses in the province, United Nurses of Alberta, said the wait time reached 16 hours, at times. In Edmonton, Stollery Children's Hospital is also under pressure.
The last two weeks, and especially the last seven days, have been some of the busiest times I have seen in my 10 years working at Children's Hospital.says physician Stephen Freedman, an emergency physician at Alberta Children's Hospital and a professor at the University of Calgary School of Medicine.
If their case was not urgent, some children have waited fairly regularly for eight to nine hours over the past two weeks, he said.
The queue to see a triage nurse, who assesses patients and determines who should be treated first, even stretches outside the hospital gates during the busiest times.
Stephen Freedman adds that the staff are doing their best and that the most urgent cases are given priority and seen within 20 to 30 minutes.
According to Stephen Freedman, a number of factors have combined to create what he describes as perfect storm.
With the transmission of COVID-19, minimum distances must be respected and health protocols are longer. There are also more cases of late flu, an increase in demand for some mental health services and a shortage of staff.
I'm worriedsays doctor Shazma Mithani, who works at Stollery Hospital.
She said these delays are unprecedented and some children are waiting up to seven or eight hours to see her.
It's something we discuss with each other every day to see what we can do to ensure patient safety.
She describes the situation as dangerous and says some patients wait 45 to 90 minutes to see the triage nurse.
It's essentially impossible to make sure someone doesn't get sicker while sitting in the waiting roomsays Shazma Mithani.
At Stollery Hospital, an additional waiting room has been added to deal with the emergency room.
Alberta Health Services (AHSAlberta Health Services) said to be aware of the situation and that the sickest patients will always be prioritized.
The healthcare system is currently under significant pressure, particularly our emergency departments, due to high volumes of critically ill patients and the impact of COVID-19, which includes an increased number of patients requiring hospitalization, admissions limited to certain hospital units due to infection control requirements and increased staff absencessaid the spokesperson forAHSAlberta Health ServicesJames Wood, in an email.
We need to isolate patients who are showing symptoms of flu illness and need more physical space to allow for distancing, which is creating longer lines that have stretched out in front of the hospitaladds James Wood.
Nurses monitor the queue and the waiting room to ensure that no patient is in critical condition. We are currently working on a system to ensure that the queue, which sometimes extends outside, is inside the building. Our goal is to make sure everyone is inside and waiting for as little time as possible.


Reference-ici.radio-canada.ca