Disney star found dead
Actor Tommy Kirk dies at 79
The late actor's neighbor found his body at his Las Vegas home
Disney star Tommy Kirk dies. The wonderful world of Disney is mourning the death of one of its stars who stood out in this popular chain. This is the actor Tommy Kirk who lost his life this Wednesday at his home located in Las Vegas, Nevada, when he was found by another person.
Different media reported the death of the child star in the 1960s, thanks to a neighbor of the deceased who found him already without vital signs inside his house around 8 at night. So far the neighbor who found him is not suspected, according to The Sun.
Actor Tommy Kirk dies
Tommy was found dead at his home in Las Vegas, Nevada at the age of 79, so far no cause of death has been released. The artist is recognized for participating in the 1957 Disney classic film Old Yeller. Where he shared the stage with Dorothy McGuire, Fess Parker and Kevin Corcoran in the film.
The Disney classic "Old Yeller" tells the story of a teenager, played by Tommy, who comes to love a stray dog ​​while helping his mother and younger brother run their home in Texas while his father is out of town. in a cattle drive.
Disney star Tommy Kirk dies: Disney star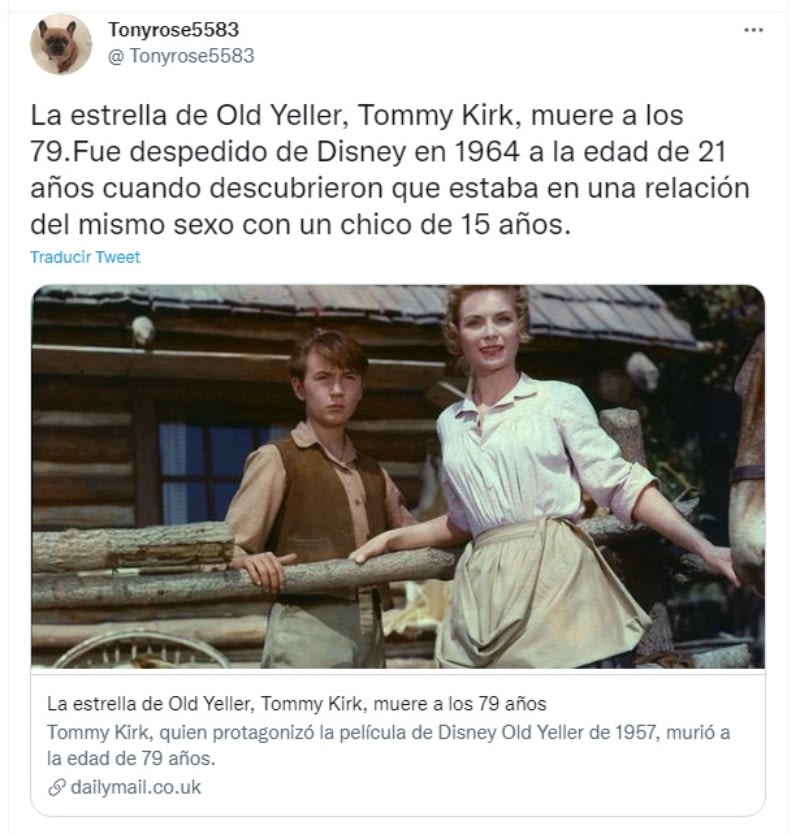 After standing out in his well-known role in the movie "Old Yeller," Tommy became a child star, who was also a Disney favorite. Being one of the outstanding Disney children of that generation where the classics of this chain were filmed.
After establishing himself as a star, Tommy continued to participate in leading roles in different Disney films. Such as The Shaggy Dog, Swiss Family Robinson and The Misadventures of Merlin Jones, among others. It is worth mentioning that Tommy was discovered in 1954 when he was only 13 years old, according to The Sun.
Being so young, he impressed audiences while starring alongside Will Rogers Jr. in the production of Ah, Wilderness! From Pasadena Playhouse. It is believed that Tommy booked the play because he was the only person who auditioned for the role. The now deceased only had five lines in the play, although he caught the attention of a talent agent who hired him.
Shortly after the play, Tommy Kirk included him in an episode of TV Reader's Digest. He then performed at The Mickey Mouse Club, and appeared as a guest at Lux Video Theater, Frontier, Big Town, Crossroads, Gunsmoke, Letter to Loretta, and Matinee Theater, establishing himself on television.
Disney star Tommy Kirk dies: fired for being gay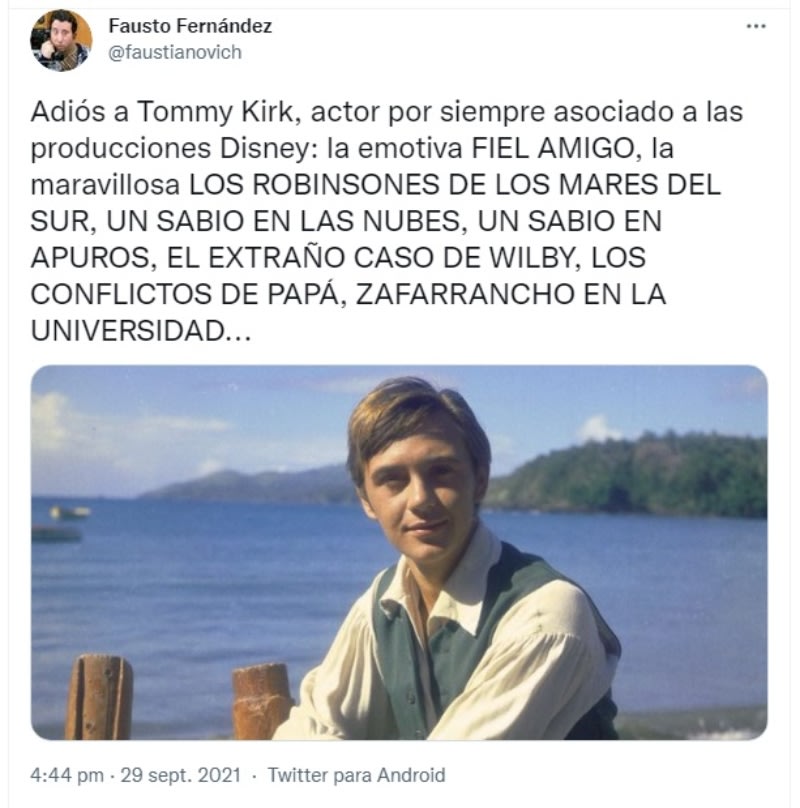 After shining on the small screen as a Disney child, Tommy Kirk was fired by the company in 1964, because he confessed to being homosexual, this happened when he was 21 years old.
"When I was about 17 or 18 years old, I finally admitted to myself that I was not going to change. I didn't know what the consequences would be, but I had a definite feeling that it was going to ruin my Disney career and maybe my entire acting career. It was all going to come to an end, "said Tommy.
Disney star Tommy Kirk dies: "I got involved with someone and they fired me"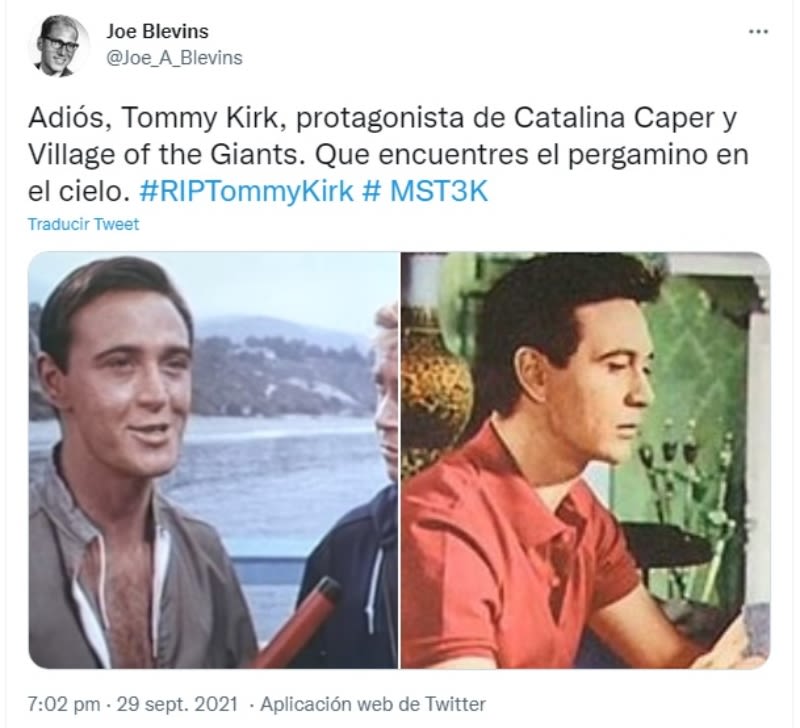 After admitting his sexual orientation, the company fired him and the actor mentioned: "Disney was a family film studio and I was supposed to be its young lead. After they found out he was involved with someone, that was the end of Disney. Finally, I got involved with someone and they fired me. "
Disney Star Tommy Kirk Dies: Didn't You Fire Him Because He Was Gay?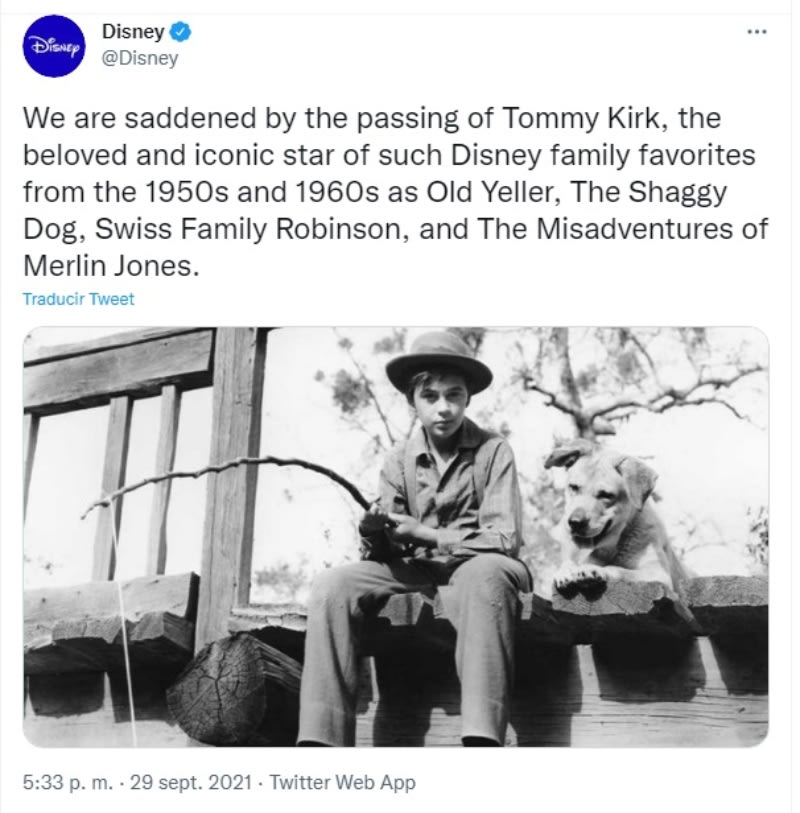 Through social networks, several celebrities took the opportunity to share a farewell message for this great actor, but those who took the spotlight was the Disney Twitter account, who sent a message: "We are saddened by the death of Tommy Kirk, the beloved and iconic star of Disney family favorites from the 1950s and 1960s like Old Yeller, The Shaggy Dog, Swiss Family Robinson and The Misadventures of Merlin Jones. "
Internet users immediately began to remember that the company unfairly fired him: "And yet, since he wasn't a man, you fired him", "Didn't you fire him because he was gay?", "As an adult he did Monkeys Uncle, who was also a successful, but they ruled him out because he was gay. It was difficult for him to find work because of Disney ", were some of the comments.
Close Disney Store stores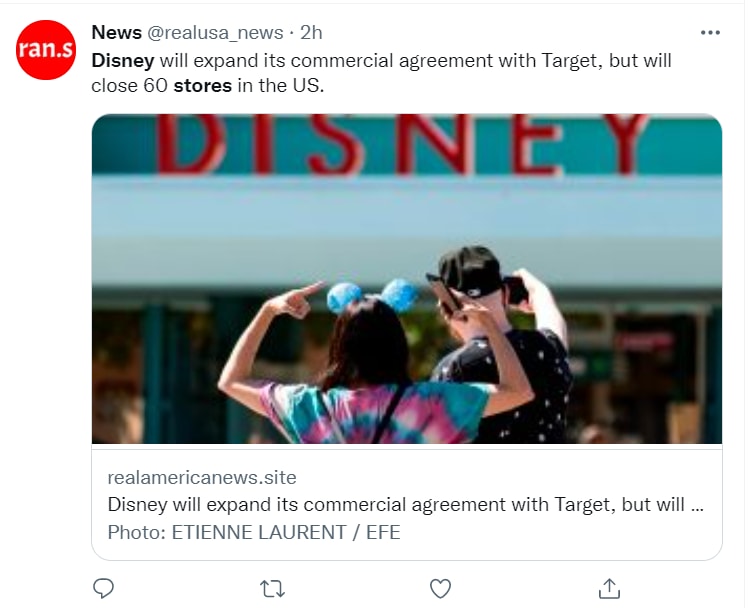 Earlier a few weeks ago, according to the media, the decision was reached that the Disney Store will close all of its branches in the Chicago area; the news shocked its buyers, who did not expect the closing to take place so soon.
But that does not mean that fans of the chain have nowhere to buy Disney products. People who want to buy their products can go to the stores in the parks or consume them at a Target branch; This news surprised users on social networks, who have not stopped commenting on the problem they are facing. Filed Under: Disney Star Tommy Kirk Dies
Chicago branches to close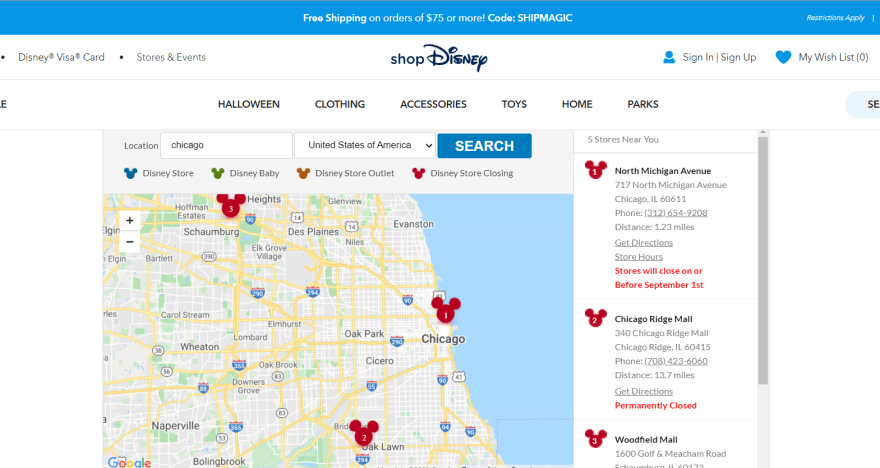 WGN-TV reported that Disney will close its independent stores in the Chicago area in mid-September. The most popular establishments in the state will be closing their doors in the following days of the month of September and even on the official page of the Disney Store they have marked with the face of Mickey Mouse, the stores that will disappear.
The Michigan Avenue Disney Store will close on or before September 1, according to the company's website. Stores at Woodfield Mall in Schaumburg, Chicago Premium Outlets in Aurora and Gurnee Mills in Gurnee will close later that month, according to the Chicago Tribune news outlet. Filed Under: Disney Star Tommy Kirk Dies
New Jersey says goodbye to magic
The New Jersey media noted that the closing of branches in the state will take place in September. As in Chicago, the Disney Store announced that it will say 'goodbye' to the branches that gave happiness to a hundred children who always visited the surroundings with pleasure and that now only one store will remain.
According to Nj.com, four of the remaining five Disney stores in New Jersey are ready to close. Stores in Deptford (Deptford Mall), Edison (Menlo Park Mall), Jackson (Jackson Premium Outlets) and Paramus (Westfield Garden State Plaza) will close on or before September 15; the only store that will remain present is the Disney store in Jersey Gardens in Elizabeth and it was also announced by the official Disney Store page. Filed Under: Disney Star Tommy Kirk Dies
Los Angeles will say goodbye to its branches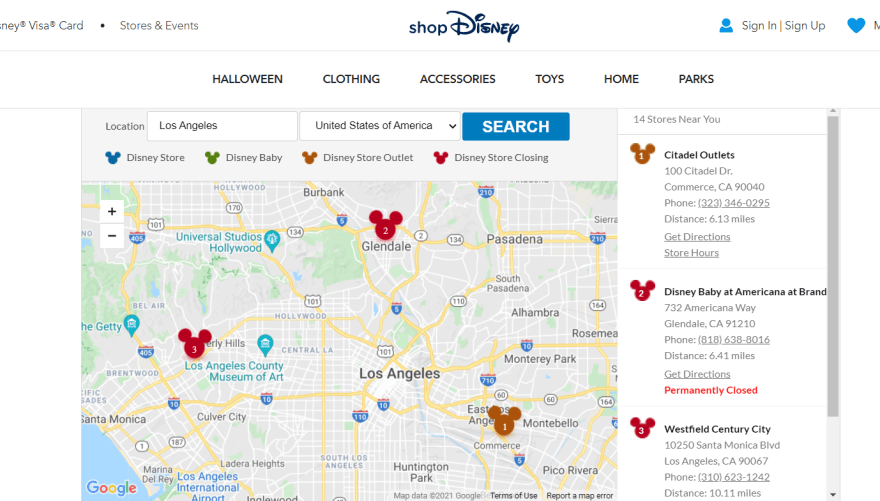 On the official page of the Disney Store, it was reported the closure of one of the two branches in Los Angeles. As in the previous branches, September is the month the chain chose to close one of the two stores that are still in operation and people are expected to attend to look for company items at Target stores.
There were three stores in the state, but one of them closed permanently. The next branch to close will be in Westfield Century City, which is located on Santa Monica Boulevard; the only store that will remain open is the one located in the Citadel Outlets and has no closing date so shoppers will still be able to visit. Filed Under: Disney Star Tommy Kirk Dies


mundohispanico.com