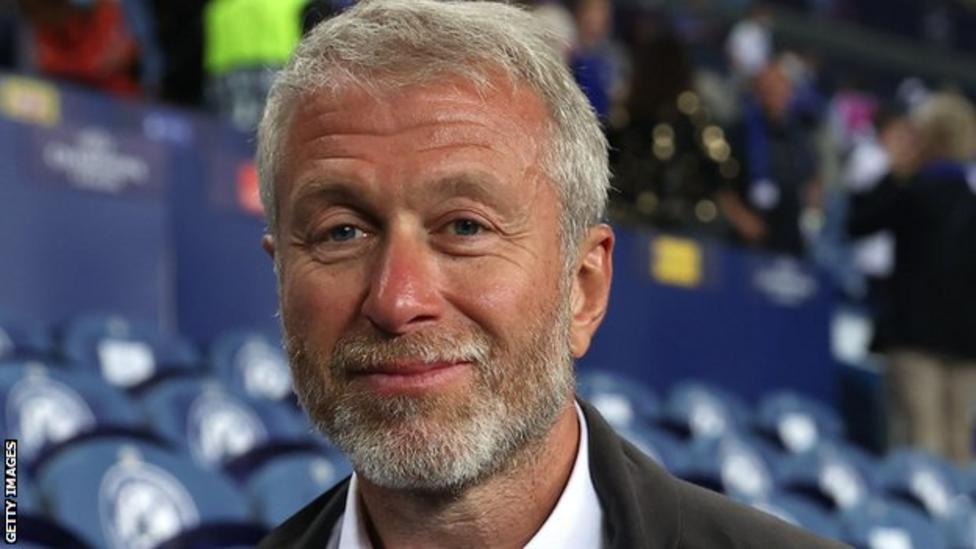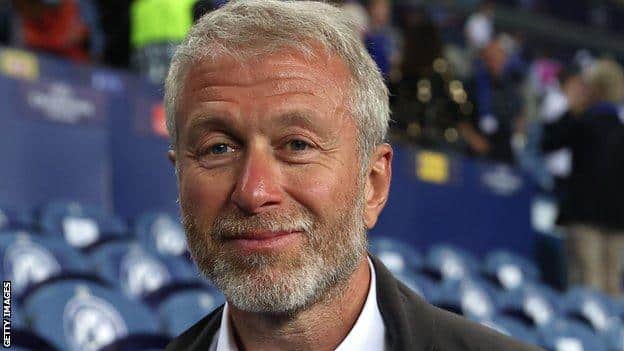 Roman Abramovich's attempt to sell Chelsea has been halted after the oligarch was sanctioned by the UK government as part of its response to Russia's invasion of Ukraine.
The freezing of Abramovich's assets, which include Chelsea, means the club cannot sell further match tickets.
The move is intended to stop Abramovich making money from Chelsea.
The government has issued a special license that will allow fixtures to be fulfilled, staff to be paid and existing ticket-holders to attend matches.
Season-ticket holders can still attend games for which they have tickets but the club cannot now sell any more tickets.
Chelsea will also be unable to buy or sell players, or offer new contracts, while the sanctions are imposed on Abramovich.
The club's merchandise shop will also be shut.
The government is open to considering a further addition to the special license which will allow the sale of the club.
A condition for that to happen would be that Abramovich – one of Russia's richest people who is believed to be close to Russian President Vladimir Putin – receives no funds.
He has previously said that proceeds of any sale would be donated to victims of war.
On Wednesday, there were 20 credible interested parties looking at a potential Chelsea takeover. Among them was British businessman Nick Candy.
Culture Secretary Nadine Dorries has said the government is "committed to protecting" the club.
"Football clubs are cultural assets and the bedrock of our communities," she tweeted.
"I know this brings some uncertainty, but the government will work with the league and clubs to keep football being played while ensuring sanctions hit those intended.
"Our priority is to hold those who have enabled the Putin regime to account."
What does the special license mean for Chelsea?
Chelsea are able to pay the wages of all employees, including players and coaching staff

They can pay "reasonable" costs of travel to and from fixtures but not exceeding £20,000 per game per team

They can pay "reasonable" costs towards hosting home fixtures, not exceeding £500,000 per fixture per team

Fans who bought season tickets or individual match tickets before 10 March 2022 can attend games

Rights-holding broadcasters can broadcast any fixture involving the club
The sanctions have been imposed on a day that both Chelsea's men's and women's teams are in action, with the Blues traveling to Norwich in the Premier League while they are up against West Ham in the WSL.
The Chelsea Supporters' Trust has called for the government "to minimize the uncertainty" and to include fans "in any conversation regarding ongoing impacts"
As a result of the sanctions, the Digital, Culture, Media and Sport (DCMS) select committee will hear from Sports Minister Nigel Huddleston, Football Association chief executive Mark Bullingham and the Premier League's chief policy and corporate affairs officer Helen MacNamara on Tuesday.
Committee chair Julian Knight said the hearing would "explore issues around the role of Russian money in our national game and will examine the government's approach to financial sanctions targeted at specific individuals and its general policy on sporting sanctions and boycotts".
Knight added: "This morning's announcement that Roman Abramovich has been sanctioned by the government and emerging details of the likely effect on one of the country's biggest football clubs illustrates the deep and wide-ranging impact such measures will have on sport in this country."
Since his purchase of the club in 2003, Chelsea have been transformed, setting the template for how much finance was needed to compete at the top end of English football.
In total, Abramovich has loaned the club more than £1.5bn, which has helped to bring great success.
Under Abramovich's ownership, the club have won every major trophy possible – including the Champions League twice, both the Premier League and FA Cup five times, the Europa League twice and the League Cup three times.
In February, they won their first Club World Cup.
They have also won the Women's Super League title four times, the Women's FA Cup on three occasions and picked up the Women's League Cup twice in the past eight years.
Analysis
Simon Stone, BBC Sport football correspondent
There is no template for dealing with this type of situation and football's authorities are scrambling to work out the finer points.
For Chelsea, some elements are straightforward – and tricky.
They cannot offer new contracts – so the futures of Antonio Rudiger, Andreas Christensen and skipper Cesar Azpilicueta are uncertain. The loan of Saul Niguez will not be turned into a permanent deal. Chelsea cannot sell the numerous players they have on loan, including Armando Broja, who has impressed so much at Southampton. Presumably numerous younger players they would have given contracts to now will not get them.
But what about the detail? Can Chelsea sell tickets to their own fans for away games given they as a club do not benefit? What will happen to the FA Cup semi-final – if they get there – when receipts are split between clubs? Can Premier League clubs like Brentford – who were part-way through selling their away allocation for their trip to Stamford Bridge on 2 April – still do so, or do they have to stop?
And as for the £20,000 limit on expenses for away games, Chelsea have matches next week at Lille and Middlesbrough. Both would cost substantially more than £20,000. Can individuals make contributions or will Chelsea have to reduce the cost with a less expensive form of accommodation for Thomas Tuchel's side?
Clearly, the sale of the club needs to happen quickly if there is not to be a major impact. But that is in the hands of the government.
Roman Abramovich's funding meant Chelsea emerged from the financial impact of Covid-19 relatively unscathed. They will not escape from this.







Reference-www.bbc.co.uk