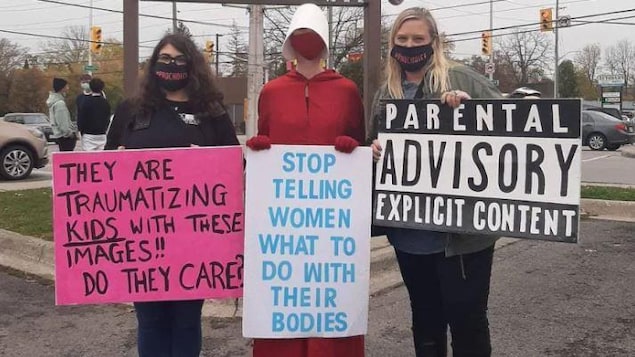 It looks like the Supreme Court justices are about to disqualify Roe v. Wade and that, of course, opens up a Pandora's box of nasty alternatives for women who want to end their pregnancies.says Dr. Fraser Fellows, a retired obstetrician-gynecologist who performed abortions in London, Ont., throughout his career.
For more than two years in the 1990s, anti-abortion activists demonstrated outside his home in an attempt to stop him performing the medical procedure.
Possible repercussions in Canada
Abortion remains one of the most controversial social issues in the United States. However, in Canada, nearly 80% of voters are for the free choice of women, according to an Ipsos poll carried out in 2017.
I hope our politicians are more in tune with what the average Canadian wants in the context of providing abortion services, which is to ensure that we have legal and safe abortions for Canadian women.assures Dr. Fellows.
Certainly the large population south of our border can influence political thinking and choiceshe adds.
This is precisely what Anna Marchand, president of the pro-life organization London Area Right to Lifehopes to see happen.
It gives me hope that politicians here are starting to think about when life begins, and maybe that will influence the way they think here.she says about the heated debate that animates the United States.
It is a moral question. We don't have a law here in Canada, so it's different. We gotta talk to the politicians, get the pro-life voteshe explains.
Difficult access to abortion in certain regions of Canada
London has one of the largest abortion clinics in the country and local women have easy access to it.
By contrast, other women in Canada must travel great distances to access abortion, says Robyn Schwarz, an Ontario scholar and activist who has researched abortion access in Canada.
This access really depends on where you live in the country and the types of providers available in your community.she says.
Dr. Fellows' medical practice has saved the lives of many women in this city, including that of Katie Dean, who had a medically necessary abortion and has since championed the pro-choice cause. .
She opposes the pamphlets depicting a fetus which some anti-abortion activists are sporting and displaying on large placards outside London's Health Sciences Centre.
I have more faith in the Canadian justice system and in our own politicians. We are more forward-thinking than the United States, overallsays Katie Dean. I think we are going to see people coming to Canada for abortions from the United States, she adds.
She says she has already been contacted by a woman who wants to offer a room in her house to any woman from the United States who wants to come to London, in case she cannot access abortion services in her own state.
Ms. Schwarz, however, thinks Canada must be careful about the erosion of women's rights.
" Legally, we are safe. But […] we're experiencing a health care access crisis at an unprecedented rate across the country, and the problem with abortion is that you can't wait six months for a procedure. »
There are people right now who have been forced through this pandemic to carry pregnancies to term that they didn't want, because they couldn't access care in their own communities, and that's a problemshe says.
With information from Kate Dubinski of The Canadian News


Reference-ici.radio-canada.ca