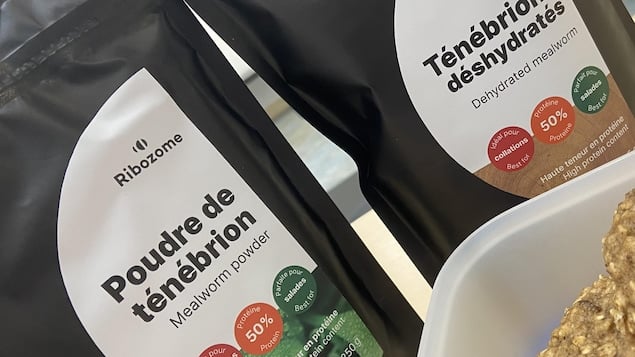 After two years of breeding these insects, the company is ready to market them, mainly in powder form or simply dehydrated. Dehydrated mealworms can be added to salads, among other things. Mealworm powder can be incorporated into pasta, smoothies and of course, baked goods.
I already have some bakeries that have done tests that have submitted the products to their customers. The answer is very goodmentions the owner, Dany Fortin.
To promote the chances of success during marketing, Ribozome benefited from the advice of La SUITE entrepreneuriale in Alma. The incubator supports companies that fit less into traditional models.
We try to set up a network around them to help them, really, to do what they do best, in fact, it's daring and developing projects that are completely innovative.explains the division manager of La SUITE entrepreneuriale, Joanne Doucet.
A market to develop
It was while listening to an entrepreneur talk about his difficulty in obtaining supplies of insect powder in Quebec, on a television program, that the owner of Ribozome discovered this field.
I started to read about this industry, to inform myself and quickly, I realized that there was room for this protein. […] I started with my two insect ice cream dishes that spawned, graduallyto support Dany Fortin, who combines his interests in entrepreneurship and the environment with his project.
The company's greenhouse in Saint-Nazaire now contains more than 1,000 bins in production. About 90% of the larvae will be transformed into dehydrated larvae or powder. The balance of the larvae will reach the adult stage. They will first transform into nymphs, then will become mealworms which will be used for reproduction.
Properties and circular economy
Darkworm larvae have amazing properties. They contain lipids, nutrients and above all, are rich in proteins.
Insect powder still contains 62% proteinsays the entrepreneur.
What's more, insect production has less impact on the environment compared to conventional livestock production.
To produce 1 kg of protein with beef, it will take 100 kg of food while to produce 1 kg of protein from insects, it will take 1.7 kg of foodcites Dany Fortin as an example.
The production of edible insects is also part of a circular economy approach. Currently, only adult mealworms are not valued, but Dany Fortin would eventually like to transform them.
Popular elsewhere more than here
Although two billion humans on the planet consume them, insects are not hugely popular in North America. However, the Food and Agriculture Organization of the United Nations (FAO) has been advocating the adoption of alternative sources of protein for several years now.
According to the Table in the production and processing of edible insects in Quebec, entomophagy, that is to say the consumption of insects by humans, deserves to be known.
Currently, we realized, after conducting a survey, that there are approximately 38 insect producers and 10 processors. Different types of products are developed and available in the market. […] We are talking about breads, protein bars, crackers. The industry is growingsupported the development officer, Jennifer Larouche, adding that a Chair of leadership and education in the production and primary processing of edible insects has just been created.
Before integrating edible insects into our diet, Dany Fortin is well aware that changes in mentality must take place.
Eating insects is not rooted in our habits and customs. You have to respect the people in there, accompany them and quietly the place will be made for these new proteins. We notice a lot of different reactions at the level of the generationshe concludes.


Reference-ici.radio-canada.ca