.
Eighty years ago today (August 19), during World War II, Allied forces launched an amphibious attack against the Germans, who had seized the port of Dieppe in France. Tragically, the raid was a failure due to insufficient air and naval support, tanks trapped on sandy shores, and deadly German forces. Of the 6,086 Allied soldiers who reached the beach, more than half were killed, wounded, or taken prisoner. Dieppe, however, led to invaluable lessons that contributed to the success of the D-Day landings in the future and some leaders, such as Winston Churchill, even believed that these learnings outweighed the cost of Dieppe's failure.
.
Below is a series of archived pages from the Calgary Herald showing media coverage of the Dieppe raid and an article by aAuthor, photojournalist and former Calgary Herald journalist David Bly from November 2005, in which he interviewed a Dieppe survivor.
The vet is among the lucky ones
Calgary Herald
Fri Nov 11, 2005
Page: B4
Author: David bly
Elly Raskin came back from the war twice lucky — was alive, and when he got off the train near the Mewata Armory, his English-born wife and young son were waiting for him.
Elly and Marjorie Senior had met at a ball in London. The prairie boy in his Calgary Tanks uniform was a Handsome evil then admit.
"still is,", Marjorie said with a shy smile 63 years later. "It was love at first sight."
.
A month after their marriage, Elly was crossing the channel as part of the Dieppe raided in August 1942.
When the battle ended, almost 1,400 Allied soldiers, 913 of them Canadians, were dead and more than 2,000 Allied soldiers, most of them Canadian, were taken prisoner.
Elly's landing craft was unable to get through the congestion to the beach and had to turn back.
But Marjorie didn't know if she had been delicate, captured or wounded. For three days, he met hospital trains, looking for him among the wounded.
Finally, they reconnected, to her great relief. But they spent more time apart than together during the war years.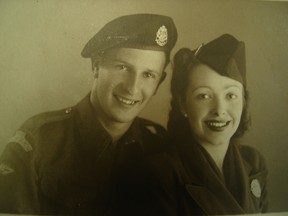 When the Calgary tanks were sent to the Italian front, Elly met her first real fear of the war off the coast of Sicily.
.
Born and raised in Rumsey, north of Drumheller, he hadn't seen much deep water and couldn't swim.
"We had to go overboard with ropes to get to the landing craft," he said. "That was the first time I was scared, I thought I would go into the water."
jumped and landed No danger in the boat.
Elly was assigned transport, driving the trucks carrying ammunition and supplies, and the favorite targets of the German gunners.
He saw comrades die when projectiles fell. His closest call came near Ortona, when a shell fragment pierced his left leg to the bone.
"I took it out and moved on," he said. "I took hell from the MO (medical officer) a few days later when he saw it, but I was never in bed."
In February 1945, Calgary tanks were sent from Italy to Belgium for the last step into Holland, where the Dutch took to the streets to Welcome Canadian Liberators.
.
Elly and Marjorie returned to Holland this spring to commemorate the liberation and found the same warmth Welcome.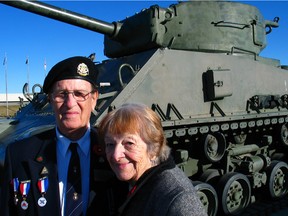 One of the people who thanked Elly was a woman who sat at her table while the Raskins were at a reception at the royal palace near Apeldoorn.
"He talked to us for a while and then I asked his name,Elly said. "She said: 'I am Princess Margriet.' "
Margriet had a special connection to Canadian veterans: she was born in an Ottawa hospital after Canada sheltered the Dutch royal family during the war.
After the war ended, Marjorie preceded Elly to Canada, arriving in June 1945 with her son, Keith.
Unlike many war brides, she was not shocked by the vast prairie or by relatively primitive living conditions. She had known little more than city life, but Marjorie liked Alberta.
.
"I liked all the space," she said.
Elly returned in September and got off the train where it was being held near the Mewata Armory.
Canadian troops went to Europe to fight for democracy, but that lofty thought wasn't usually on soldiers' minds, said Elly, now 85.
"It was something you had to do" he said. "You just focused on your work and took care of your friends."
But he said he now knows that he fought to make the world a better place.
"And it's better here in Canada," he said. "It's nice bad in the Middle East and those places, but we have it Okay here."
For years, Elly, like most war veterans, didn't talk much about the war, but in recent years the stories have been surfacing.
It's important to tell those stories, he said, and he does his part by volunteering at the Museum of Regiments, telling students about the war and his experiences.
The museum, he said, will keep memories alive after veterans are gone, especially through its partnership with schools.
"The kids are great," he said. "They will remember."
Editor's note: Elly Raskin passed away eight years after this story was first published at age 93.
In Numbers: World War II (1939-45)
Served: 1.3 million Canadian men and 49,963 women
Died: 44,927
Wounded: 53,145
Taken prisoner: 8,271