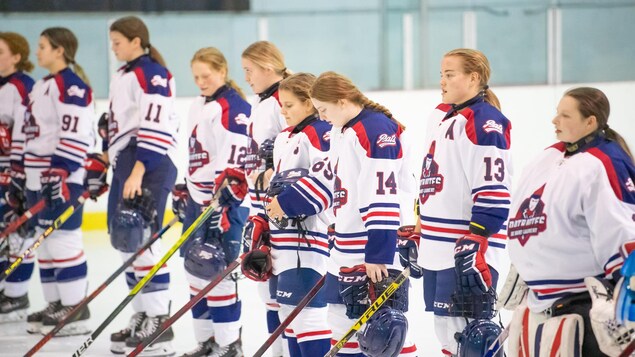 We don't take this decision lightly.says Danielle Malkassoff, Director of Student Services and Communications at Cégep de Saint-Laurent.
The last few years have been very difficult, she adds. There was a lack of stability in the coaching position. And when the coach leaves, the players often leave. This created a turnover. We prefer to take one step back and then take two steps forward. Women's hockey is not dead, it is part of our DNA.
The Cégep de Saint-Laurent women's hockey program was thrown into turmoil this week when head coach Alexandra D'Onofrio, who learned in April that her contract would not be renewed, posted on her Facebook page a virulent message with regard to sports director Hugo Lamoureux.
He wanted a male coach behind the bench. He went on to say that it was much easier to work with men and he preferred thatshe wrote, claiming to want to do her part to stop this kind of talk.
Less than a month later, the decision to close the program was made. If he wanted a male coach, why not rehire the male coach who was part of the program? Why not conduct interviews? Why can one man decide the future of 20 female hockey players?
Assistant coach Léa McIntyre, who also lost her job, also claims she was fired because Hugo Lamoureux preferred working with men,
This position of the sporting director finally prompted three other assistants to resign.
I met him to confirm his words to me, says one of them, Alexandra Boulanger. He confirmed to me his preference for a male head coach, that he was not closed to hiring a woman, but that the ideal was to work with a man. He talked about communication and gave me examples of programs that were successful with a man. I was surprised. However, the champion team at the college level is made up of 100% female personnel. This is not a valid argument in my eyes and I resigned.
Danielle Malkassoff has met Hugo Lamoureux and confirms that he remains in office.
These are labor relations and many things must remain confidential, says the director. But I can tell you that we don't choose our coaches according to their gender. And I confirm that we have more often had women than men at the helm of our hockey teams.
" It's a clumsiness on his part, he expressed himself badly. These meetings are not always pleasant to hold. I think he gave examples of male coaches. It does not reflect the facts at our CEGEP. We listen to our players. We make assessments during the season and at the end with psychosocial workers and program managers. We realized that the people in office were not the ones we wanted. »
Some players had admitted to the director that they wanted a change of head coach.
The players complained about the coaching, the style of coaching. We are concerned to offer our students a great experience in our teams. It was better to do so.
The member for Marquette in the National Assembly and former player of the National Hockey League, Enrico Ciccone, is surprised by the turn of events and wishes the Patriotes de Saint-Laurent to return to the rink as soon as possible.
We drop a program that does not date from yesterday. It is unacceptable to say that there are not enough girls. If you have a women's program, you have to put in the necessary resources to attract the right players. It's ironic, there is a report that has just been tabled which says that we must make more places for women in hockey. Hockey girls need to play in CEGEP to continue their progress.
With the end of the women's hockey program at Cégep de Saint-Laurent, there will only be six teams left in D1 college hockey, while the men's section has 13 teams.
This decision by the Cégep de Saint-Laurent will push several of its players into retirement at the college level.
We are only at the beginning of May. There is still plenty of time to find a good coach and players. Recruitment had been done. This is not a valid reason. Places are limited in the other teams. And if they find a place to play, they will have to move and change colleges. It's hard to accept concluded Alexandra Boulanger.


Reference-ici.radio-canada.ca