A survey by the Consell d'Avaluacio to 4th year ESO students concludes that "they perceive Catalan as a not very useful language"

The percentage of young people who use Catalan "only" or "more" in their daily lives falls from 33.7% to 19%
Social networks and audiovisual platforms are in the focus of the Government in relation to decline in the use of Catalan by young people. That concern is supported by data: only 3% of students from 4th of ESO (15-16 years) always consume audiovisual content in Catalan, while 62.2% do so alone or especially in Spanish. 19% do so in both Catalan and Spanish and 15.8% in some other language. These figures contrast with those of 2013, when 4.9% said they watched television only in Catalan and those who did so only in Spanish were 50.4%. They are results of the survey carried out by the Higher Council for the Evaluation of the Education System of Catalonia among 55 centers and whose complete results have been presented this week.
In social networks, the situation is similar: students who only use Catalan have gone from 16.6% registered in 2013 to 8.9% in 2021, while those who communicate basically in Spanish have risen from 40 to 58%. It should be taken into account that 90% of respondents spend more than one hour a day consuming audiovisual content.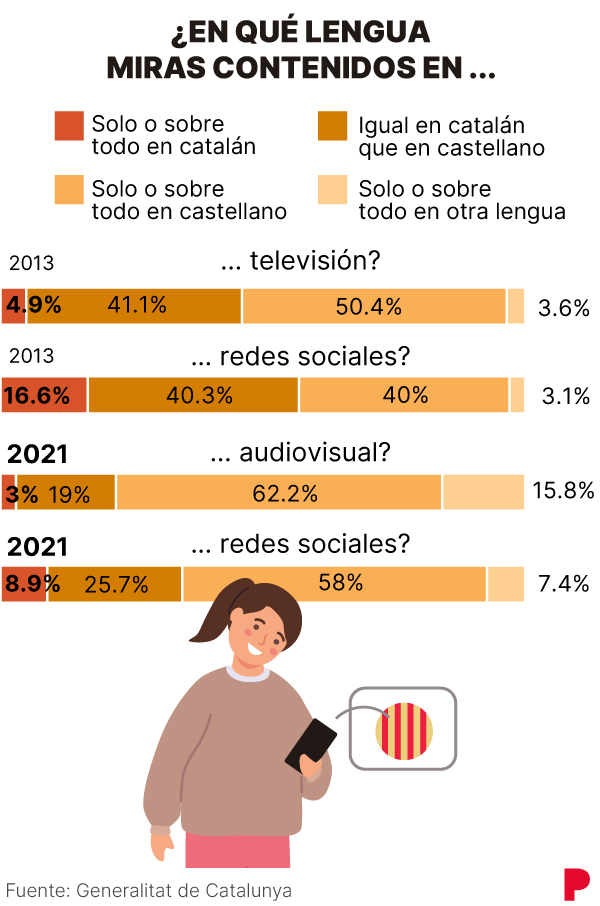 And there is another factor that worries teachers and experts: the connotation that young people give to one or another language and the utility that they see him. Thus, 50.4% of students believe that Catalan will be used less in a period of five years. In addition, students who in the future would like to be in the group of those who speak 'only or more Catalan' have fallen from 31.4% to 14.8% in the period 2006-2021, a fact that, according to the report, "indicates that the Catalan language is not attractive to be adopted in a future scenario". 38.3% say they want to speak Catalan and Spanish equally.
The Consell d'Avaluació study points out that one of the "compelling reasons" for this decline is "the lack of audiovisual offer and content on the networks in Catalan ". This causes adolescents" to perceive Catalan as a language not necessary or not very usefull "in the social sphere. Those who speak only Catalan or more Catalan than Spanish in their daily lives have fallen from 33.7% to 19% since 2006, and those who speak both Catalan and Spanish have increased from 29.8% to 38.8% in the same period.
When it comes to communicating with friends outside the school environment, Spanish wins the game again. A third of the students always or often use Catalan, while 57.4% use it "little" or never ".
Sports, music and dance
Another field where Spanish gains weight is in activities extracurricular sports, in which 61.2% of the students participate. 40.8% use it as their main language, well above those who use Catalan or both languages ​​(28.5% and 28.7%, respectively). The Consell attributes this to the fact that sports activities "tend to be more transversal to socioeconomic capital, and, therefore, it would explain the greater presence of the Castilian language." The opposite occurs in artistic extracurriculars, in which 18.9% of the students participate. Here the main language (44.1% in music and dance and 38.7% in theater) is Catalan. The report links it to the fact that "music and theater classes are activities traditionally associated with the social capital of the middle class."
Within the family, the majority of students (45.7%) speak "only or mostly" in Spanish at home. Almost 30% do so in Catalan and just over 14% combine both languages. They are percentages, the study points out, similar to previous years, although there is a "slight downward trend" for Catalan. To the question of what language do they identify withIn comparison with 2013, there is a decline (-4.5 points) in the group that responds that their identification language is Catalan and also in the group (-5.7 points) that says that it is Spanish. On the contrary, the proportion of students who feel that both languages ​​are theirs increases by about 9 points.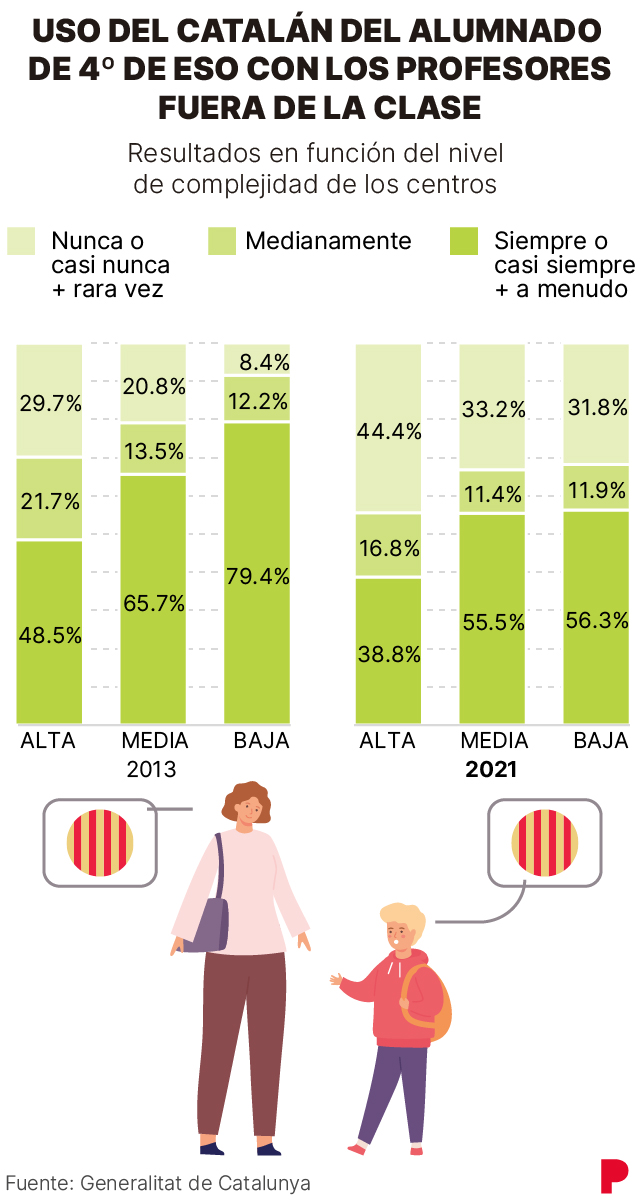 Descent in the classroom and with the teacher
At the beginning of November, the Government already presented the first conclusions of this study. Then it advanced that the students who do not use Catalan 'never' or 'almost never' in group activities in the classroom are 28.4%, while in 2006 they were 10.9%. The number of students who use Catalan 'always' or 'almost always' in group activities has fallen 47 points, from 67.8% in 2006 to 21.4% in 2021, and those who use it 'rarely' have risen from 4.5% to 20.7% in the same period.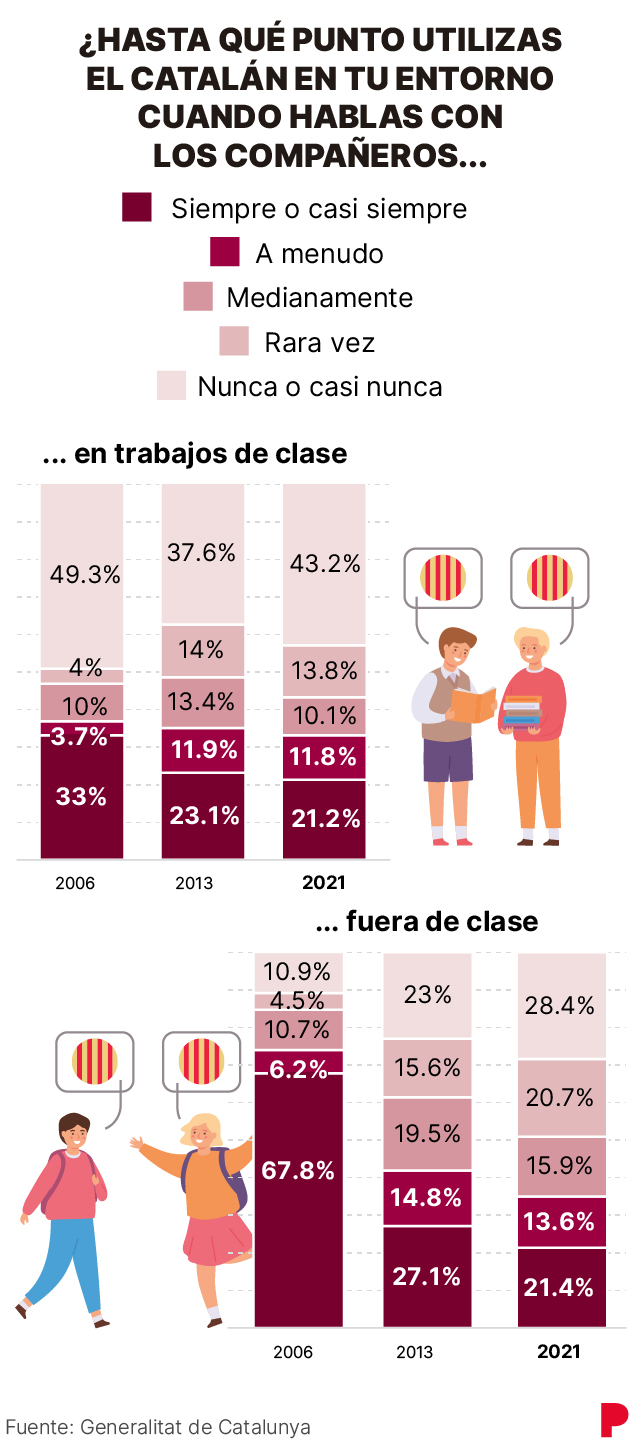 Related news
In addition, the percentage of students who speak 'always' or 'almost always' in Catalan to teachers has decreased from 53.9% in 2013 to 39.4% in 2021 and the number who do so 'few times' has gone from 6 From 6% in 2013 to 16.9% in 2021. The number of teachers who address the group 'always' or 'almost always' in Catalan has also decreased: from 63.7% registered in 2006 to 46.8% in 2021. Those who do not use it 'never' or 'almost never' have dropped from 10.5% to 3.1%, but those who admit to using it 'rarely' stands at 12.3%. As the complexity of the center increases, the responses that consider that teachers make little use of Catalan increase.
This week, the 'Minister' of Education, Josep Gonzàlez-Cambray, has announced in Parliament that it has commissioned the Consell d'Avaluació a report on the use of Catalan in 6th grade of primary school. The survey of students will be carried out this course at the same time as the basic skills tests.
Reference-www.elperiodico.com