The President of the Government, Pedro Sánchez, has been received with honors at the Palace of the Generalitat by the president Catalan, Pere Aragonès, to hold a meeting prior to that of the dialogue table on Catalonia.
The official car in which Sánchez has traveled has entered the plaza de Sant Jaume and when he got out of the vehicle he received him the eldest of the Mossos d'Esquadra, Josep Lluís Trapero.
Aragonès waited at the door of the Palau for the Chief Executive and both they have greeted each other clashing their fists and they have then reviewed the gala formation of the autonomous police in the carriage yard that has paid them honors.
Sánchez and the president of the Generalitat, protected by masks, they chatted briefly before going upstairs to the Gothic Gallery of the Palau, where they posed for graphic informants before entering Aragonès's office to hold their meeting.
It is expected that at the end there will be statements by the two, separately, before the representatives of the media and then they will attend the beginning of the meeting of the dialogue table with the rest of the members of their delegations.
That of the central Executive will also be formed by the Minister of the Presidency, Felix Bolaños (group coordinator); the second vice president, Yolanda Díaz; the Minister of Territorial Policy and spokesperson, Isabel rodriguez; and that of Culture, Miquel Iceta.
On the part of the Generalitat there will only be, in addition to Aragonès, two counselors of ERC, Laura Vilagrà and Roger Torrent, after the refusal of Junts per Catalunya to change its proposal of participants, which was vetoed by the president.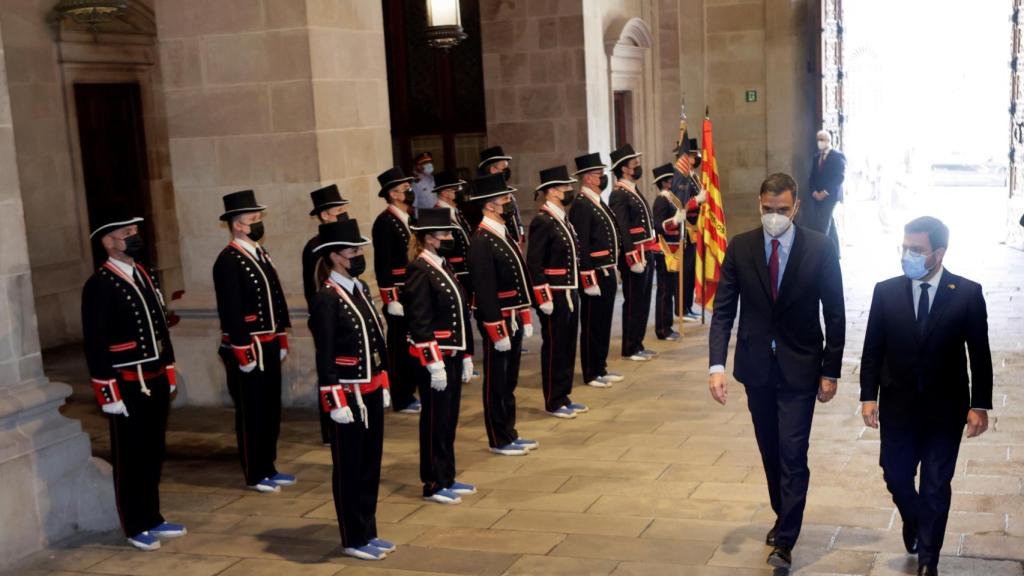 This party wanted two pardoned prisoners to attend together with Vice President Jordi Puigneró (Jordi Sànchez and Jordi Turull) and its spokesperson in Congress, Míriam Nogueras.
But that claim caused a crisis among the partners of the Government, Aragonès vetoed the last three for not being part of its executive and JxCat refused to withdraw the names while blamed "censorship" on Moncloa.
Delegations
The small delegation of the Government took Moncloa yesterday night to announce that it was reducing its planned delegation and two of the ministers who were going to be present this Wednesday in Barcelona, ​​the Transport Minister, Raquel Sánchez, and the University Minister, would not participate. Manuel Castells.
At the meeting, it is expected that the committee's work methodology and the frequency with which it will meet can be specified.
The central executive has emphasized that it is necessary to address the issues in which an understanding is possible and that it believes are included in its so-called "reunion agenda."
Therefore, he considers that it makes no sense to talk about self-determination, referendum and amnesty as the Catalan pro-independence formations intend.
Follow the topics that interest you
Reference-www.elespanol.com