After months 'disappeared' Christian Nodal and Belinda reappear in concert
They show video that confirms the suspicions that some fans had of their relationship
Is it reconciliation or just a media 'stunt'?
Is there reconciliation? After months of "missing" Christian Nodal and Belinda reappear at his concert in Las Vegas and confirm the suspicions about their relationship, according to a publication that was given in the page of Instagram of the program of El Gordo y la Flaca.
Related
In these days, some videos have appeared where they are seen together having dinner and now the video in which she appears surprisingly in one of her concerts has been 'uncovered' and caused the uproar of her fans, who already thought the worst between the two of them .
ARE YOU STILL TOGETHER?
And is that a few weeks ago, both singers decided to stop following each other on their respective social media accounts and deleted the photos they had together, which 'triggered' the rumors about an alleged breakup.
And the concern was greater, since both stars had been engaged, for which it was said that there would be no wedding, however, here we leave you the video so you can see how their relationship is going after all this gossip.
Christian Nodal and Belinda: "I LOVE THEM"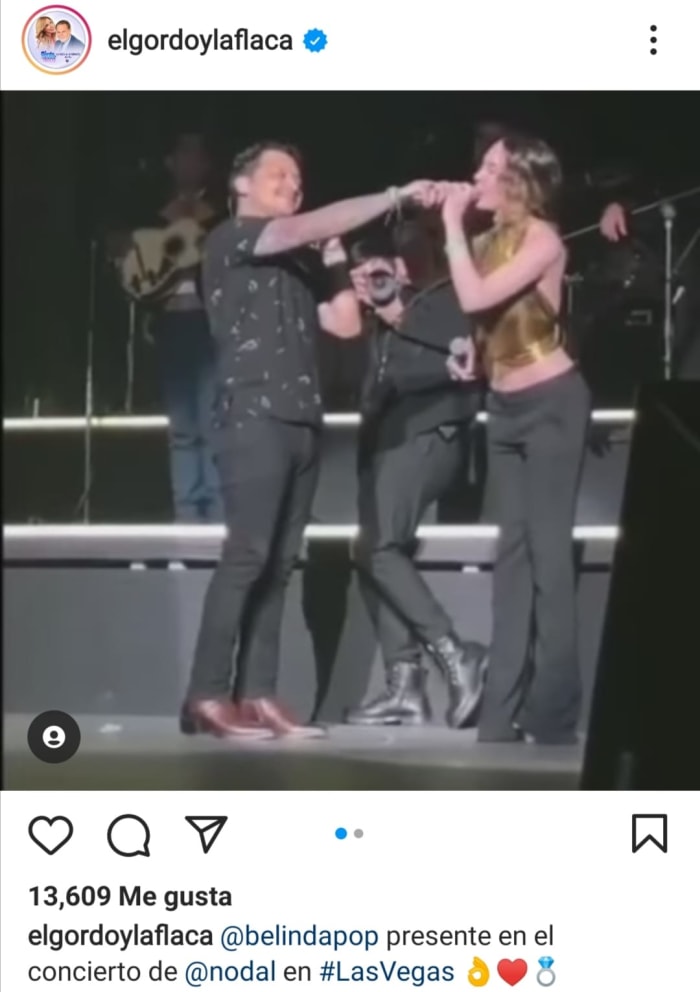 The video that lasts only a few seconds, you can see how Belinda enters the stage while Nodal waits for her, all surprised. She is dressed in black pants and a gold-colored blouse, while showing her black underwear.
Upon reaching him, he does the unexpected and 'plants' a tremendous kiss on the mouth while he embraces him and greets the public, suddenly he shouts: "I love you, what an incredible concert, congratulations, long live Mexico", and with this he caused the hullabaloo from everyone present.
Christian Nodal and Belinda: STRONGER THAN EVER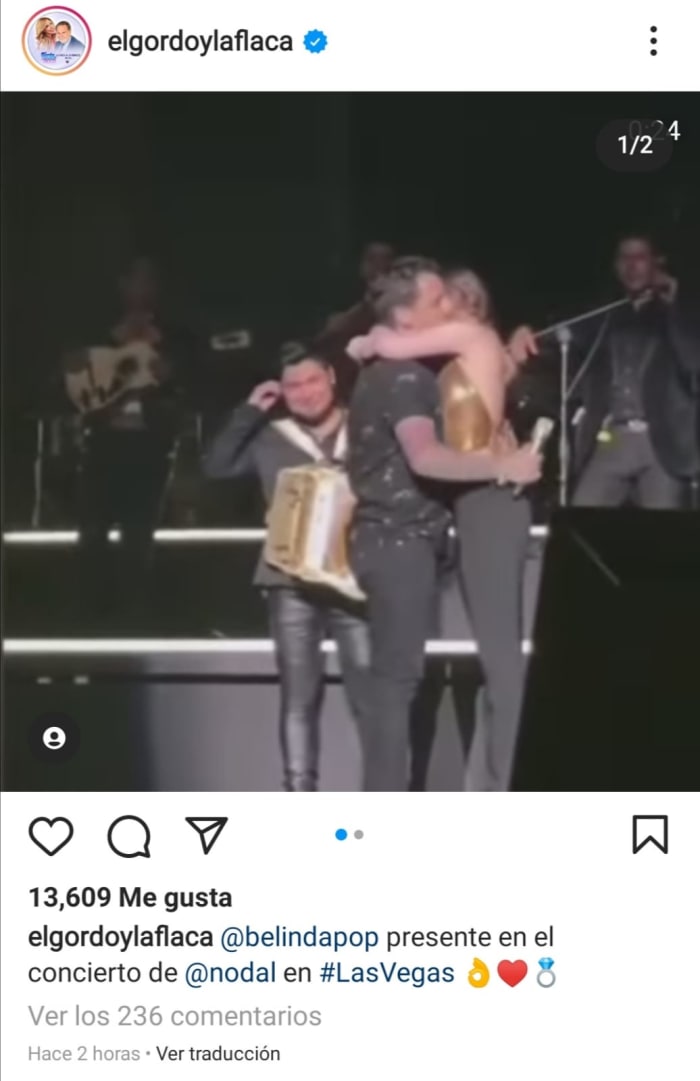 In the end, he says goodbye with another kiss and leaves the stage, so this video confirms that both are closer than ever and that their marriage commitment has not been broken, as many have speculated on social networks.
This concert took place in Las Vegas, while Nodal rested to continue with a song. So immediately fans reacted to this unexpected visit, as it was believed that both of them had broken their wedding engagement. To see the video click here.
Christian Nodal and Belinda: TEACH FROM MORE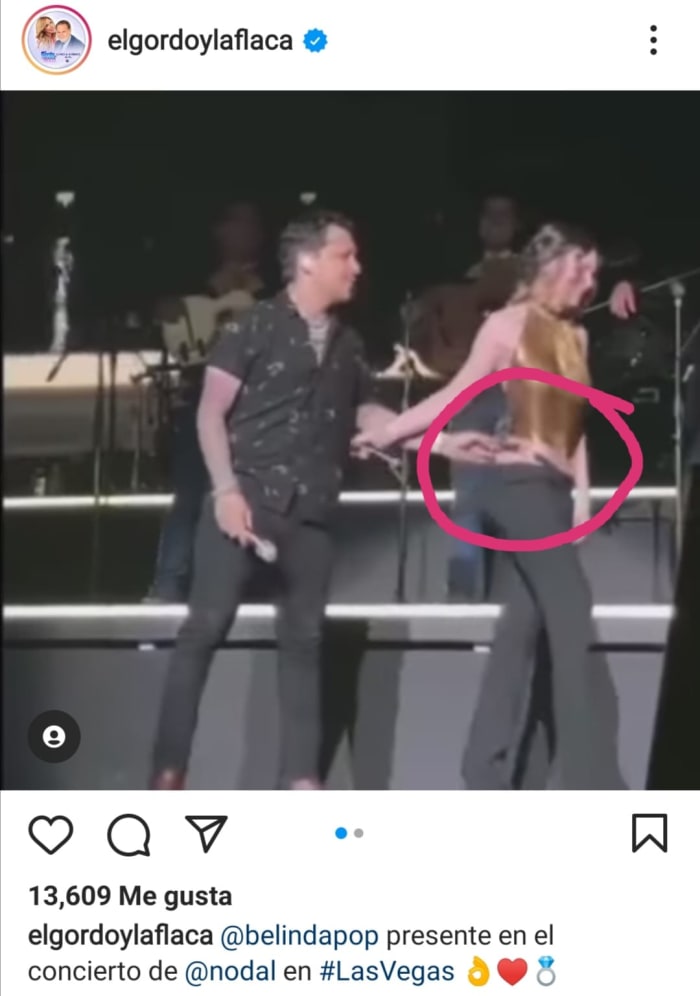 But one of the aspects that most caught the attention of users of social networks is that Belinda uncovered when she showed her underwear, a black thong, since her pants at the hips allowed it.
For almost nothing, she exhibited more than necessary, thus showing off her great figure, which drove thousands of men who came to take their companions crazy. In the end it was a 'round' night for the singer and his fiancée.
THEY CATALOG IT AS THE 'TOXIC'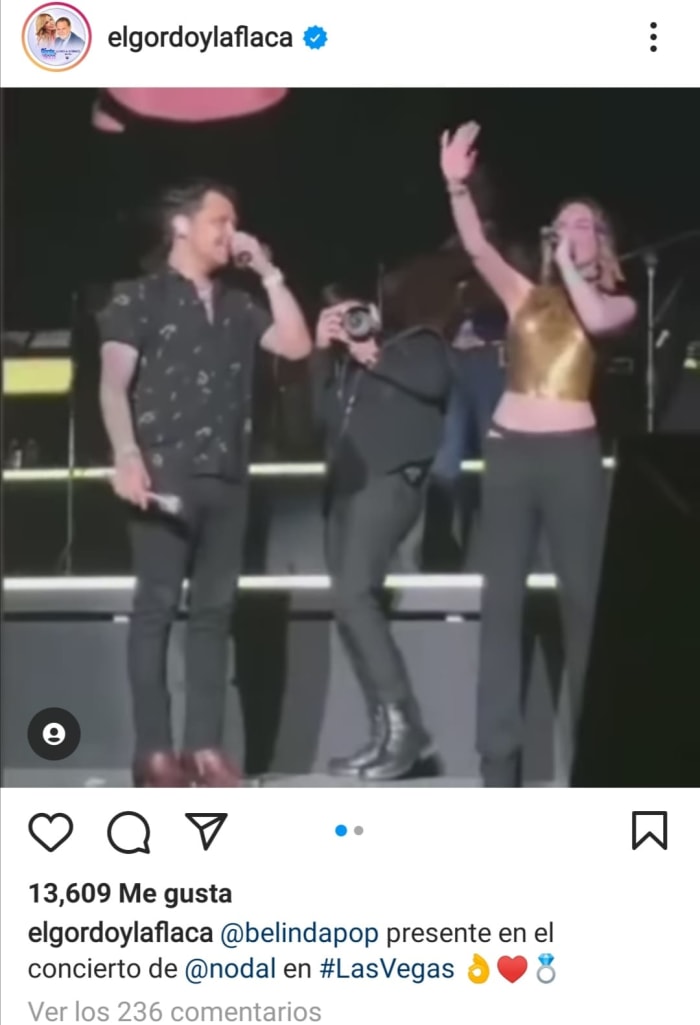 After the publication of the video, people began to react in a happy and comical way: "So that the speculations that ended, programs that do not find out well, no longer have credibility,", "sit down, lady and let the kid sing."
"The toxic", "marking ground the Belinda", "how beautiful! Long live love to the thousand "," Well, that nosy … let the child be famous, not hang on his fame. Well I only say at the end they will finish it "," And does she always come out at the end when there is a Nodal concert? That it is not so toxic and let it shine in your concerts ". Filed Under: Christian Nodal and Belinda
"LET THAT CHILD LIVE HIS MOMENT"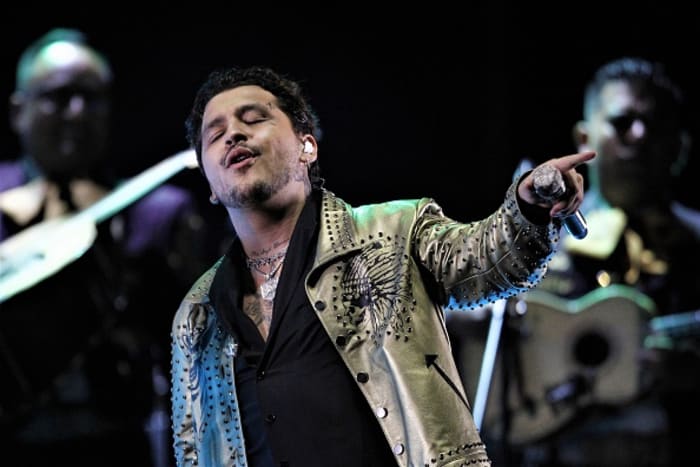 But other people saw badly that she appeared at her partner's concert: "Now he gives up for going on stage every time he is in Nodal in concert. To become the Belinda publicity. Because? What does? Any!!! Just hanging on to Nodal's fame ".
"#Woman let that child live his moment, you are attached to his fame, and you already, ufff poor child", "stealing the camera." But other people noticed something unpleasant: "The man blew out a snot", "it was necessary for him to eat the mucus." Filed Under: Christian Nodal and Belinda
Christian Nodal and Belinda: "THEY WANT TO SEE THEM TOGETHER"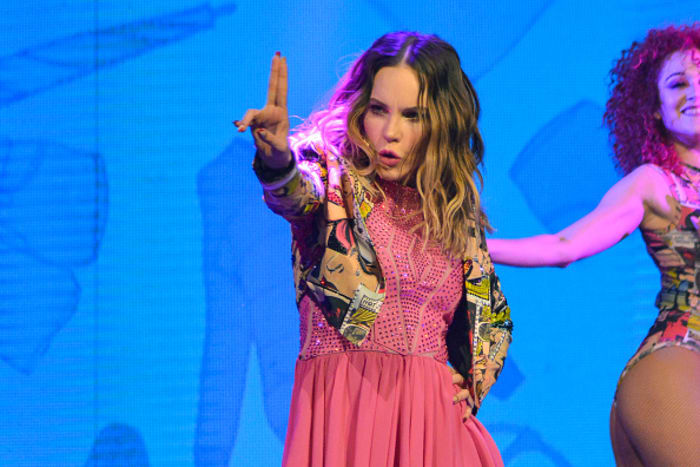 But others supported the couple: "How ridiculous are those who say that she is toxic… Or that she lets him work… They don't listen to the public? He is the one who is cutting it, it is because they want to see them together… If it hadn't come out… 2.
"They go telling mom … And if she goes out … How hung up … Think about her a little, your fans want to see you together, not because you are worth it or don't like it, it means that it is wrong for her to go on stage, on the contrary, see how people get ridiculous excited you guys".
"I LOVE THIS COUPLE"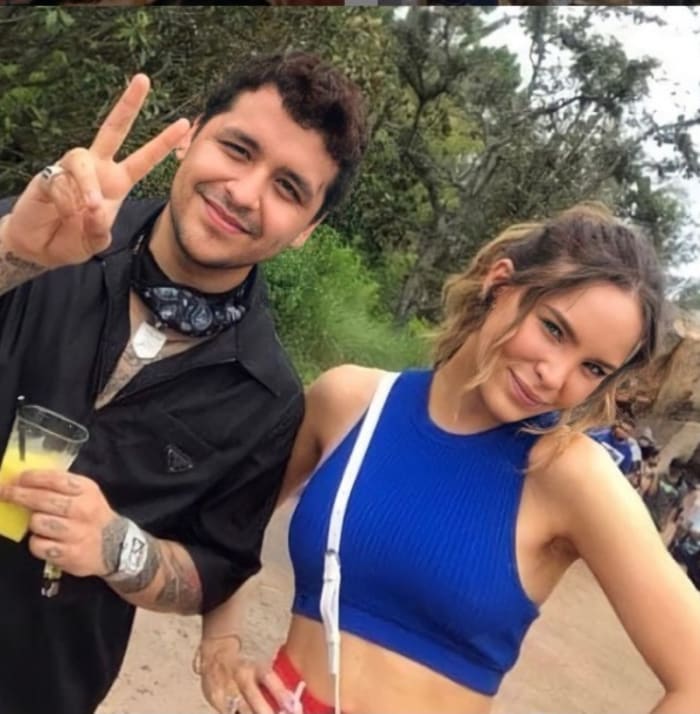 Some more followers said they were happy for this demonstration of love: "I love this couple, Belinda and Christian are together. The press and celebrity news as always invent separation gossip without investigating, most of what they say is not true. Long live love ".
But the critics returned: "Ridiculously involved in everything he does, so I don't even want to go see him", "The two ridiculous antics", "What laziness, each concert does the same", "It reminds me of Madonna, we He deceives a lot with filters in his photos, he already looks older ". Filed Under: Christian Nodal and Belinda
"NO NEED OF FAME"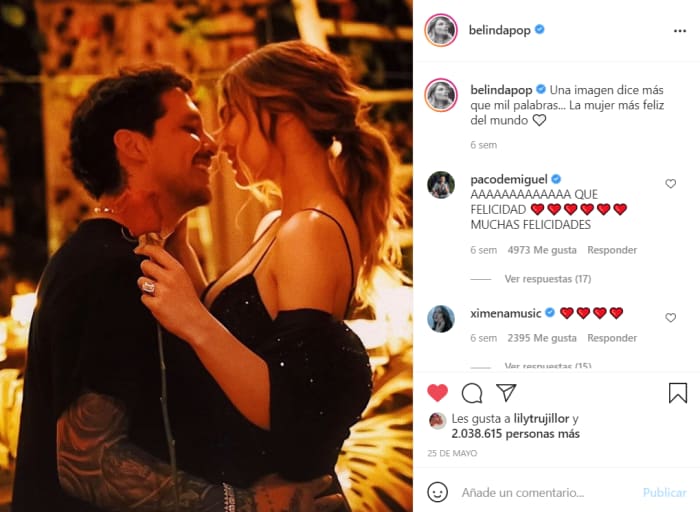 Some haters made their appearance: "It's really sad to see how other women express themselves like that of another woman as if they were all saints and Belinda went up because the public asked for it, don't be stupid, she doesn't need fame because she's already less famous to hang on to her fiancé or mark ground, because he is with her to avoid her bad comments, that is why they no longer upload content to avoid this.
"Now he is saying thanks to you I will be able to spend more money", "he never kisses him, he always moves his face", "So they didn't finish?" love to the surface "," only in this way you hear her name and people don't even want to see her in a novel, "more people said. Filed Under: Christian Nodal and Belinda
NOBODY IS HAPPY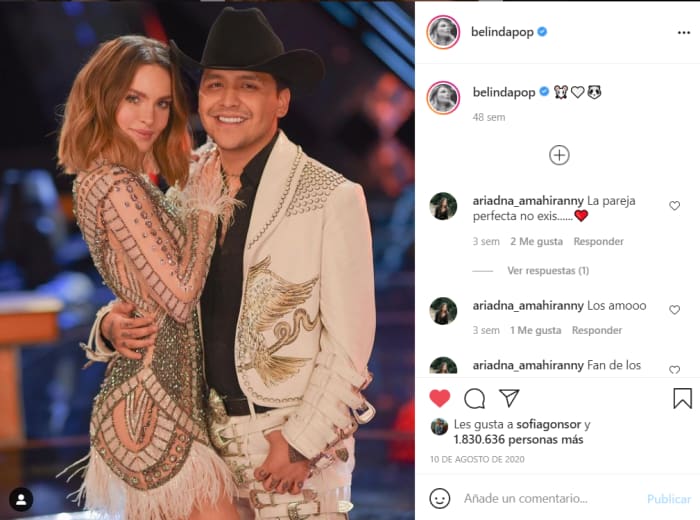 But some doubts came to light: "How they had finished, say the viperine tongues and they reconciled again?"
"To take away half of the concert $$$ that kiss is going to be expensive", "they couldn't take any more with his lie given the immense amount of paparazzi. Honesty is always the best, then they look bad, and no one tells me that they never lied. You know perfectly well what happened, you have not to answer as a fan, but as a person with good reason ", said more people. Filed Under: Christian Nodal and Belinda


mundohispanico.com