From time to time the stars align and a magical conjunction shines in the gastronomy sky. If you ask me to think about the best representatives of the product in Spain and select the best ten, surely Etxebarri and Joselito will be among them. And now we have them together.
The seventh edition of the Joselito Lab has chosen the chef Bittor Arginzoniz to use the different cuts and products of fresh Joselito pork to prepare a special menu in Etxebarri, without a doubt the largest temple of the embers of our country.
Make a Etxebarri's recommendation At this point it sounds boring and seen, but a server is forced to take advantage of this collaborative opportunity to do it again. Etxebarri is the restaurant that every gastronomy lover should visit at least once in their life. It is more than a restaurant.
Etxebarri: product and embers
Is Etxebarri a grill restaurant? Or is it a product temple? What is more important here? Difficult question, but possibly the answer is in balance. The best product with an ever-present touch of ember that never stars.
When we talk about the part of product we find ourselves in a place where we know we will always do our best. If a product is present that day it is because it is at its ideal moment. Not only the season, which of course is also the micro-season and the moment.
The grill is of course just as important. Bittor elaborates in Etxebarri its own grill every day based on oak for fish and seafood and vine for meat. After eight hours making embers in an oven specially designed by him, they are grilled (of course also of his own design and manufactured by the town blacksmith). There they receive their dose of fire, always subtle, never dominant. Everything comes out just right, cooked and grilled.
The letter from Etxebarri it is a constant walk of elaborations that make us enjoy, without stopping. To mention some of those that have marked me the most, we have the chorizo, handmade by Bittor with Joselito prey and secret and chorizo ​​pepper from Gernika, the caviar with Joselito Supernatural cutlet fat, the espardeñas with pig's ear, the peas with bacon, the egg yolk with Joselito chichas, the sirloin tataki or the spectacular Supernatural Joselito cutlet, cooked like never before (I guess Bittor's magic has to be noticed).
And I repeat: Etxebarri is not just a restaurant. It is a pilgrimage place that you must visit if you love cooking. Its walls house something unique that its dishes will reveal to us as they arrive at the table. I have not met anyone who dominates the grill like Bittor, and there you will find the most authentic purity of the kitchen. Fire and product, nothing more.
Etxebarri and Joselito Lab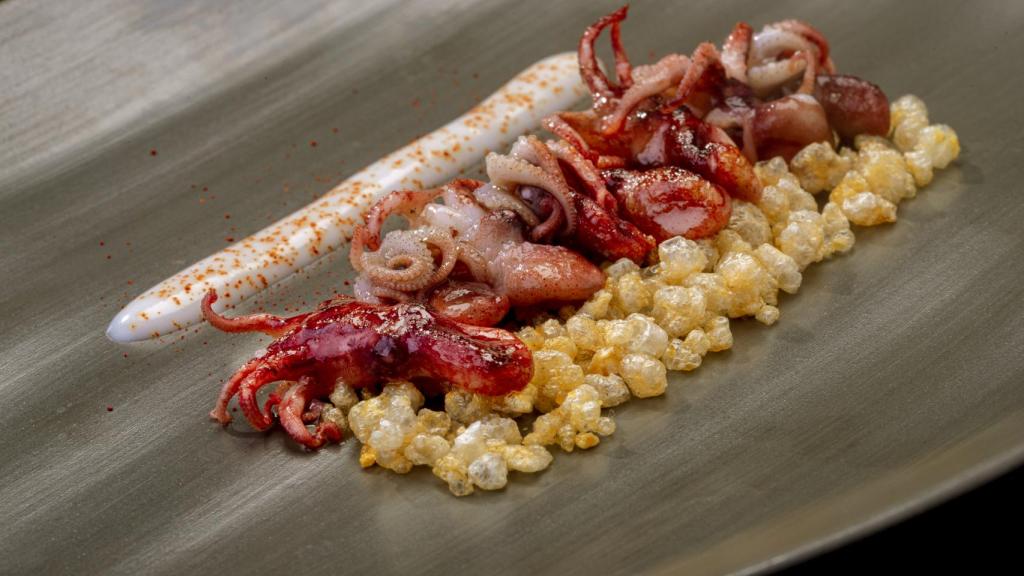 Joselito Lab is a unique project in the world that seeks to expand and evolve the use of different parts of the Iberian pig in haute cuisine. In each edition, one of the most important and representative chefs of world gastronomy puts all his experience, creativity and knowledge to develop new and surprising recipes with a common denominator, all of them have at least one Joselito pork product. Joselito Lab is an unprecedented educational and experimental legacy that is already part of the history of gastronomy.
The Spanish chef Bittor Arginzoniz has been responsible for investigating, testing and evolving the infinite possibilities of the Joselito pig in haute cuisine within the framework of Joselito Lab, in a very unique edition in which everything has happened around a grill and its embers .
Always hidden among woods, fires, embers and flavoring fumes, Bittor Arginzoniz is the chef and owner of Asador Etxebarri. Awarded 3rd place in the last 50 Best gala, in addition to 1 Michelin star and 3 Repsol suns, this self-taught Basque chef, fully committed to his cuisine and his philosophy, is recognized by the world of gastronomy as the best grill on the planet.
Arginzoniz is also considered one of the most demanding chefs when it comes to the quality of the products he uses. The best Galician cows, fresh fish from the Cantabrian Sea, seafood from the Mediterranean Sea, vegetables from their own garden … and of course the Joselito pig. His obsession with quality and his degree of perfectionism have led him to supervise every last detail of all the products that pass through his embers, to the point of bringing three buffaloes from Italy to milk them himself daily and make his own Burrata each day.
His undeniable excellence in the grill and his superlative demand with the product, have made him the perfect protagonist for this new format of Joselito Lab in which the different pieces and cuts of the Joselito pig will be cooked exclusively in the heat of its embers, from the more honest and transparent way to enhance all its organoleptic properties.
Regarding Joselito products, which Etxebarri has been using for more than 30 years, Arginzoniz has stated that "What I like most about Joselito products is Quality. It is the first thing I always look at in any product and if a product is not excellent it does not enter my house. In all the products that Joselito makes, I don't know of another house that surpasses them in Quality. " also pointing out a pleasant surprise that he has had this year "The product that has surprised me the most about Joselito is the Chop. I was very surprised. It is different from everything I have tasted before, especially because of the flavor and how tender that meat is, the cleanliness it has when you cut the whole piece is amazing, something that you cannot find in a beef chop for example. "
After several months of exhaustive creative process, chef Bittor Arginzoniz has shown the world his new creations in an intimate presentation at Etxebarri himself. With some preparations that are reinterpretations of his best-known dishes, and others that are totally new, the chef seduces and delights attendees with sublime creativity and precision.
"I have tried to adapt most parts of the pig to my kitchen. In Joselito pig all the parts are excellent, but within that excellence I have worked with the noblest and most daring parts for the type of dishes that we have developed on the grill. " Bittor has commented when showing the menu "Not all the parts of the pork are the same and each one has its identity, its flavor, its texture … We have been assembling all that within the dish that we wanted to create at the end for the customer."
How to book at Etxebarri
Etxebarri is possibly one of the most expensive restaurants in the world to book. Pay attention because there is not much trick, it all depends on speed and being at the right time. You will not have many opportunities, so you have to make the most of them.
Etxebarri opens reservation shifts every four months. This event occurs on the 1st of each booking month as follows:
November 1 for January, February, March and April.
March 1 for May, June, July (August closes).
July 1 for September, October, November and December.
But that's not all, because there is a key time to make the reservation at Etxebarri: 4:00 p.m. At this time is when the reservations are opened and the only time when there will be an option to make it. At 16:01 there is no longer any gap, so you have to be very skilled.
Reference-www.elespanol.com