(Montreal) Eight days. This is the time that the return to full-time attendance teaching will have lasted for students of 3e, 4e and 5e secondary schools located in the red zone. Faced with this about-face, teachers wonder if, in Quebec, we really take the measure of what each change means in schools.
Audrey Hébert was not surprised when she heard François Legault announce Tuesday that the school would once again be alternated for his students.
"We are not surprised, we are just tired", says the history teacher in 4.e secondary school at Jean de la Mennais school, on the South Shore of Montreal. "We knew it would happen," she adds.
Full-time school for all high school students in the red zone? "It was not viable," says Éric Fusinato, ethics and religious culture teacher at Honoré-Mercier high school in Montreal. It evokes stairs and corridors chock full of young people.
It was clear that it was a matter of weeks before the schools were closed or the rotation reverted. We have to undo everything we've done.
Eric Fusinato
Prime Minister François Legault explained Tuesday that it was Public Health which had given – then withdrawn – the authorization to open secondary schools to all full-time students.
"We can be shocked against the experts or we say: 'The situation is changing, and we accept that it is changing," "said the Prime Minister.
In the field, teachers say they are "tired", "tired" of doing and redoing lesson planning with a few days notice. Teaching in the presence and at a distance, they explain, is far from the same thing. That's not to mention the work and assessments that need to be changed.
A French teacher in the northern suburbs of Montreal, Isabelle Sayegh has the impression that Quebec is forgetting that, in schools, "there are teachers and workers who must adapt and to whom we must be careful".
Of course, she adapts. "We still do. We do it because we want our students to succeed, "she says.
Éric Fusinato speaks of decisions taken "from above", which have nothing to do with what is happening in schools. "It looks like they don't know our reality, or they've forgotten our reality. I am speechless in the face of these measures which are the opposite of what should be done in schools, "says the teacher.
A return for the good of the students?
Teacher Audrey Hébert could not digest the tone in which the Prime Minister announced to her that her students would return to school in full-time presence, just over two weeks ago.
"It was announced as if there was nothing there, while it meant a lot to our young people who have been in this situation since October. It's an incredible change of routine for them, "says M.me Hébert.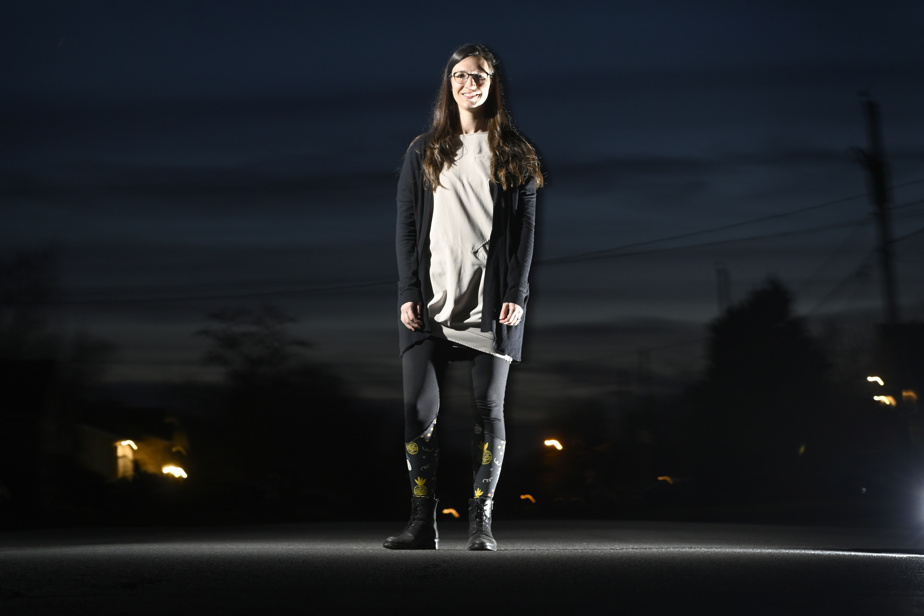 The national director of public health, Horacio Arruda, estimated on Tuesday that although the return to school had been short-lived, "potentially, for some [élèves] ", This period had been" the opportunity to see friends again and it did them good ".
This is not the opinion of the teachers consulted by Press.
Students, in general, want stability. They want to feel safe, supervised. When one day we say white, the other day black, the other day gray, they too get lost. It is not good for the students.
Eric Fusinato
Since October, students have had a work-study program as a routine, continues Audrey Hébert. "To come back full time only to be told to return remotely, they are a little disillusioned," says the teacher.
There are three months left before the end of the school year. What do teachers want? "It is the stability that is currently lacking in teaching", says M.me Hébert.
Teacher for about thirty years, Isabelle Sayegh explains that she tries to give normality to her students "in all the abnormality they experience".
"I am the adult, I adapt. I try to do it in the most gentle way for my students, "concludes the teacher.
From school to home: high school students had to adapt
In the red zone, students of 3e, 4e and 5e high school in the province started school in attendance last fall, but the situation quickly changed.
October 5, 2020
Because COVID-19 has "invited itself into schools sometimes through staff, sometimes students", Quebec announces that students of 4e and 5e secondary school in the red zone will have to do work-study from home every other day.
October 26, 2020
Students of 3e high school students learn that if they live in the red zone, they too will have to stay home half the time.
March 23, 2021
François Legault announces that the students of 3e, 4e and 5e secondary school in the red zone will return to full-time class on March 29.
March 26, 2021
Three days before the return of students attending school full time, despite the rise of COVID-19 variants which are more contagious, the Minister of Education says he is "staying the course".
April 6, 2021
Prime Minister François Legault announces that as of April 12, the work-study school will resume in the red zone for students of 3e, 4e and 5e secondary.


www.lapresse.ca