(Orlando) Donald Trump returns to the forefront of the political scene on Sunday, in front of an ultra-conservative audience, determined to regain control of a weakened Republican party, which questions the possibility for the former president to win in 2024 .
The tribune will speak in public for the first time since leaving the White House, at the annual high mass of American conservatives which opened Friday in Orlando.
The 45e President is there in conquered ground: flags, caps and objects raised by the participants still carry the name of Trump and a golden statue bearing the effigy of the Republican billionaire sits in the middle of the conference.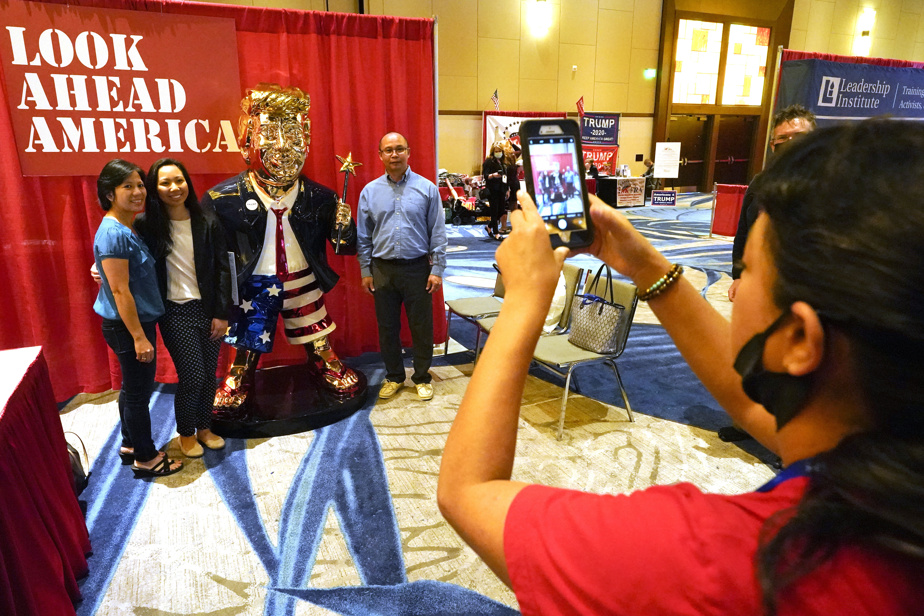 But the Republican Party has also displayed gaping divisions since the murderous assault on Capitol Hill.
After four years in Trump's tenure, Republicans lost control of Congress and the White House. And it is a former president marked with the infamous stain of an indictment ("impeachment"), for incitement to insurgency in the attack on the Capitol, who will take the stage.
Among his allies and opponents, the same question resonates: will the 74-year-old billionaire announce on Sunday that he is running again in 2024?
Probably not directly, organizers said, but Mr. Trump should openly flirt with the idea.
For his first speech since January 20, the businessman will talk about "the future of the Republican Party and the conservative movement," his entourage told AFP.
"We are not going to create new parties, we are not going to divide our power. We will be united and powerful as never before, "he should say, according to excerpts from his speech, scheduled for 3:40 pm, obtained by Fox News.
He should also talk about immigration and "the disastrous policies" of his Democratic successor Joe Biden on this issue.


www.lapresse.ca