Mariachi shows up outside Ted Cruz's house to 'drive him crazy'
The traditional Mexican outfit appeared this Sunday at the senator's house
This, after the controversy for going to Cancun while Texas faced a severe crisis due to a winter storm
Mariachi shows up outside Ted Cruz's house to 'drive him crazy' and as a 'protest' after the senator's scandal over his recent trip to Cancun, reports the New York Post.
The traditional Mexican band appeared outside the Republican senator's house in protest after he returned from his controversial trip to "Mexican paradise," which caused great outrage.
Five mariachis, with their traditional costumes and charro hats, played the typical Mexican music at high volume in front of Ted Cruz's house.
He deserved it?
Adam Jama, a resident of Texas, created a tongue-in-cheek GoFundMe page to get the mariachi to play amid the controversy.
"Senator Cruz, being an amazing father, left his family in Cancun in the middle of a great crisis and returned to Texas to continue serving his constituents. We want to thank Senator Cruz for his leadership and pay for an incredible mariachi band to perform for him. Nobody should go to Cancun and not listen to the mariachi, "says the page according to the New York newspaper.
"Without a doubt Ted Cruz deserves this", "they are innocent and they should not be harassed even if it is funny", "it is not a great idea if their children are at home, they cannot prevent their father from being Ted Cruz", they said users doubting the 'funny' protest, according to the New York Post.
Ted Cruz says that his trip to Cancun was "obviously" a mistake
Texas Senator Ted Cruz said Thursday that his family vacation to Mexico was "obviously" a mistake, after he returned to his state after a wave of outrage over his absence during a severe winter storm that has killed dozens of states. United.
To see the video of the serenade click here
Cruz said he began to have doubts about making the trip since he got on the plane on Wednesday. "In hindsight, I wouldn't have done it," he told reporters, according to The Associated Press.
The Associated Press and other media outlets reported that the senator had traveled out of the country with his family as hundreds of thousands of Texans continue to grapple with the ravages of a winter storm that affected the state's power supply.
The trip drew criticism from members of both political parties and is thought to have possibly undermined his political ambitions.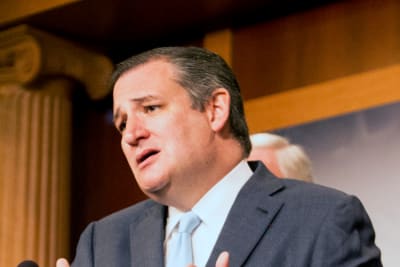 In a previous statement Thursday, Cruz said he accompanied his family to Cancun, Mexico, after his daughters asked him to go on a trip with some friends, since classes were suspended for the rest of the week. "Wanting to be a good father, I traveled with them last night and am flying back this afternoon," Cruz wrote.
Filed Under: Mariachi Ted Cruz
Senator's Statement
"My staff and I are in constant communication with state and local authorities to get to the bottom of what happened in Texas," he said.
"We want our electricity to return, our water, and our houses to be warm again," he said according to The Associated Press.
"I didn't want all the shouting about this trip to distract for even a moment from the real issues that I think Texans care about, which is keeping all of our families safe," Cruz said.
"Obviously it was a mistake, and in hindsight, I wouldn't have done it," he added.
Subscribe to our weekly newsletter and participate for a $ 100 gift card each month. Receive your favorite news in your inbox from today.
Filed Under: Mariachi Ted Cruz


mundohispanico.com