(Washington) China, climate change and Joe Biden's "Buy American" protectionist measures are likely to dominate discussions when the US president meets with Prime Minister Justin Trudeau on Tuesday.
The virtual conversation between the two leaders, Joe Biden's first bilateral meeting as president, offers hope for a new start for relations between the two neighbors.
For Justin Trudeau, this will be an opportunity to advance Canadian interests in the White House without the chaos and anxiety of the past four years.
Expectations in Canada are high, but it remains to be seen whether they will be met.
"I don't want people to sit on their laurels and say, 'Well, we had the first meeting, good for us,'" said Maryscott Greenwood, CEO of the Canada-United States Council of Canada. business.
There is still a lot of work to be done, especially regarding the border, US protectionism, China and the thorny issue of cross-border pipelines.
To make progress, according to Mme Greenwood, the Prime Minister's Office might do well to pretend Donald Trump is still president.
According to her, it is important that Canada have the same level of aggressiveness and commitment as in recent years and not "assume that everything is fine now that Joe Biden is here." "
Joe Biden intends to keep a hard line on "Buy American", the series of protectionist measures that aim to ensure that domestic contractors and suppliers are the main beneficiaries of US dollars spent on infrastructure projects.
He could take a similar line with Justin Trudeau, White House press secretary Jen Psaki suggested Monday.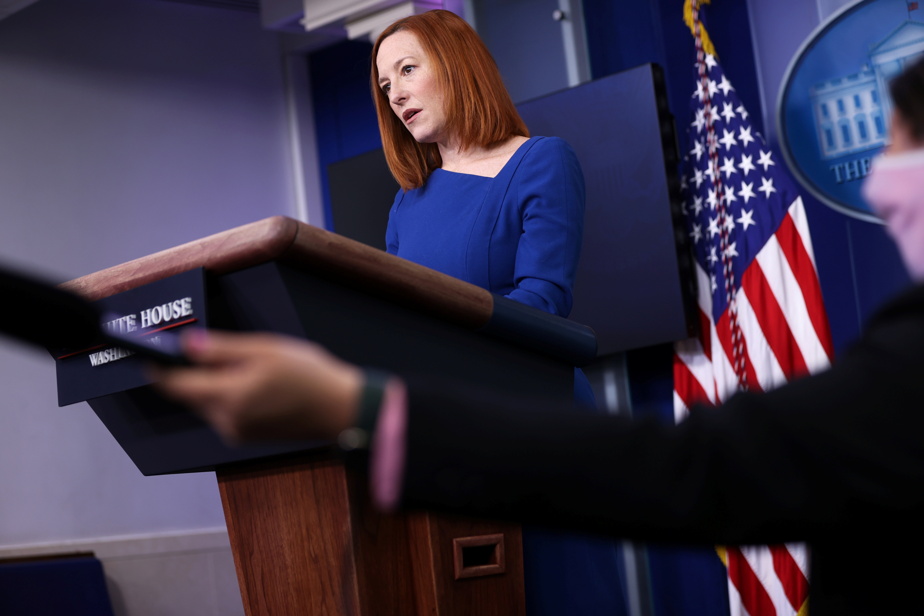 "He signed a presidential decree; we are of course evaluating the supply components, but no changes are planned, "said Jen Psaki.
"Of course, the Prime Minister will bring up whatever he wishes, as is the case with any bilateral meeting. "
The Chinese stake at the center
Jen Psaki offered familiar banalities – a shared vision on climate change, cross-border economic ties and the "strong and deep partnership" between two "NATO neighbors, friends and allies".
But she avoided saying whether Joe Biden would do more to help secure the release of Canadians Michael Kovrig and Michael Spavor, who have been held in China for more than two years.
The two men were jailed after Canada arrested Huawei chief financial officer Meng Wanzhou, who is facing extradition to the United States, where she was accused of violating sanctions against Iran.
Resolving the three-way diplomatic standoff that will ensue will be a top priority for Justin Trudeau, said Eric Miller, a consultant in Washington and an expert on relations between the two countries at the Rideau Potomac Strategy Group, based in Washington.
The 2022 Olympics, which will be held in Beijing, could provide the perfect inflection point, he said – especially if the Chinese have reason to fear protests during a time of national pride.
"What will the Chinese do if the Canadian team enters the stadium with armbands that say, 'Free the Michaels?' Eric Miller asked.
"I think Joe Biden is now at a stage where he has some receptivity to some different ideas. "
Stuck on vaccines and Keystone XL?
Justin Trudeau is also expected to pressure Joe Biden to ensure that Canada has access to doses of COVID-19 vaccines produced on U.S. soil.
Politically, however, it will be difficult for Joe Biden to sell the idea of ​​providing aid to other countries while the vaccination effort in the United States still has a long way to go.
"Basically, Justin Trudeau has no choice but to make an effort in this area," said Eric Miller.
"Justin Trudeau is going to be making a lot of requests, and the folks at Joe Biden will commit to looking into that, and nothing will happen. "
The result should be similar if Justin Trudeau complains about Joe Biden's decision to roll back the Keystone XL cross-border pipeline expansion, which he did with a stroke of his pen on his first day at Home. -White.
Canada remains a country heavily dependent on its natural resources, noted Bill Reilly, who was head of the Environmental Protection Agency under former President George Bush from 1989 to 1993.
"It is very likely that he will raise issues that run counter to some of the environmental aspirations that drive the Biden administration," Bill Reilly said at a roundtable Monday.
"I don't think some of these issues lend themselves to easy resolution. "


www.lapresse.ca