Adamari López and Nicole Suárez prepare for a new program on Telemundo with the name Hoy Día
There will also be Chef Oropeza, Arantxa Loizaga, Nacho Lozano, Stephanie Himonidis and Carlos Robles
It will begin next Monday, February 15 at 7 am/6c, Monday through Friday
Adamari López and Nicole Suárez confirmed suspicions: A New Day is over. However, his fans could not be happier since from this February 15 they will premiere a totally renewed program called: Hoy Día.
But in this project, more presenters such as Arantxa Loizaga, the Mexican Nacho lozano, Stephanie Himonidis (La Chiquibaby), Chef Alfredo Oropeza will be in charge of the kitchen and Carlos Robles will represent the main meteorologist.
This program will have a "news first" concept and will begin next Monday, February 15 at 7 am/6c, Monday through Friday.
To talk about this project, Adamari López and Nicole Suárez spoke exclusively for MundoHispánico and gave their first impressions where they invited viewers not to miss the premiere on Telemundo.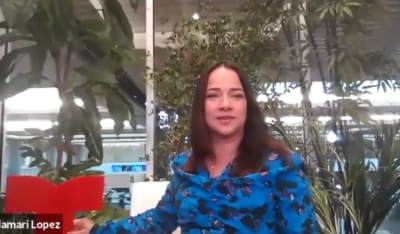 On the news of the program Adamari gave the floor to Nicole Suárez and said that the first hour and a half will only be news with the most important headlines.
Then some interviews and useful information for the viewer will be broadcast, but now with a new scenario to combine news with fun.
"We are going to be preparing them so that their morning has everything they need so that they can feel prepared if they want to go out on the streets on meteorology issues, our reporters will be there to provide all the precise information," said Adamari.
And he continued: "There will also be that part of entertainment, of the home, that brings us closer to the community, talking to them about the things that matter to them and that may be related to things that they need and can apply to their daily lives."
He also commented that Chef Oropeza will be in charge of bringing the flavor to your table with the various recipes of the Hispanic peoples, to bring the public closer.
On the previous program and this one, Adamari López commented on the differences: "Today we have our Latin accent, it is aimed precisely at our market, we have suffered a lot and we have been very hit by the pandemic and many need first-hand information."
Then he reiterated: "We are going to speak specifically for all Hispanics in the language that we understand, that is what our community is looking for, to keep up with the clear and precise information that each one of us needs."
Adamari pointed out that the information of the shows will also be with serious sources, first hand and will not be based on gossip or rumors, but with corroborated data and those involved in the news.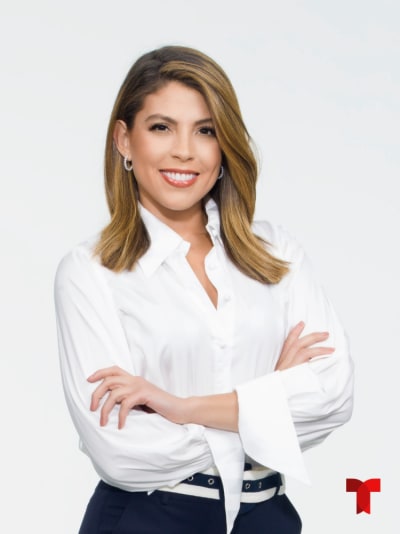 After interviewing Adamari López, Nicole Suárez was asked how three important issues for Hispanics in the United States will be addressed, such as the delivery of the third check for coronavirus, the immigration reform proposed by Joe Biden and the impeachment against Donald Trump.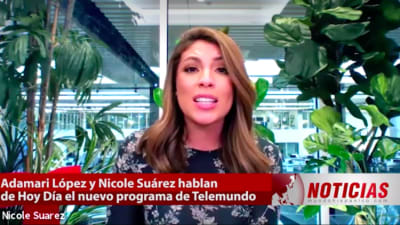 "We are going to have the analysis with our experts who bring us correct and objective information, we are going to have correspondents from coast to coast, now Latinos are consuming more news than ever, Telemundo is responding to the call of the audience," the journalist confessed.
And he added: "Do you want to know when that check will arrive? Where can they be vaccinated?
About her new teammates, Adamari López was asked how she feels about having them on the program: "I'm super happy. I already had the opportunity to share with Aranza, she is sweet, she is a bright, prepared, talented woman, everyone is going to fall in love with her ".
About Nacho, he commented that he has not yet arrived at the Telemundo facilities, since he is in Mexico, but he assured that it will be a wonderful group that works for today.
About Hispanics, Adamari commented that "they will feel that they are taken into account" with this new program on the television network.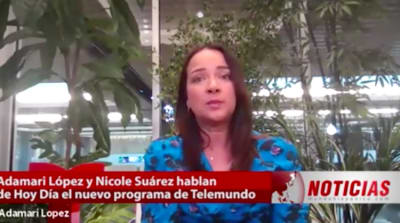 "This information that we bring goes directly to them, for our community who have such a need to be informed," for which he reiterated that they will be very well informed every day with the best transmission equipment.
According to a report published by Telemundo, Hoy Día will have new hosts who will bring the latest on the most relevant current events for the Hispanic community in the United States, as well as entertainment news, weather updates, cooking segments, important tips and recommendations. to live a better life, every day.
Patsy Loris, Senior Vice President of News Specials and Programs at Telemundo commented that: "Hoy Día comes at an opportune time to fill a void for Latinos seeking news and useful information to start and plan their day, told in an entertaining format for the whole family".
He added: "We are happy to present a brand new and fresh morning show spearheaded by a team of seasoned journalists and experts to help our viewers start their day with the latest information on current events, entertainment and the weather, along with delicious cooking tips to lead a healthier life ".
It should be noted that Hoy Día will be under the direction of Noticias Telemundo, so Hoy Día will bring together "trusted journalists, entertainment personalities loved by viewers and experts in their respective fields, who will provide a daily dose of" news that they can use " told by sources they can trust, in a relatable, positive and optimistic way to strengthen their day ".
And they add that with the three-hour live format, "audiences across the nation will be able to count on more exclusives, breaking news and interviews with the main figures who make news today, as well as relevant segments of human interest. , entertainment, cuisine, climate and lifestyle designed to improve your everyday life. "
Subscribe to our weekly newsletter and participate for a $ 100 gift card each month. Receive your favorite news in your inbox from today.


mundohispanico.com