While a squad against firearms will emerge at the end of February in Montreal and an increased police presence will be ensured in the sectors most affected by the recent outbreak of violent events, organizations point out that the problem is much more large. Many believe that a way must first be found to provide "positive opportunities" to young people in the crime scene.
"It is possible to reduce the need for young people to belong to street gangs, provided you provide activities where they can be achieved, whether in sports or extracurricular activities," explains the president of the Professional Order of Criminologists of Quebec (OPCQ), Michèle Goyette. She cites in particular the marked progress made by organizations such as Ali and the Princes of the Street.
In his view, the pandemic has played an "indirect role" in the increase in violent and armed incidents, among other things because, precisely, these prevention activities are rarer than before. "In schools or in the network of special projects, several actors were unable to continue their activities. All of this may have exacerbated gang membership, "she reasoned.
Hoodstock president and co-founder Nargess Mustapha calls for thinking about the problem more broadly. "All this violence to which residents of east Montreal are exposed, there is something structural behind it. And it will take [s'y attaquer], structural aspects. These young people do not end up in crime overnight, "she said, adding that a strictly" repressive "approach will not help.
You don't wake up one morning and say, "I'm going to buy myself a gun." There is a whole range of things to consider, which are precarious living conditions, social exclusion, profiling, systemic racism. And these are the young people who get hit first.
Nargess Mustapha, President of Hoodstock
More staff, the SPVM promises
From February 22, the Montreal police will deploy its team dedicated to the fight against arms trafficking (ELTA). The QUIÉTUDE team will however remain in office. The initiative was put in place in October after a series of violent events involving firearms occurred in Montreal.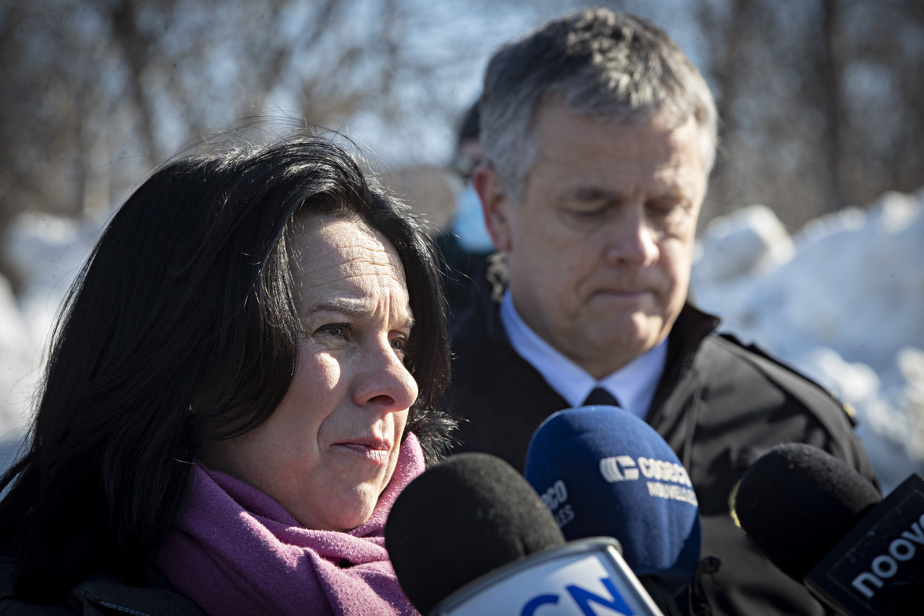 "The very dramatic events of the last few days have shaken us all. No one has remained indifferent to it, me the first as the father of the family. What happened, it should never happen, "launched the director of the SPVM, Sylvain Caron, offering his condolences to the family of young Meriem Boundaoui, this 15-year-old teenager who fell under bullets last Sunday.
By his side, the mayor of Montreal, Valérie Plante, argued that gun control would not solve everything, but it was still necessary. She said a meeting was scheduled with Bill Blair, Federal Minister of Public Safety, to "discuss short-term aid, to find out where the weapons come from." "We are currently facing a phenomenon of the trivialization of firearms," repeated Sylvain Caron, who speaks of "emerging crime". He insisted on the importance of having funding to put in place the necessary manpower to counter these crimes, while working in concert with local organizations.
Valérie Plante, she said she was worried about the difficulty for these organizations to recruit staff. "I appealed to Quebec, discussions are underway with Minister Chantal Rouleau. My message is: "Let's help the community organizations that are on the ground", "she implored.
Ultimately, it will especially "invest more in street work" to deploy more workers in the communities, believes the OPCQ. "Of the thirty shootings that have already occurred, there are many young victims. This explosive cocktail with rival gangs is worrying. We still see a 15% increase in violent incidents since the last year, "notes Michèle Goyette. "Where do these weapons come from? How is it so easy to get it? Is it from organized crime? It will take intense work at the police level to defeat these arms trafficking networks, "she adds.
Quebec wants to "decompartmentalize" certain neighborhoods
Joined by Press, the minister responsible for Montreal and former mayor of the Rivière-des-Prairies – Pointe-aux-Trembles borough, Chantal Rouleau, affirmed that "priority number one [devait] be to put an end to the current problems of violence and prevent Montrealers from reliving such situations in the future ".
Mme Rouleau says he is working on political actions to "fundamentally transform the reality of certain neighborhoods" in the metropolis. It wishes to "decompartmentalize" several sectors "which really need it", by boosting these with planning and social development projects.
For his part, the leader of the official opposition at Montreal City Hall, Lionel Perez, was more critical of the administration. "Instead of constantly asking for financial assistance for the safety of [ordres] superiors, the City must invest now to increase police personnel and community funding in red light districts, "he said. For him, the City already has room for maneuver. "With a budget of 6.1 billion, it makes no sense that the mayoress refuses to invest 16 million for the safety of her citizens. "
On Thursday, at a press conference, Prime Minister François Legault reiterated that his government was concerned about the violent events in Montreal. " It worries me. It is not the city that we love, it is not the city of which we were proud, "he said, adding that discussions were underway with Minister Geneviève Guilbault, but that he 'acted under "shared jurisdiction" with Ottawa. In October, Quebec injected 65 million to combat armed violence, including 5 million for the SPVM alone.
– With Antoine Trussart, Press


www.lapresse.ca