(Ottawa) After a shortage of delivery of doses of the Pfizer-BioNTech vaccine, next week, Canada will receive only 79,000 doses the following week, the 1er February.
Major-General Dany Fortin brought bad news for the second time this week; Last Tuesday, it was he who announced that we would not receive any dose of the Pfizer-BioNTech vaccine. Because 79,000 doses is a fraction of what was expected (367,000).
At a press conference in Ottawa on Thursday, he admitted that this was a "fairly severe" reduction.
Next week, no dose of COVID-19 vaccine will therefore arrive in Canada, deliveries of the other vaccine approved by Health Canada, that of Moderna, resuming the 1er February as planned – shipments of doses of this vaccine are every three weeks.
As if to brown the pill a bit, the federal government has unveiled new projections for the vaccination campaign. The goal remains to have all Canadians who want it vaccinated by the end of September.
But including the arrival of vaccines that have not yet been approved, such as AstraZeneca and Johnson & Johnson, the percentage of immunization in the second trimester (between April and June) goes from 34% to 61 %.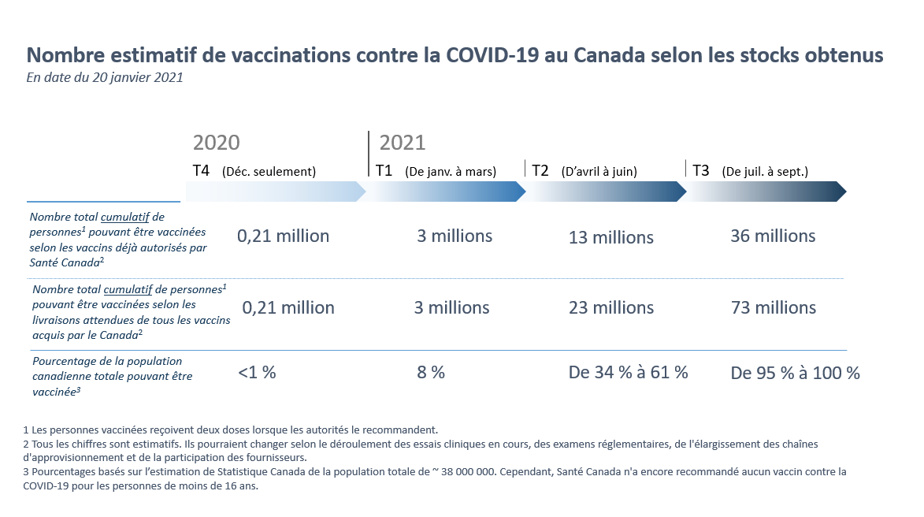 Major General Fortin argued that this was a planning document aimed at allowing provinces and territories to "align" with the amounts mentioned.



www.lapresse.ca