A Bordeaux restaurateur has transformed a Scottish double-decker bus into a restaurant and then into a food thing with the Covid-19 epidemic.
It also offers its customers an ecological loyalty card where it rewards responsible behavior.
Customers can get extra points if they come with their tupperware or order the day before to avoid losses.
Like many others of his colleagues, Thibaut Frankel wonders when he's going to see the end of the tunnel. A tunnel he entered long before the Covid-19 epidemic and where he began to see the light just before the arrival of coronavirus. Four years ago, this Bordeaux engineer "put everything in place overnight" with an idea in mind, to open his own restaurant. A very particular restaurant, in
a double-decker bus: "I thought I had an original idea at the time but in fact there are about ten in France", he admits with a smile.
Since then, the 29-year-old has experienced some vicissitudes with his bus dating from 1982. Because before settling in Haillan near Bordeaux, it traveled a few thousand kilometers on Scottish roads and after a moment, failures have accumulated. This was the case for the Bordeaux restaurateur, to the point of ending his mobile restaurant project and settling in the metropolis.
The bus is composed of a kitchen and a plunge area downstairs and tables for eating upstairs as in any restaurant and it is true that people often came the first time for the concept, they thought it was great, "explains Thibaut Frankel.
From restaurant to food truck, there is only one floor
Moreover, in the summer of 2019, the project takes off. The customers are there after several months of struggle. They can eat there upstairs or take out. If the Bordelais offered at the beginning of the adventure "Anglo-Saxon cuisine", today it has fallen back on burgers and a few grilled sandwiches. Easier to do. And the Covid-19 happened: "The first confinement, I was totally stopped like everyone else. Then, I decided to adapt, in particular with the second confinement and the introduction of teleworking. I sent a questionnaire to my customers to find out what they wanted, delivery or not? But I have loyal people, so I adapted like many people by transforming the restaurant into a real food-truck ".
Today that's what allows him to get by a bit, even if he still cannot afford a salary. "I practically regained the volume before thanks to this system, specifies Thibaut Frankel, we are discovering a new audience". But above all, he would like to be able to reopen the floor of his double-decker bus and host "after work" parties. His hope is for the month of March.
An ecological approach
The other originality of his Brexit bus double-decker – "a nod like the restaurant's slogan (we make the best burger in the European Union) to the British because I find it a shame what is happening "- it is to offer customers a green loyalty card. That is to say, the restaurateur rewards good behavior. He explains: "You can earn additional points if you come with your own tupperware, if you reserve the day before because that allows me to limit unsold items. Or if we take drinks with instructions ".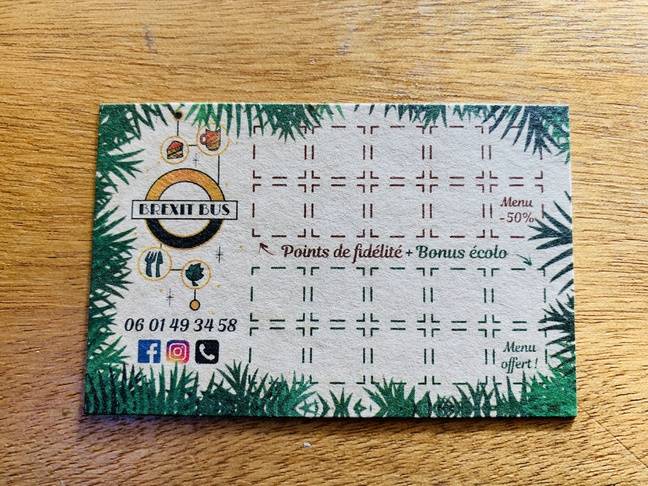 According to him, customers have remained loyal to his bus because they also appreciate "this responsible and ecological approach". A bus on which he installed solar panels on the roof.

Reference-www.20minutes.fr