Mar-a-Lago receives moving trucks ahead of Trump's arrival
The Club owned by the president has been involved in a series of controversies
Trump is expected to leave the White House on Wednesday and arrive in Mar-a-Lago before Biden's inauguration.
The Mar-a-Lago club, in Palm Beach and owned by Donald Trump, has received moving trucks, in what appears to be the foreseeable move of the president of the United States to South Florida, Efe reported, citing local media.
This Monday, the images with moving trucks from the JK Moving Services company parked on the facade of the winter residence of the future former president, have "given much to talk about."
During his tenure, Donald Trump baptized this building facing the Atlantic as the "Winter White House," says Efe.
According to the local newspaper Palm Beach PostThroughout Monday, workers were seen removing boxes from trucks to take them inside the property, where the president is expected to arrive on Wednesday morning.
The two huge moving trucks arrived four days after White House employees were seen packing boxes as the president plans to fly to Florida on inauguration day.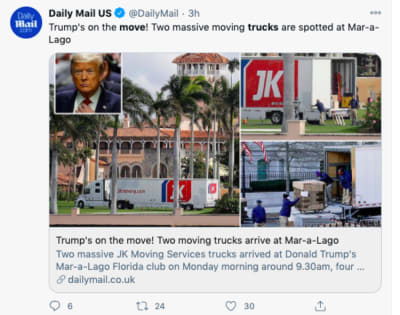 Two huge moving trucks arrived at Donald Trump's Mar-a-Lago Florida club Monday morning. According to the Daily Mail, it was around 9.30am on Monday when two JK Moving Services trucks were seen parked in front of the club with workers carrying large boxes onto the property.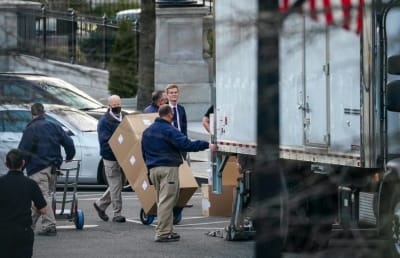 There was a heavy security presence around the sprawling property, including law enforcement helicopters and patrol boats monitoring the delivery of boxes from afar. For its part, it was on Thursday, when White House employees were seen packing boxes of documents, newspapers, a bust of Lincoln and other items and taking them to trucks.
Donald Trump will not attend inauguration in Washington
Trump does not plan to be part of the inauguration of Democrat Joe Biden, next Wednesday, January 20, as he pointed out in his last message on Twitter, before the social network permanently suspended his account due to risk of " a greater incitement to violence ".
The White House reported the arrival of the president on Wednesday at 11 a.m. local time at Palm Beach International Airport in an Air Force One plane.
The president will arrive at his club predictably before Joe Biden and Kamala Harris are sworn in as the next president and vice president, respectively.
Not welcome at Mar-a-Lago?
Trump, however, is not welcomed by many of his imminent neighbors, who have sent letters to local authorities in this regard, Efe indicates.
Also, a Palm Beach County commissioner has even asked local prosecutors to examine whether it is possible to cancel the golf course license at Trump International Golf Club for which the president pays a monthly rent of $ 88,338.
According to Howard Falcon, assistant county attorney, it is an "exaggerated" action and very difficult to carry out.
Trump will leave Washington as the first president in US history to face two political trials.
In the second of which he is accused of inciting his followers to a violent insurrection that ended with the assault on the Capitol on January 6.
For its part, Trump's luxurious club, Mar-a-Lago has returned to the center of controversy after revealing itself that it violated rules on the use of masks before Trump's possible move.
Filed Under: Mar-a-Lago Moving
Mar-a-Lago violated norms for the use of masks
The violation of the order on the use of masks by President Donald Trump's Mar-a-Lago club at his New Year's party has cost him a warning.
However, it was not enough to receive a fine or other sanction, The Associated Press noted.
In a letter to the club's manager, Bernd Lembcke, Palm Beach County said future rule violations could cost it $ 15,000 in each of the fines.
Trump's New Years Eve Party
Video from the party shows that few of the 500 guests wore the mask on the crowded dance floor while rapper Vanilla Ice, Beach Boys co-founder Mike Love and singer Taylor Dayne performed.
Official Todd Bonlarron said in the letter that while the club may have distributed masks to guests, "there was a failure to enforce the orders and almost the entire guest room was without masks."
Filed Under: Mar-a-Lago Moving



mundohispanico.com