Quebecers aged 18 to 24 are significantly more likely than their elders to show signs of distress, anxiety and poor mental health, shows a new survey from the National Institute of Public Health of Quebec (INSPQ).
More than one in three young adults have a problematic psychological distress score (39%), show symptoms of moderate to severe anxiety (38%) and rate their mental health as poor or fair (34%).
The situation of 18-24 year olds is much more glaring than that of their elders. Even among 25-44 year olds, the other age group most affected, less than a quarter (23%) show the same ailments. The presence of the latter decreases with age and, from the age of 60, occurs in less than 10% of respondents.
The deprivation of social activities, very important for young adults, has a lot to do with it, explains psychologist Georgia Vrakas.
That these signals are clearly more marked among full-time students does not surprise either this professor in the psychoeducation department at the University of Quebec at Trois-Rivières (UQTR), who reminds us that not all students have a adequate workspace or an appropriate internet connection.
We do not have personalized contacts, and have two courses in a row on Zoom, it is very mentally demanding.
Georgia Vrakas, psychologist and professor in the psychoeducation department at the University of Quebec at Trois-Rivières
Worse since the end of summer
The prevalence of malaise throughout the pandemic follows a similar trajectory for all age groups. Psychological distress, for example, peaked in early May, eased over the summer, and began to rise again in the third week of August. It was also from this point that anxiety and reduced mental health began to manifest themselves more.
Not surprisingly, emotional well-being follows a reverse trend: the proportion of adults with high well-being increases with age. This indicator remained more stable during the pandemic, but it was also affected by the end of the summer and the re-entry, with a drop from the end of August.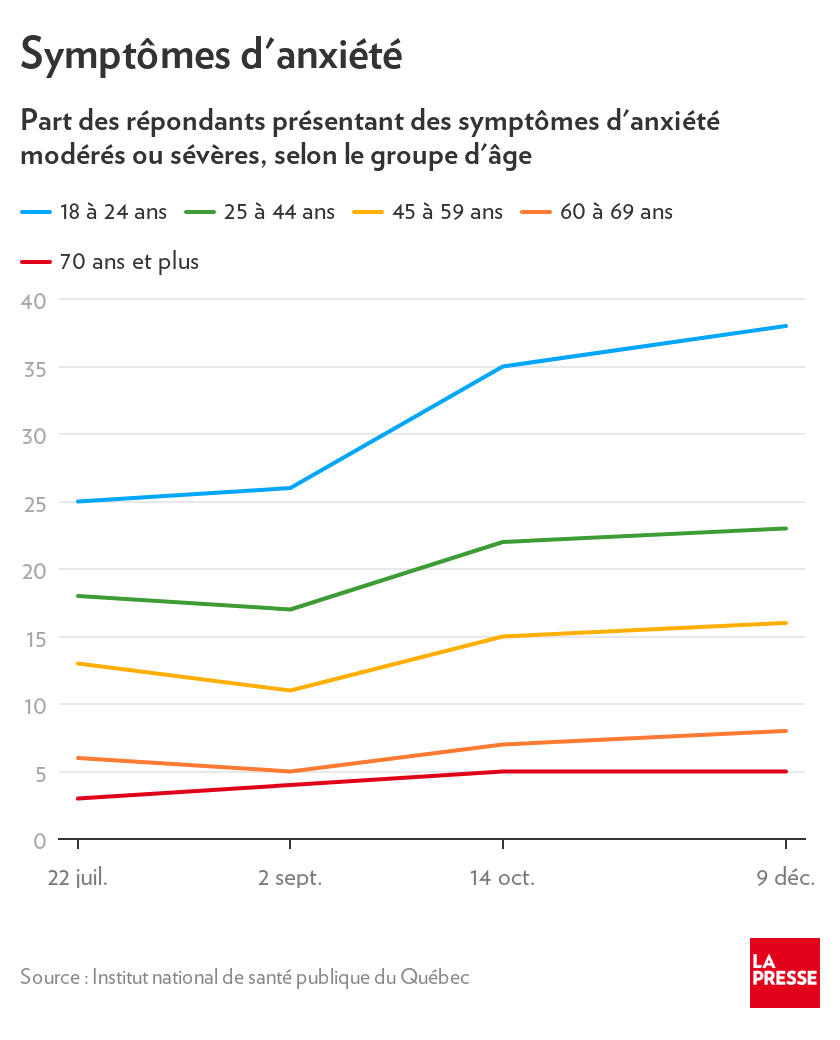 And that's without counting the effects of the curfew imposed since last Saturday, since the data from the INSPQ stops on December 9.
Moreover, it is in Montreal and the Outaouais that the mental health of all adults is most affected. Negative signals appear in more than one in five respondents. And less than three-quarters of Montrealers (74%) display high emotional well-being, compared to more than 80% in all other regions.
What to do ?
Other than continuing to adapt, what can young adults do? Psychologist Georgia Vrakas recommends referring to difficulties experienced and overcome in the past. "What had helped us get better and get over it?" If it worked in the past, maybe it will work in the present. »And if that is not enough,« we will find other solutions ».
Government assistance should prioritize young adults, particularly through vocational training centers, student services and community organizations, also suggests Mr.me Vrakas.
Methodology
These results come from web surveys that were first carried out on a daily basis with 1000 Quebec adults from March 21 to May 31, 2020, then with 3300 adults on a weekly basis from 1er July to December 9. The indicators were measured according to various scales and different screening tools, and the questionnaire was adjusted according to the evolution of the pandemic. The results are weighted according to socio-demographic factors to ensure the representativeness of the population, but they must be interpreted with caution, because non-probability sampling does not present a margin of error, notes the INSPQ.
> See the full survey results



www.lapresse.ca