Worldwide consumer spending on the Apple App Store and Google Play Store has been on the rise. Global spending has broken records this year, reaching $ 407.6 million in the two markets over Christmas alone.
Sensor tower released a new estimated report, which showed that global consumer spending on apps and games has increased significantly compared to 2019.
Data shows that spending has exceeded $ 100 billion in a single year for the first time in November of this year. On December 25, App Store and Google Play Store consumers spent approximately $ 407.6 million on Christmas, representing an increase of 34.5 percent over 2019. Last year, an estimated 303 were spent million on vacation. Although total spending on Christmas may seem like a lot at first glance, Sensor Tower estimates that it only contributed 4.5 percent of total spending in December so far.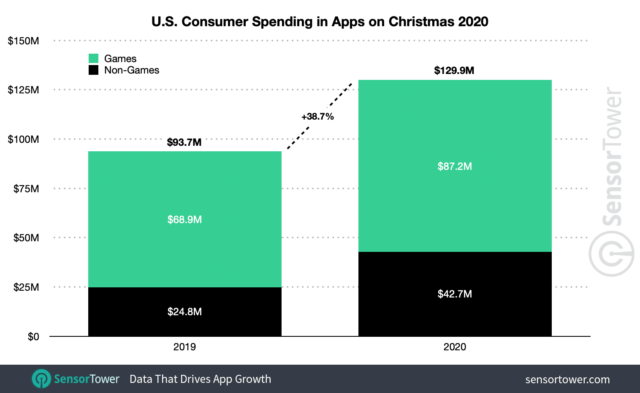 Christmas spending on mobile games grew 27 percent in 2019. This month, an estimated total of $ 9.4 billion was spent on mobile games. $ 232.4 million was spent on Christmas Day alone. Honor of kings ranked number one in this category, racking up $ 10.7 million over Christmas. Tencent's game saw a 205.7 percent year-on-year increase compared to last year.
Spending on non-game apps increased 59 percent this year. At Christmas, a total of $ 112 million was spent. Not surprisingly, the most popular category on the App Store and Google Play Store was 'Entertainment'. TikTok was ranked number one in this category, generating $ 4.7 million in revenue globally this Christmas.
Between the App Store and the Google Play Store, Apple's app market accounts for 68.4 percent of consumer spending during the holidays. The App Store accounted for $ 278.6 million in revenue and was up 35.2 percent year-over-year. The Google Play Store generated $ 129 million in revenue with growth of more than 33 percent.