The August 8, 2018, clients and employees of the elitist Buchinger clinic in Marbella (Málaga) were left speechless when several agents of the Special Response Group for Organized Crime (GRECO) of the Costa del Sol broke into the facilities to take one of its users into custody , Paul Wouter. When he was arrested, the man, born in 1965 in Guyana and with nationality of Suriname, a former Dutch colony located between northern Brazil and southeastern Venezuela, was in his room next to his young girlfriend.
Both spent a few days in the aforementioned clinic, specialized in weight loss through fasting controlled by physicians. Great fortunes from around the world flock there to shed a few kilos, play sports in immense gardens under the warm Marbella sun, improve their health with medical treatments or relax with cooking classes. The Buchinger is only available to wealthy checkbooks. The most expensive suite costs 37,677 euros if the 'fasting classic' plan is chosen for a stay of 21 days.
But for Paul Wouter, with a two million euro mansion in an urbanization in Marbella and moving with private plane For Spanish airports, money was not a concern. Had to spare. Greco's troops from the National Police found him 50,000 euros vacuum packed in the safe in his room. Change for someone like him, deep down.
Today, almost two and a half years later, Paul Wouter is dead. His body was cremated this past summer. At least that is what the death and cremation report that his lawyer presented in court says.
However, Interpol has been looking for a man with the same face and fingerprints for a few days. Is called Sérgio Roberto de Carvalho, a former Brazilian military based in Europe accused of leading a gang that would have sent 45,000 kilos of cocaine to the continent annually.
Investigators know that Wouter and De Carvalho are the same person. They think that the first one faked his death so that a Galician court, as it ended up happening, would file a case for a cache of 1,732 kilos of White lady with a purity of 84.8% intercepted in the high seas off the coast of Ribeira (A Coruña) the same day that he underwent a controlled fast in Marbella.
The criminal record of Major Carvalho, as he is known in Brazil after passing through the Military Police, is vast. In 1997, he was convicted of transporting 237 kilos of cocaine, according to different Brazilian media. In July 2019, he learned that the justice of his country, from which he had fled, imposed 15 years in prison for money laundering through a dozen companies.
First clue
"From 50 to 60 years old, 1.80 meters tall, normal complexion, white hair, plastic glasses and dressed in a black sweater and dark pants." The members of Greco Galicia saw Paul Wouter for the first time in the spring of 2018. At that time they physically described him in their notes because they did not know the identity of the suspect.
They saw him again a few weeks later. That man attended a meeting held on May 11, 2018 in Meis, a Pontevedra municipality close to Vilanova de Arousa and Cambados, the cradle of smugglers and traffickers.
Wouter went to the house of Jacinto Viñas, a historic Galician drug dealer. He did it in a blue BMW X6 with Mario Otero Díaz, one of the stash organizers. Otero Díaz introduced Wouter to the rest of those present at the meeting as the man capable of supplying cocaine to Galician traffickers.
The meeting took place to organize a cache of 1,732 kilos of cocaine, a drug that was seized in August of that same year. The investigations after that appointment bore fruit: that enigmatic man was – or so the police believed at the time – Paul Wouter, who would be arrested in Marbella three months later.
The head of Court number 4 of Vigo, which is instructing the case, sent Wouter to prison. In the proceedings carried out, Greco places him as the leader of the plot. "He was responsible for controlling the cocaine cargo with which the Titan Tercero tugboat traverses the Atlantic, since in fact the cocaine was loaded in the vicinity of Guyana, where it has great contacts with organizations in the area."
Behind bars, Wouter's obsession was to get out as soon as possible. For this he deployed a artillery only within reach of the big drug lords. His lawyer presented several documents trying to prove that his client was in Portugal on the day that meeting took place at Jacinto Viñas' home.
Wouter's lawyer presented a car rental bill; another, for the lodging between May 10 and 13, 2018 at the Hotel Altis Belém, in Lisbon; a document that placed him in a notary signing a deed, and also a traffic fine that coincided in time and date with the meeting that took place in Meis to agree to send a cache valued at 59.2 million euros.
But the lie could be dismantled. The fine turned out to be false. After a check with the Portuguese police authorities, the investigating judge learned that the number of the agent who processed it did not exist and that the complaint did not appear in any registry.
The judge noted: "Regarding the presence of Wouter in the Portuguese notary's office, it is unknown at what time said signature was verified, but it should be indicated that between Guimarães [donde se encontraba la notaría] and Jacinto Viñas' house is barely an hour and a half away by road, so it is not incompatible to be present in both places at different times of the same day ".
Fingerprints
For two years, Paul Wouter was, both for the judge, the Prosecutor's Office and the investigators, a drug dealer hidden under the image of a businessman with seafood import companies based in Morocco and Dubai.
The surprise came this past summer, with the pandemic unleashed in Spain and with Wouter on the street after having paid bail a few months earlier. The Vigo court received a note from a court in Curitiba, capital of the state of Paraná, a city in southern Brazil with an important industrial port with access to the waters of the Atlantic Ocean.
The documentation said that Paul Wouter was, in reality, Sérgio Roberto de Carvalho, a former military man born in 1958 and persecuted by the justice of his country since 2009 for drug trafficking. It was said of him that he was the "Great mentor and leader of the criminal organization" that sent 1,732 kilos to Galicia in August 2018.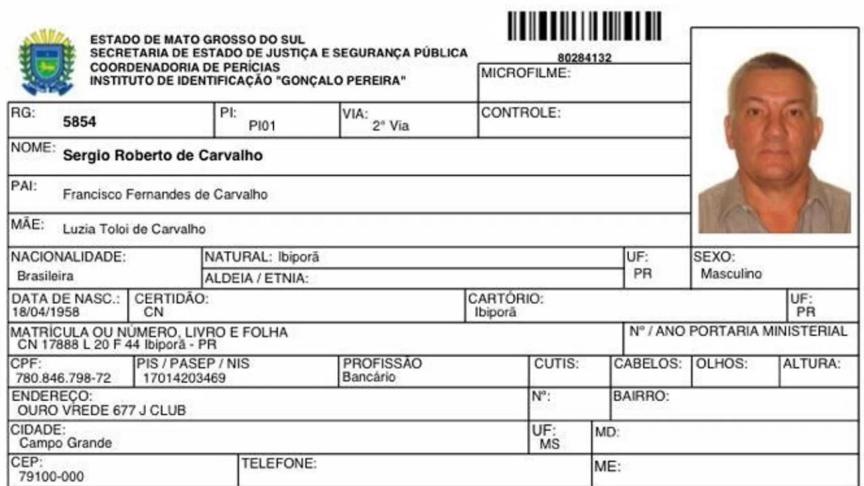 The judge added that his clan had previously had a ton of cocaine seized in Portugal, and that it had made deliveries through the ports of Antwerp (Belgium), Hamburg (Germany), Rotterdam (Holland) and Algeciras.
The Brazilian judicial authorities place him as one of the three leaders of the organization, "along with Shurendy Adelson Quant and Marcelo Maguenzani", who possibly controlled the financial flow and the drug market from Dubai.
A comparison of the fingerprints sent from Brazil with those obtained after Wouter's arrest concluded that he and Sérgio Roberto de Carvalho were indeed the same person. Greco Galicia transferred them to the judge on May 27, 2020. The passport he had was real, but the person he claimed to be did not exist. It is believed that he obtained it by bribing Surinamese officials.
But this story still lacked several script twists. On November 30, 2020, the Fifth Section of the Provincial Court of Pontevedra filed the case in which Paul Wouter appeared as the accused.
In a car that this newspaper has also had, it indicates that the alleged drug trafficker, "who appears on the police bases as Sérgio Roberto de Carvalho, as recorded in the death certificate attached to the cars, has died".
"The criminal action for death is declared extinct," added the Hearing after the defendant's lawyer contributed to the cause a part of the death of his client from the Marbella civil registry.
Paul Wouter reportedly died in late August 2020 from COVID-19. Only a few days before, the Pontevedra Prosecutor's Office had presented its indictment. He asked for 13 years and six months in prison, in addition to a fine of 170 million euros, as the alleged leader of the organization that sent 1,732 kilos of cocaine in August 2018 to Galicia.
Disjointed band
On Monday of last week, agents of the National Police participated in a international macro-operation coordinated by EUROPOL that allowed the dismantling of the organization co-led by De Carvalho.
In Spain, a person was arrested in Motril (Granada) and three house searches were carried out in Malaga. Two properties valued at four million euros were also intervened, five high-end vehicles and numerous bank accounts and products were blocked.
Researchers estimate that the dismantled network introduced some 45 tons of cocaine a year into Europe, for which it would have obtained an economic benefit of around the 100 million euros in the last six months.
In total, 179 house searches were carried out with the arrest of 45 people -in Brazil, Belgium, Spain and Dubai-, and 167 homes, 12 million euros in cash and 70 luxury vehicles were intervened, among other effects.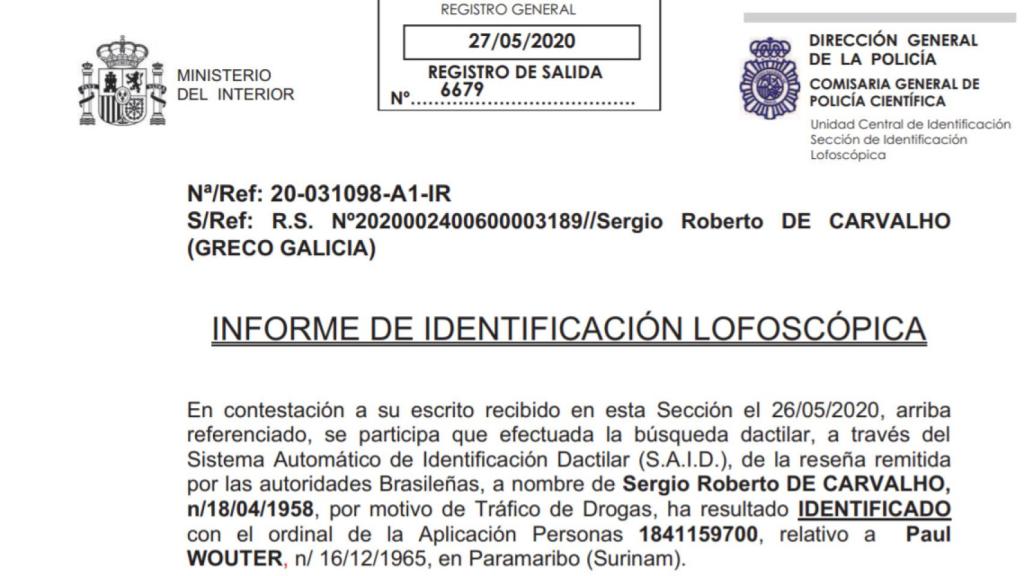 But among those arrested was not De Carvalho. But nevertheless, the National Police are not believed to be dead. Interpol has recently activated a search and arrest warrant. Meanwhile, Greco's troops are investigating how the defendant's death was officially registered. What the researchers are clear about is that if a body was burned, It wasn't that of the real drug dealer.
Reference-www.elespanol.com