The VIDO construction project between Bockenheim and Rödelheim combines proximity to nature with the advantages of the pulsating Main metropolis of Frankfurt. The residential buildings form an ensemble that is exactly the right size for neighborhood proximity and conversations, as well as for sufficient privacy.
Living in times of Corona – and afterwards: retreat to the countryside, longing for community, home office and office are on everyone's lips. And not only that, according to various studies, these are trends that are being significantly accelerated by the corona pandemic. Feeling good in your own walls is becoming even more important, and if you are already staying at home, then your home should also satisfy your needs for society, but also for peace and quiet and nature. Does that sound like a contradiction? Not with a clever, contemporary district development in the right place. We have something for you.
Who doesn't know it: the feeling of coming home after a long, fast day, leaving all the hustle and bustle of everyday life behind. Enjoy security and familiarity – finally being at home. The VIDO residential project by the developer Corpus Sireo transfers precisely this feeling to a residential area. Just far enough outside to get some distance from things, to switch off, to slow down. And yet at the pulse of the city, urban and idyllic at the same time, VIDO is located west of Frankfurt City between Bockenheim and Rödelheim.
Enjoy the urban living of tomorrow with VIDO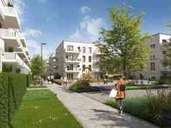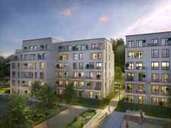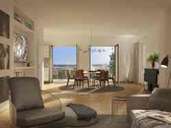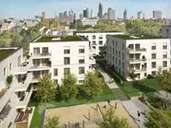 166 modern residential units are currently being built here, divided into twelve houses. The new buildings, consisting of 1- to 5-room apartments with 30 to 174 square meters, almost all have a balcony or loggia, the ground floor apartments also have a private terrace or garden. Each apartment can be reached via an elevator. There are 430 bicycle and around 185 parking spaces, some of which are also equipped with an electrical connection.
The high-quality equipment of the light-flooded apartments also leaves nothing to be desired. In addition to underfloor heating, oiled multilayer oak parquet and mostly floor-to-ceiling, triple-glazed plastic windows and spacious, barrier-free showers, the rooms impress with their clear, functional room layout. This leaves enough space for individual design ideas. A total of 16 maisonette apartments are also available.
Neighborhood living satisfies the longing for community
So that the residents feel completely at ease, they can expand their private area – from leisure areas to communal vegetable gardens, numerous offers are made to strengthen neighborly and intergenerational coexistence. You can relax and take a deep breath on the green square of the quarter; the old trees on the eastern edge of the property provide comfort and shade on hot summer days.
Enjoy the urban living of tomorrow with VIDO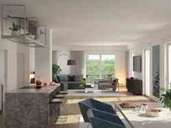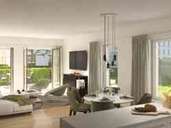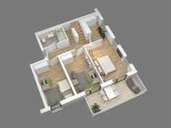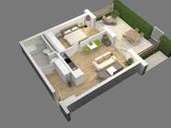 There is a lot to offer around the quarter
A long walk through the Solmspark, an intensive training run along the Nidda, a discovery tour over the Green Belt into the Brentano Park or a morning swim in one of the two nearby outdoor pools – the area offers an incredible number of options for an active everyday life. And you are active here together – the density of clubs in Rödelheim is impressive. The colorful life with the Bockenheim district is only a few minutes away. Art, pubs or culture – there is always something new to discover in this charming district.
The residential complex is also well connected: You can reach Frankfurt city center and the airport in just a few minutes by car, bike or public transport. And the best thing: the area continues to grow vigorously – not only in terms of the number of residents and infrastructure, but above all in terms of its abundance of potential.
Living in the country doesn't always have to mean being far out in the country – VIDO proves that. Here nature begins right outside the front door.
More information about the project at www.vido-frankfurt.de
Advice and sales
Corpus Sireo Real Estate GmbH
Darmstädter Landstrasse 125
60598 Frankfurt am Main
Telephone +49 69 97 908 301

www.fr.de