The situation degenerated in Guatemala: hundreds of people set fire to Parliament on Saturday, November 21 to protest against the 2021 budget. Gigantic flames ravaged the interior of the building, whose facade was studded with anti-government graffiti. The Red Cross has treated several people poisoned by smoke, according to a spokesperson for the organization, Andrés Lemus.
The group that set fire to the building acted as a peaceful demonstration took place in front of the former government palace, in the historic center of the capital and near the Congress, to demand the resignation of President Alejandro Giammattei, in power. only since January.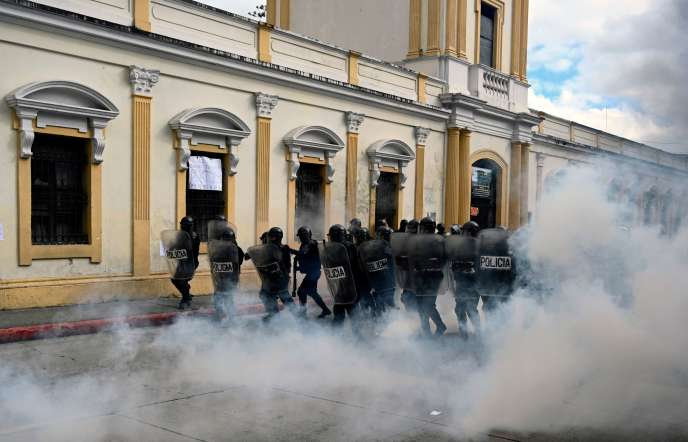 Showing off the country's blue and white flags, protesters waved banners adorned with the slogans "More corruption" or "Giammattei out". They accuse him in particular of having given his approval to the controversial budget of nearly 13 billion dollars (10.9 billion euros), the largest in the history of the country.
Article reserved for our subscribers

Read also
"In Guatemala, the fight against corruption leaves a foundation of justice and civic awareness that no mafia will be able to destroy"
Disgruntled Guatemalans also denounce the opacity of resources to deal with the new coronavirus pandemic or the creation of a post of super-minister assigned to a young person close to the president.
A very controversial budget
On the night of Friday to Saturday, the Vice President of Guatemala himself, Guillermo Castillo, had urged President Giammattei to resign with him. "For the good of the country, I asked him that we present our resignation together", Castillo said in a message to the nation, circulated through social media and sent to reporters on the vice-presidency's WhatsApp group. Mr. Castillo once again admitted that he did not have a good relationship with the head of state.
Parliament, made up mostly of members of the ruling party and related parties, this week approved a highly controversial budget. Economic entities and analysts have warned of the risk of a third of the budget being financed by debt, as proposed. In addition, most of the funds go to infrastructure run by entrepreneurs and neglect the fight against child poverty and malnutrition, which has sparked protests.
Of the nearly 17 million inhabitants of Guatemala, more than 59% of the population lives in poverty, and child malnutrition affects almost half of children under five.
Congress has approved loans of more than $ 3.8 billion (3.2 billion euros) to deal with the coronavirus pandemic, although less than 15% of those resources have been invested.

www.lemonde.fr