After Ireland, France, England, the turn of Greece and certain regions of Italy: to stop the second wave of the Covid-19 epidemic, confinement is gradually spreading in Europe. More flexible than in March, it is however less well accepted by the population.
With an acceleration of contamination in recent days, the Old Continent – which has become the epicenter of the epidemic due to the coronavirus – has exceeded the 12 million officially recorded cases, according to a count carried out on Friday, November 6 by Agence France-Presse (AFP) based on reports provided by the health authorities. Regarding deaths, Europe has nearly 300,000 deaths.
The 52 countries of the region constitute the most affected area in the world in terms of number of cases, ahead of Latin America (11.5 million cases) and Asia (10.9 million). Almost half of those 12 million cases were recorded in just four countries: Russia, France, Spain and the UK.
Greece is reconfigured from Saturday
From Saturday, the Greeks will have to show white paw to leave their home: for each exit, it will be necessary to indicate by SMS the reason and the time, and to wait for the green light of the authorities, also by SMS. The confinement, which should last at least three weeks, will spare supermarkets, grocery stores, gas stations, dry cleaners and pet stores. But, as in France, bookstores will have to draw back the curtain, to their chagrin.
Unlike the first confinement imposed for six weeks in March, primary schools will remain open. But distance education will start again for middle and high schools, with universities already operating remotely, under recent measures. Travelers arriving in Greece must present a negative PCR test, carried out forty-eight hours before entering the territory. In addition, Greek citizens will not be able to move from one region to another from Saturday.
The coronavirus has killed 702 people in total in the country, but it is above all the number of patients hospitalized in intensive care that raises the risk of saturation of hospitals.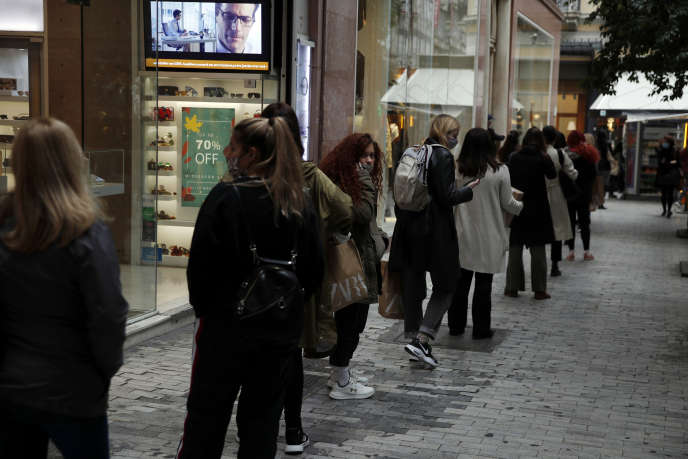 Curfew in Italy, northern La Botte under lock and key
Italy is trying to stem the upsurge in the epidemic by taking localized measures to avoid widespread re-containment. The government has thus divided the country into three colors – yellow, orange and red -, and the regions classified in the latter category are subject to rigid containment. Thus, from Friday evening, Lombardy, the main region in the north of the country, Piedmont and Val d'Aosta, bordering France, but also Calabria, in the South, will be locked up. Across the country, a national curfew from 10 p.m. to 5 a.m. will come into effect on Friday until December 3. As in Greece, high schools are moving to distance education, and museums are closed, as are shopping centers on weekends.
These measures have caused great discontent among part of the population, and numerous demonstrations, sometimes violent, have taken place in recent weeks. Health Minister Roberto Speranza acknowledged that the country "Has difficult months ahead", but also assured that he has "The strength to face them". "If we do not lower the contaminations curve, health personnel will not have the strength to withstand the shock wave", he warned. The head of government, Giuseppe Conte, for his part said he was aware "To impose economic sacrifices" to businesses and the public, but promised "To put compensation on the table and create a state protection belt".
Article reserved for our subscribers

Read also
"You shut us up, you pay us": more and more anti-restriction demonstrations in Italy
In Norway, yet one of the countries in Europe least affected by the pandemic, the authorities are also tightening the screws. In Oslo, bars and restaurants will no longer be able to serve alcohol from Monday, and gyms, cinemas, theaters and swimming pools will have to close their doors. Distance education will expand to high schools in the city and other regions. Prime Minister Erna Solberg called on her compatriots to "Stay at home as much as possible" and to have "As little social contact with others as possible".
From London to Ljubljana, the new restrictions generate protests, sometimes peppered with violence. In the Slovenian capital, a demonstration against the confinement of several hundred people degenerated into violent clashes on Thursday evening.
Article reserved for our subscribers

Read also
Confinement in England, severe political failure for Boris Johnson
Denmark denies sowing panic after discovery of coronavirus mutation in mink
Denmark defended itself Friday from sowing panic after the discovery of a problematic mutation of the coronavirus originating in mink, which could, according to it, threaten the effectiveness of a future human vaccine and cause it to slaughter all these mammals and shut down part of the country. "We are taking the necessary and appropriate measures" facing a development "Disturbing"Foreign Minister Jeppe Kofod said at a press conference for foreign media.
Denmark aroused concern on Wednesday by announcing the massive slaughter of all mink in the kingdom – 15 to 17 million heads – after the discovery of a mutation transmissible to humans already detected in twelve people. Eleven cases have been identified in the region of North Jutland alone, where drastic restrictions have since been imposed by Scandinavian standards: in seven municipalities, the 280,000 inhabitants are ordered not to leave their municipality and public transport are shut down when bars and restaurants close.
China banned from travelers from ten countries
China is now blocking the arrival of foreign travelers from France, Italy and a dozen other nations very affected by the Covid-19, in order to avoid any resurgence of the epidemic on its soil .
Article reserved for our subscribers

Read also
Against Covid-19, China closes its borders
The coronavirus was first spotted in the Chinese city of Wuhan (central) in December 2019. But, except for a few localized outbreaks of infection, life has returned to normal in the country. China virtually closed its borders at the end of March and drastically reduced its international flights, before cautiously opening its doors in recent months.
But its embassies in the UK, Belgium, India, the Philippines and several other countries announced this week that Beijing has decided to "Temporarily suspend" the arrival of non-Chinese nationals on the national territory. And this, even if these people have valid visas or residence permits. France is the latest country to join this list, the Chinese embassy in Paris announced Thursday. Russia, Italy and Ethiopia are now also affected by this measure, as well as Nigeria, the most populous country in Africa, which joined the list on Friday.
Our selection of articles on the coronavirus
www.lemonde.fr