Yet athlete and handsome man, Pierre Ouellet admits that romantic encounters are difficult because of his physical limitations. It is paraplegic. When women see him in a wheelchair, many of them turn around. But thanks to the new dating app No. – currently in the test phase – he regained hope of meeting love.
Inclusive and specifically designed for people with disabilities, much like the popular Nolu Tinder, except we can clearly display his handicap and even look for singles according to their limitations. They are also classified by categories: breathing, deafness, speech, mobility, physical, mental or others.
"We no longer need to hide our handicap. That's one less stress barrier. Often we have to shut it up [sur les réseaux traditionnels, NDLR] in order to have a chance with others, "says Pierre Ouellet.
After several hesitations on Tinder, Match, Plenty of Fish and Badoo, it was concluded that it was essential virtually conceal his chair, even the imposition during the first meetings, often exposing themselves to malaise.
"It's a big plus, plus, more to be able to filter by disability on Nolu," he adds, specifying that he prefers to meet women who have limitations that resemble his own so that they understand and accept them more. "I have a neurogenic bladder, for example. At night, I have to get up three times or I have nocturnal discharge. For a normal person [sans handicap, NDLR], it can be burdensome in the long term. "
The test version of the application was launched last September on Android only. It is available in French and English, in Canada and in France. You can already create a profile – gendered or not -, make a presentation video with an assistance module, search for other singles – disabled or not – filtered by geolocation and interests, see our compatibilities by zipping profiles one by one, and chat with them. Almost 100 members are already registered.
A more complete version including the possibility of exchanging by videoconference and obtaining mentoring from professionals in couple relations is under construction. To complete it, the founders of Nolu need more funds, which they intend to raise through a Indiegogo crowdfunding campaign.
"We are asking for $ 150,000 and we are aiming for an official launch in March 2021", indicates the co-founder of the application, Catherine Dumas, expert in the online dating market, who has proven her worth with AtmanCo and Quebec Dating, in particular .
"There is 1 in 5 Canadians with a disability. This is a huge market. However, the dating world has not looked into them. Why? Because it is a very particular clientele, very heterogeneous and very diverse. But, this is something that the community sector and users have been waiting for for years. […] We challenged ourselves to open the walls, "she says.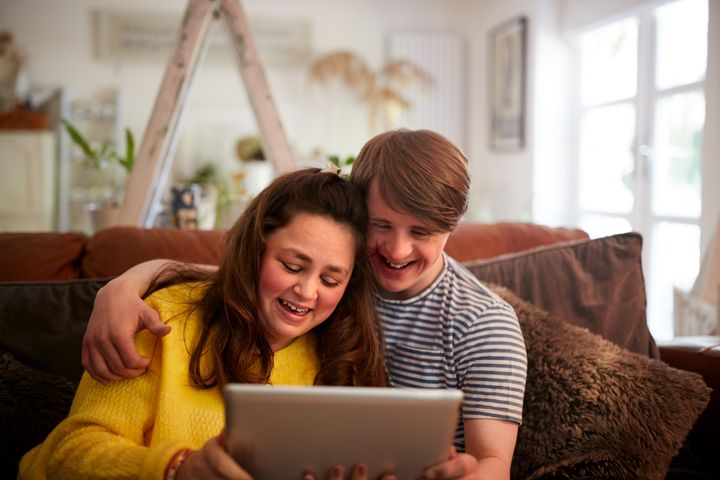 According to Ms. Dumas and Mr. Ouellet, outside of rehabilitation centers and community organizations, it was once very difficult to find love. The advent of social networks has facilitated certain contacts, but also made a clientele suffering from intellectual disorders, for example, vulnerable to Web trolls.
There are already a few dating agencies for disabled in Quebec, "adapted Meeting" or "Meeting handicap" but Catherine Dumas wanted at all costs make the process more accessible and inclusive.
"An app is the way of the future," she says. All users with disabilities also have the right to have a tool top notch and user friendly at their fingertips, which meets their real needs. They have the right to all that the rest of society has the right, but technologically suited to them. "



Reference-quebec.huffingtonpost.ca