Hope to find survivors fades in western Turkey, Sunday 1er November. Two days after the powerful earthquake that struck the Aegean Sea, the Turkish government agency for disaster situations (AFAD) counted 49 dead and 896 injured as a result of this disaster which also killed two teenagers in Greece.
The earthquake, whose magnitude was estimated at 7 by the American Institute of Geophysics (USGS) and 6.6 by the Turkish authorities, occurred on Friday, October 30 in the afternoon, in the southwest Izmir, Turkey's third largest city, and near the Greek island of Samos.
In Bayrakli, the most affected Turkish city, rescuers continued Sunday to search the rubble of eight collapsed buildings, according to AFAD. Several dozen of them were trying to clear one of these sites, in a deafening din of excavators and jackhammers and under the worried eyes of relatives of the disappeared, according to a correspondent of Agence France-Presse.
A rescue worker said at least ten people could still be stranded under the rubble of that building. In the night, a man was uprooted alive from the rubble, 33 hours after the earthquake, according to media.
Felt all the way to Istanbul and Athens
Two days after the earthquake, fatigue and pain spread over the faces of the inhabitants who were numerous to spend a second night outside, for fear of aftershocks. Tents were set up to house families, and volunteers distributed soup to warm them.
The earthquake was so powerful that it was felt as far away as Istanbul and Athens and caused a mini-tsunami that flooded the streets of Seferihisar, a Turkish town near the epicenter, and swept the coastline of the Greek island of Samos.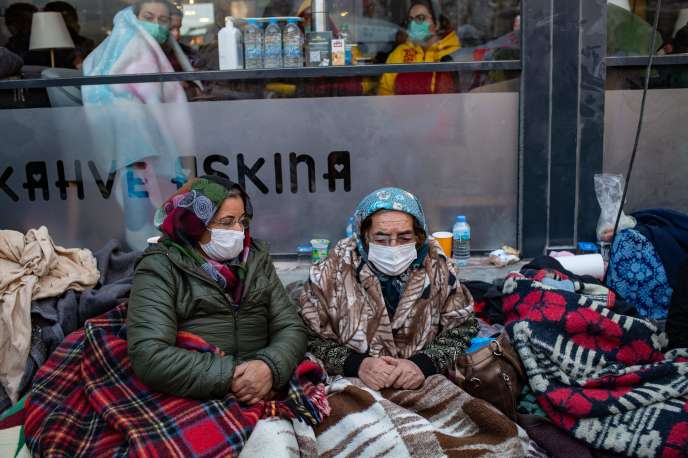 Faced with this disaster, Turkey and Greece, two countries located in one of the most active seismic regions in the world, put diplomatic tensions aside, saying they were ready to help each other.
The earthquake also aroused fears of a major earthquake threatening Istanbul, according to experts. In 1999, a magnitude 7.4 earthquake struck northwestern Turkey, killing more than 17,000, including a thousand in Istanbul.
Article reserved for our subscribers

Read also
After the powerful earthquake in the Aegean Sea, Greece and Turkey pledge to help each other

www.lemonde.fr