The operations were carried out in six districts and two municipalities outside the island.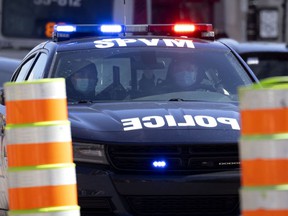 Article content
Montreal police announced Monday that it made 14 arrests and seized 15 firearms during five separate operations since Nov. 14.
Article content
November 14th: Two people, ages 17 and 18, were arrested at their homes in connection with shooting on Gouin Blvd. W. in the Ahuntsic-Cartierville district. Two pistols, chargers and ammunition were seized.
November 17: During an operation directed against drug traffickers, a trio of raids were carried out in the Rosemont districts: La Petite-Patrie and Ville-Marie, as well as in the town of Vaudreuil-Dorion. The raids dumped quantities of illegal drugs, a pistol, chargers and ammunition. Six people between the ages of 24 and 41 were arrested.
November 17: In seven raids in the districts of Lachine and St-Laurent, as well as in the town of St-Philippe in Montérégie, the police seized seven long guns, a pistol, ammunition, a homemade silencer and various parts for firearms. A 36-year-old suspect was arrested.
Article content
November 18th: Around midnight, patrol officers arrested three people in connection with a break-in that had taken place at a residence in Rivière-des-Prairies – Pointe-aux-Trembles. Police said they found two firearms in the vehicle driven by the suspects, who are 16, 21 and 27 years old.
November 18th: Police on patrol in Old Montreal around 3 a.m. arrested two suspects, 27 and 28, who, according to officers, were in possession of two loaded pistols and a hood.
Montreal Police are reminding the public that their cooperation is essential to the crackdown on gun violence and urging anyone with information to contact them at 911, go to the local police station, or confidentially call Info -Crime Montreal at 514-393. -1133.
Opinion: How to Fight Firearm Crime in Montreal and Win

Opinion: also target legal weapons in the fight against violence
Reference-montrealgazette.com